Where to Watch Birds
Leanyer Sewerage Treatment Plant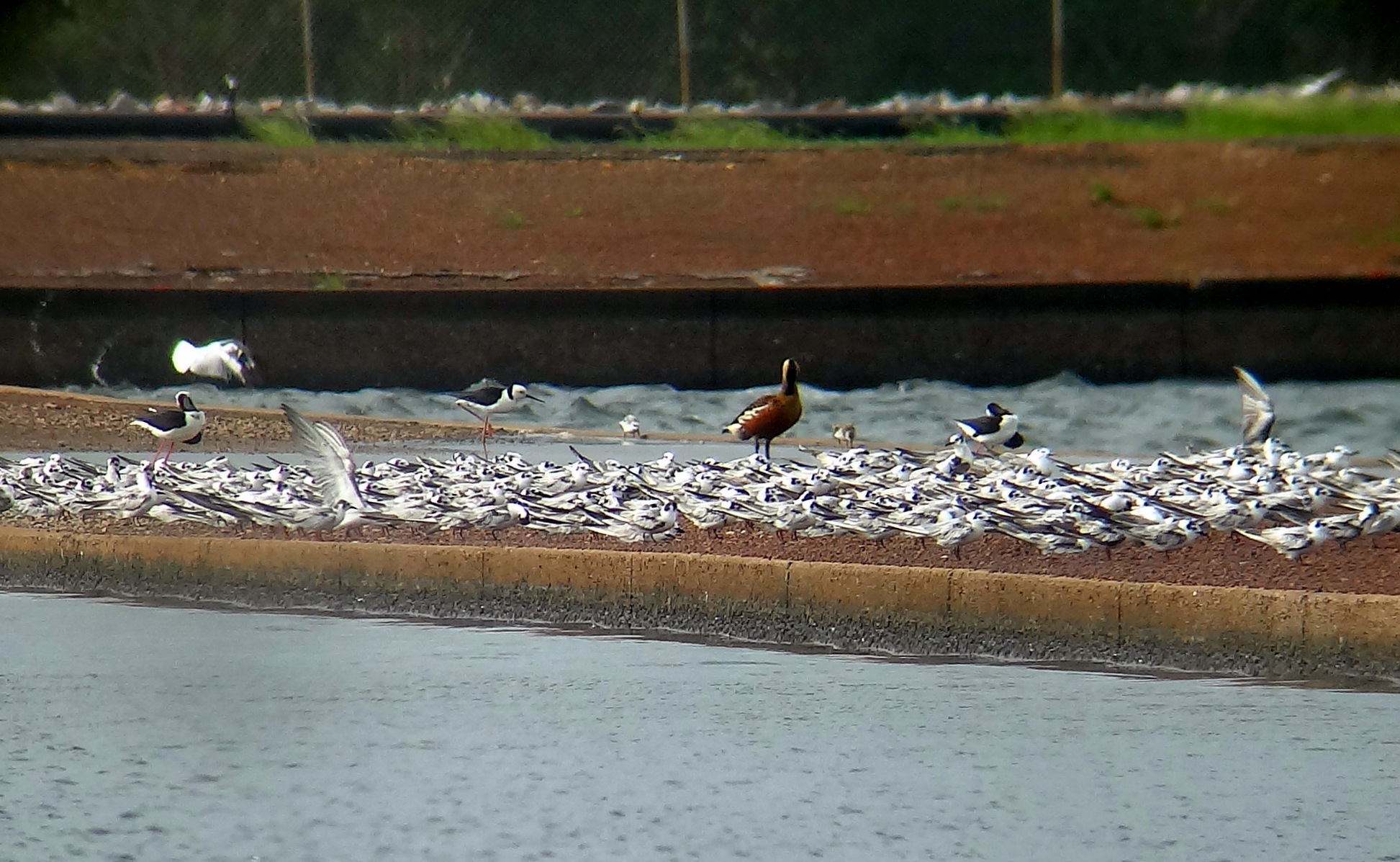 As with many sewerage treatment plants, Leanyer offers first class birding opportunities.
NT Power and Water state on their website that they are 'proud to manage and support public bird watching at two world-class bird watching facilities, Leanyer ponds in Darwin and Ilparpa ponds in Alice Springs. A number of ornithology books note these sites and they attract tourists from across Australia and around the world. These sites are not always open, and this website should be checked before proceeding to the site.'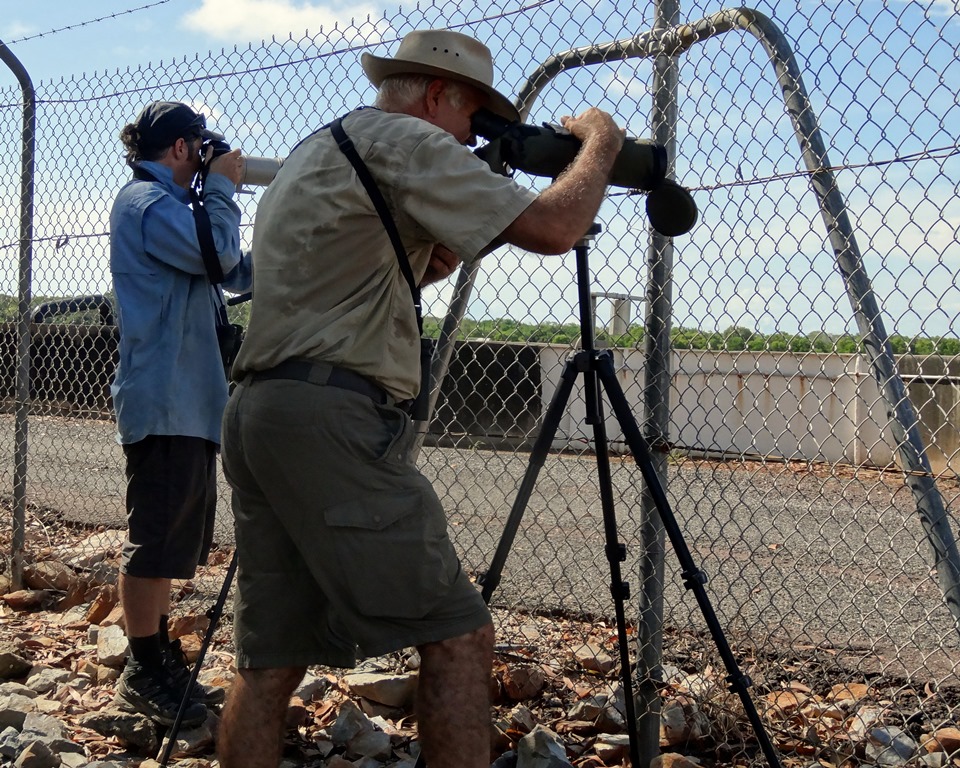 Access to waste stabilisation ponds has been available to members of the public on completion of an online safety induction and online indemnity form. If you wish to visit this facility as part of a tour with us you will not need to obtain a key as we already have one.
Unfortunately,
Power and Water is not currently allowing any bird watchers in to the ponds
for administration reasons. We hope this changes in the future but so far a 'softly, softly' approach by local birders to restore the privilege of access to the ponds have been unsuccessful.
We can, however, see many of these species by walking around the outside of the fenceline. To find this location, drive down to the end of Hodgson Drive, Leanyer, park and then continue on foot along a track that takes you through open woodland. Take a left fork to get to low, mangrove and swamp land. Follow the pipeline all the way down to the perimeter fence that surrounds the ponds. You can walk around the outside of the fence and get reasonable views of a good variety of species with a spotting scope. Take care, as the ground is loose and uneven. Under no circumstances climb the fence. Fishermen sometimes do this but it is not acceptable and could jeopardize our chances of ever regaining access.
Birding is good right from the moment you park your car, as you see by the list of sightings here. Check the communication towers in the area as Australian Hobby is often nesting there.
This is not part of a regular itinerary but we regularly call in here when searching for specific target species.
Links below are to other excellent birding locations within the Darwin and Palmerston suburban areas.
Leanyer Sewerage Treatment Plant
Species seen here recently
Birds ( 99 )
Plumed Whistling-Duck
Dendrocygna eytoni
Wandering Whistling-Duck
Dendrocygna arcuata
Radjah Shelduck
Tadorna radjah
Pink-eared Duck
Malacorhynchus membranaceus
Grey Teal
Anas gracilis
Pacific Black Duck
Anas superciliosa
Hardhead
Aythya australis
Australasian Grebe
Tachybaptus novaehollandiae
Peaceful Dove
Geopelia striata
Bar-shouldered Dove
Geopelia humeralis
Little Pied Cormorant
Microcarbo melanoleucos
Australian Pelican
Pelecanus conspicillatus
Black-necked Stork
Ephippiorhynchus asiaticus
Black Bittern
Ixobrychus flavicollis
Intermediate Egret
Ardea intermedia
Pied Heron
Egretta picata
Little Egret
Egretta garzetta
Nankeen Night-Heron
Nycticorax caledonicus
Australian White Ibis
Threskiornis molucca
Straw-necked Ibis
Threskiornis spinicollis
Royal Spoonbill
Platalea regia
White-bellied Sea-Eagle
Haliaeetus leucogaster
Whistling Kite
Haliastur sphenurus
Brahminy Kite
Haliastur indus
Black Kite
Milvus migrans
Brown Falcon
Falco berigora
Australian Hobby
Falco longipennis
Brolga
Grus rubicunda
Chestnut Rail
Eulabeornis castaneoventris
Buff-banded Rail
Gallirallus philippensis
Eurasian Coot
Fulica atra
Bush Stone-curlew
Burhinus grallarius
Black-winged Stilt
Himantopus himantopus
Pacific Golden Plover
Pluvialis fulva
Little Ringed Plover
Charadrius dubius
Black-fronted Dotterel
Elseyornis melanops
Red-kneed Dotterel
Erythrogonys cinctus
Masked Lapwing
Vanellus miles
Whimbrel
Numenius phaeopus
Common Sandpiper
Actitis hypoleucos
Common Greenshank
Tringa nebularia
Marsh Sandpiper
Tringa stagnatilis
Wood Sandpiper
Tringa glareola
Great Knot
Calidris tenuirostris
Red-necked Stint
Calidris ruficollis
Sharp-tailed Sandpiper
Calidris acuminata
Curlew Sandpiper
Calidris ferruginea
Red-necked Phalarope
Phalaropus lobatus
Grey Phalarope
Phalaropus fulicarius
Australian Pratincole
Stiltia isabella
Gull-billed Tern
Gelochelidon nilotica
Whiskered Tern
Chlidonias hybrida
White-winged Black Tern
Chlidonias leucopterus
Silver Gull
Chroicocephalus novaehollandiae
Red-tailed Black-Cockatoo
Calyptorhynchus banksii
Galah
Eolophus roseicapillus
Sulphur-crested Cockatoo
Cacatua galerita
Red-collared Lorikeet
Trichoglossus rubritorquis
Varied Lorikeet
Psitteuteles versicolor
Red-winged Parrot
Aprosmictus erythropterus
Pheasant Coucal
Centropus phasianinus
Brush Cuckoo
Cacomantis variolosus
Azure Kingfisher
Ceyx azureus
Forest Kingfisher
Todiramphus macleayii
Collared Kingfisher
Todiramphus chloris
Rainbow Bee-eater
Merops ornatus
Great Bowerbird
Ptilonorhynchus nuchalis
Red-backed Fairy-wren
Malurus melanocephalus
Mangrove Gerygone
Gerygone levigaster
White-gaped Honeyeater
Lichenostomus unicolor
Bar-breasted Honeyeater
Ramsayornis fasciatus
Rufous-banded Honeyeater
Conopophila albogularis
Brown Honeyeater
Lichmera indistincta
White-throated Honeyeater
Melithreptus albogularis
Helmeted Friarbird
Philemon buceroides
Black-faced Cuckoo-shrike
Coracina novaehollandiae
White-bellied Cuckoo-shrike
Coracina papuensis
Varied Triller
Lalage leucomela
Australasian Figbird
Sphecotheres vieilloti
White-breasted Woodswallow
Artamus leucorynchus
Black Butcherbird
Cracticus quoyi
Spangled Drongo
Dicrurus bracteatus
Northern Fantail
Rhipidura rufiventris
Torresian Crow
Corvus orru
Leaden Flycatcher
Myiagra rubecula
Shining Flycatcher
Myiagra alecto
Magpie-lark
Grallina cyanoleuca
Lemon-bellied Flycatcher
Microeca flavigaster
Mangrove Robin
Peneonanthe pulverulenta
Buff-sided Robin
Poecilodryas cerviniventris
Golden-headed Cisticola
Cisticola exilis
Yellow White-eye
Zosterops luteus
Barn Swallow
Hirundo rustica
Tree Martin
Petrochelidon nigricans
Double-barred Finch
Taeniopygia bichenovii
Long-tailed Finch
Poephila acuticauda
Crimson Finch
Neochmia phaeton
Chestnut-breasted Mannikin
Lonchura castaneothorax
White Wagtail
Motacilla alba
Butterflies ( 1 )
Lemon Migrant
Catopsilia pomona
Reptiles ( 2 )
Merten's Water Monitor
Varanus mertensi
Keelback
Tropidonophis mairii