Where to Watch Birds
Rapid Creek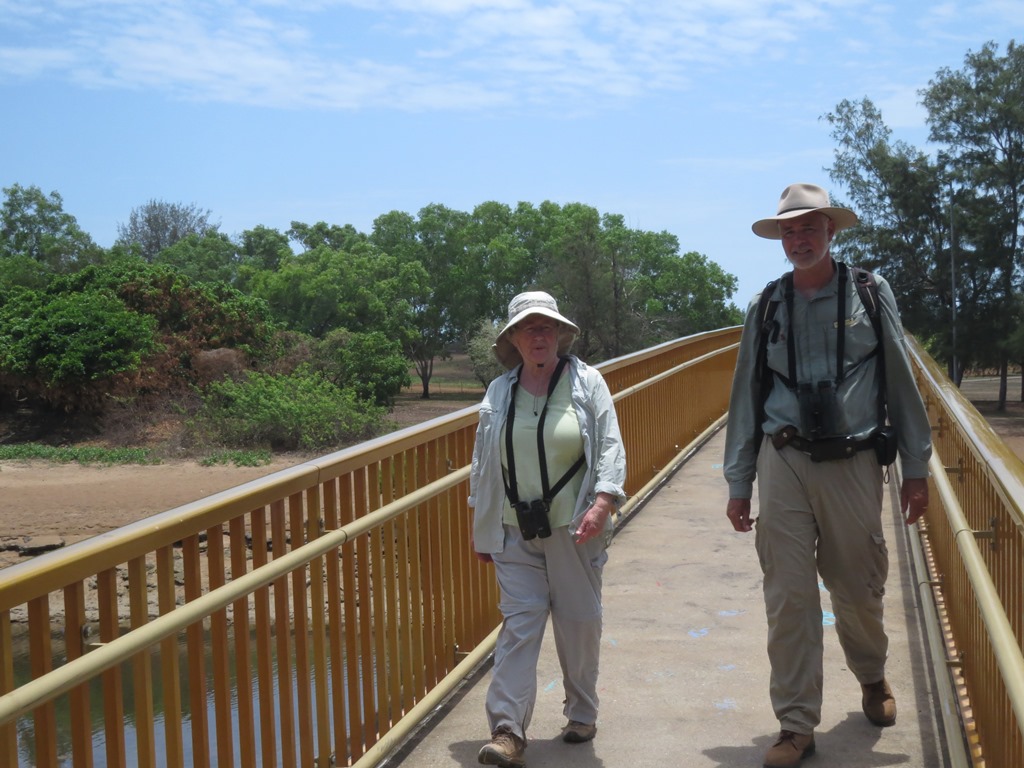 Rapid Creek is another one of those surprising locations that can turn up an exceptional variety of species. There is mangrove, parkland, shoreline and open forest habitat. The yellow bridge marks the start of a 14 kilometer walk that will take you through the Casuarina Coastal Reserve all the way to Lee Point.

Park near the yellow bridge and from there you can explore both sides of the creek. Beware: there are crocodiles in the creek!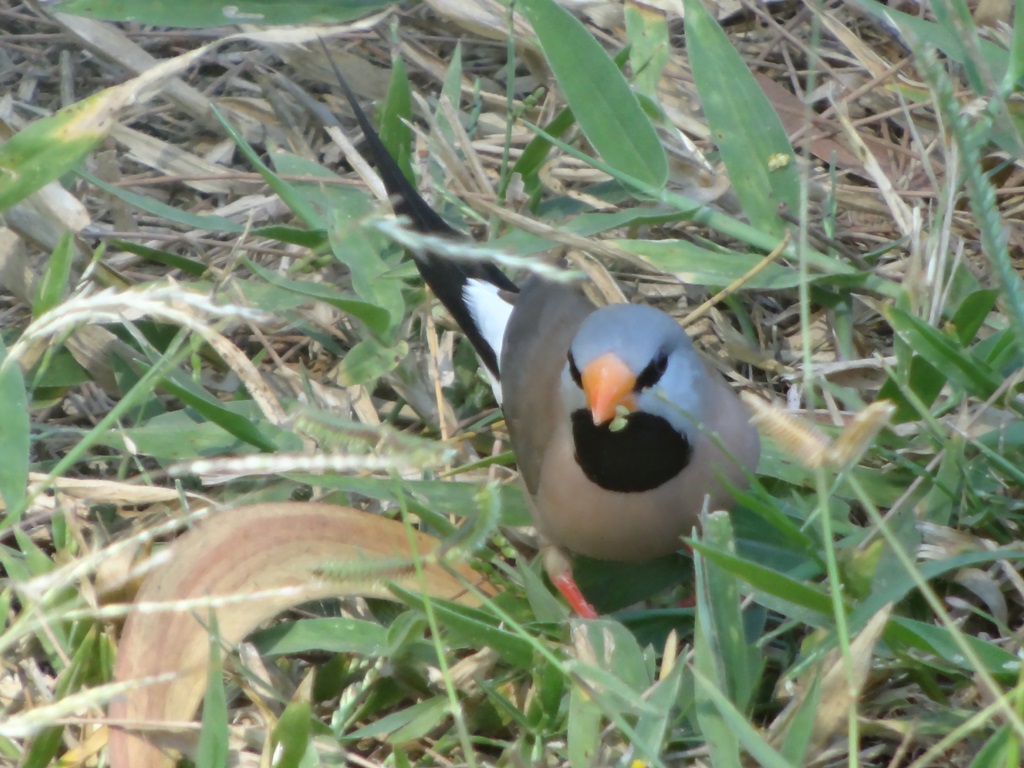 Next to the beach access on the other side of the creek, Rainbow Bee-eaters nest in the sandy bank during the wet season and Striated Pardalotes nest in the same sandy bank during the dry.

We often see Long-tailed, Double-barred and Crimson Finches here.
Species seen here recently
Birds ( 81 )
Orange-footed Scrubfowl
Megapodius reinwardt
Peaceful Dove
Geopelia striata
Bar-shouldered Dove
Geopelia humeralis
Banded Fruit-Dove
Ptilinopus cinctus
Rose-crowned Fruit-Dove
Ptilinopus regina
Pied Imperial-Pigeon
Ducula bicolor
Tawny Frogmouth
Podargus strigoides
Australasian Darter
Anhinga novaehollandiae
Little Black Cormorant
Phalacrocorax sulcirostris
Intermediate Egret
Ardea intermedia
Striated Heron
Butorides striata
Eastern Reef Egret
Egretta sacra
Australian White Ibis
Threskiornis molucca
Straw-necked Ibis
Threskiornis spinicollis
Eastern Osprey
Pandion cristatus
White-bellied Sea-Eagle
Haliaeetus leucogaster
Whistling Kite
Haliastur sphenurus
Brahminy Kite
Haliastur indus
Black Kite
Milvus migrans
Brown Goshawk
Accipiter fasciatus
Grey Goshawk
Accipiter novaehollandiae
Nankeen Kestrel
Falco cenchroides
Chestnut Rail
Eulabeornis castaneoventris
Beach Stone-curlew
Esacus magnirostris
Masked Lapwing
Vanellus miles
Eastern Curlew
Numenius madagascariensis
Common Sandpiper
Actitis hypoleucos
Common Greenshank
Tringa nebularia
Caspian Tern
Hydroprogne caspia
Silver Gull
Chroicocephalus novaehollandiae
Red-tailed Black-Cockatoo
Calyptorhynchus banksii
Galah
Eolophus roseicapillus
Little Corella
Cacatua sanguinea
Sulphur-crested Cockatoo
Cacatua galerita
Cockatiel
Nymphicus hollandicus
Red-collared Lorikeet
Trichoglossus rubritorquis
Varied Lorikeet
Psitteuteles versicolor
Red-winged Parrot
Aprosmictus erythropterus
Pheasant Coucal
Centropus phasianinus
Little Bronze-Cuckoo
Chalcites minutillus
Brush Cuckoo
Cacomantis variolosus
Forest Kingfisher
Todiramphus macleayii
Rainbow Bee-eater
Merops ornatus
Mangrove Gerygone
Gerygone levigaster
Striated Pardalote
Pardalotus striatus
White-gaped Honeyeater
Lichenostomus unicolor
Rufous-banded Honeyeater
Conopophila albogularis
Rufous-throated Honeyeater
Conopophila rufogularis
Red-headed Honeyeater
Myzomela erythrocephala
Brown Honeyeater
Lichmera indistincta
White-throated Honeyeater
Melithreptus albogularis
Blue-faced Honeyeater
Entomyzon cyanotis
Helmeted Friarbird
Philemon buceroides
Little Friarbird
Philemon citreogularis
Grey-crowned Babbler
Pomatostomus temporalis
White-bellied Cuckoo-shrike
Coracina papuensis
Varied Triller
Lalage leucomela
Australasian Figbird
Sphecotheres vieilloti
Green Oriole
Oriolus flavocinctus
Olive-backed Oriole
Oriolus sagittatus
White-breasted Woodswallow
Artamus leucorynchus
Black Butcherbird
Cracticus quoyi
Spangled Drongo
Dicrurus bracteatus
Northern Fantail
Rhipidura rufiventris
Torresian Crow
Corvus orru
Broad-billed Flycatcher
Myiagra ruficollis
Leaden Flycatcher
Myiagra rubecula
Shining Flycatcher
Myiagra alecto
Paperbark Flycatcher
Myiagra nana
Magpie-lark
Grallina cyanoleuca
Lemon-bellied Flycatcher
Microeca flavigaster
Mangrove Robin
Peneonanthe pulverulenta
Golden-headed Cisticola
Cisticola exilis
Yellow White-eye
Zosterops luteus
Tree Martin
Petrochelidon nigricans
Mistletoebird
Dicaeum hirundinaceum
Double-barred Finch
Taeniopygia bichenovii
Long-tailed Finch Poephila acuticauda
Masked Finch Poephila personata
Chestnut-breasted Mannikin
Lonchura castaneothorax
Butterflies ( 3 )
Common Crow
Euploea core
Lesser Wanderer
Danaus chrysippus
Blue Argus
Junia orithya
Insects ( 1 )
Graphic Flutterer
Rhyothemis graphiptera
Mammals ( 1 )
Little-red Flying-fox
Pteropus scapulatus
Reptiles ( 2 )
Yellow-spotted Monitor
Varanus panoptes
Gilbert's Dragon; Ta-ta Lizard
Amphibolurus gilberti