Where to Watch Birds
Sandy Creek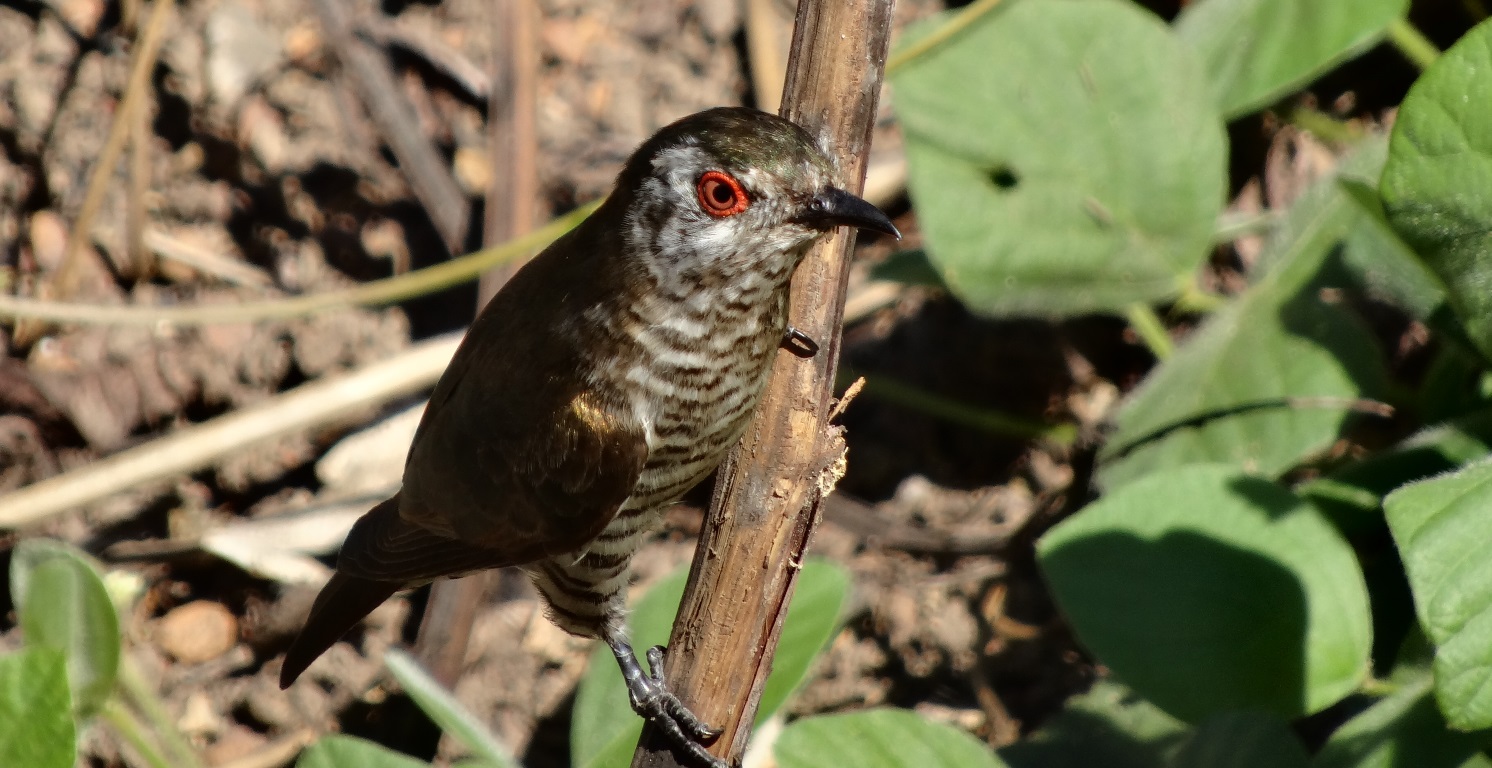 This section of Sandy Creek is accessed behind Darwin Regional Hospital by driving down to the end of Hippocrates Road and parking off the road towards the creek. There are a number of tracks in the area, all good for birding as they follow riverine, marsh, open woodland, mangrove and shoreline habitats.
If you follow the track along the creek in a northerly direction it will take you through a section of open woodland behind the hospital. The usual bush birds are seen here including Long-tailed and Double-barred Finches. Closer to the creek in amongst the pandanus you will find Crimson Fiches and sometimes a large flock of Chestnut-breasted Mannikins. It is good to search the mannikins because Yellow-rumped Mannikins are occasionally seen with the Chestnut-breasteds here.
Continuing on this track it takes a turn to the west through mangroves and a little bridge crosses the creek. I have seen Little Kingfishers here on a few occasions and there is often a Large-billed Gerygone nest in the mangrove branches overhanging the creek.
Species seen here recently
Birds ( 91 )
Orange-footed Scrubfowl
Megapodius reinwardt
Brown Quail
Coturnix ypsilophora
Magpie Goose
Anseranas semipalmata
Radjah Shelduck
Tadorna radjah
Pacific Emerald Dove
Chalcophaps longirostris
Peaceful Dove
Geopelia striata
Bar-shouldered Dove
Geopelia humeralis
Rose-crowned Fruit-Dove
Ptilinopus regina
Pied Imperial-Pigeon
Ducula bicolor
Striated Heron
Butorides striata
Australian White Ibis
Threskiornis molucca
Straw-necked Ibis
Threskiornis spinicollis
Eastern Osprey
Pandion cristatus
Whistling Kite
Haliastur sphenurus
Brahminy Kite
Haliastur indus
Black Kite
Milvus migrans
Brown Goshawk
Accipiter fasciatus
Collared Sparrowhawk
Accipiter cirrocephalus
Grey Goshawk
Accipiter novaehollandiae
Bush Stone-curlew
Burhinus grallarius
Masked Lapwing
Vanellus miles
Eastern Curlew
Numenius madagascariensis
Common Sandpiper
Actitis hypoleucos
Ruddy Turnstone
Arenaria interpres
Silver Gull
Chroicocephalus novaehollandiae
Red-tailed Black-Cockatoo
Calyptorhynchus banksii
Galah
Eolophus roseicapillus
Little Corella
Cacatua sanguinea
Sulphur-crested Cockatoo
Cacatua galerita
Rainbow Lorikeet
Trichoglossus haematodus
Red-collared Lorikeet
Trichoglossus rubritorquis
Varied Lorikeet
Psitteuteles versicolor
Red-winged Parrot
Aprosmictus erythropterus
Pheasant Coucal
Centropus phasianinus
Little Bronze-Cuckoo
Chalcites minutillus
Brush Cuckoo
Cacomantis variolosus
Oriental Cuckoo
Cuculus optatus
Azure Kingfisher
Ceyx azureus
Little Kingfisher
Ceyx pusilla
Blue-winged Kookaburra
Dacelo leachii
Forest Kingfisher
Todiramphus macleayii
Sacred Kingfisher
Todiramphus sanctus
Collared Kingfisher
Todiramphus chloris
Rainbow Bee-eater
Merops ornatus
Dollarbird
Eurystomus orientalis
Great Bowerbird
Ptilonorhynchus nuchalis
Weebill
Smicrornis brevirostris
Mangrove Gerygone
Gerygone levigaster
Large-billed Gerygone
Gerygone magnirostris
Green-backed Gerygone
Gerygone chloronota
Striated Pardalote
Pardalotus striatus
White-gaped Honeyeater
Lichenostomus unicolor
Bar-breasted Honeyeater
Ramsayornis fasciatus
Rufous-banded Honeyeater
Conopophila albogularis
Rufous-throated Honeyeater
Conopophila rufogularis
Dusky Honeyeater
Myzomela obscura
Red-headed Honeyeater
Myzomela erythrocephala
Banded Honeyeater
Cissomela pectoralis
Brown Honeyeater
Lichmera indistincta
White-throated Honeyeater
Melithreptus albogularis
Blue-faced Honeyeater
Entomyzon cyanotis
Helmeted Friarbird
Philemon buceroides
Little Friarbird
Philemon citreogularis
White-bellied Cuckoo-shrike
Coracina papuensis
White-winged Triller
Lalage sueurii
Varied Triller
Lalage leucomela
Grey Whistler
Pachycephala simplex
Little Shrike-thrush
Colluricincla megarhyncha
Australasian Figbird
Sphecotheres vieilloti
Green Oriole
Oriolus flavocinctus
White-breasted Woodswallow
Artamus leucorynchus
White-browed Woodswallow
Artamus superciliosus
Black Butcherbird
Cracticus quoyi
Spangled Drongo
Dicrurus bracteatus
Mangrove Grey Fantail
Rhipidura phasiana
Northern Fantail
Rhipidura rufiventris
Torresian Crow
Corvus orru
Leaden Flycatcher
Myiagra rubecula
Shining Flycatcher
Myiagra alecto
Paperbark Flycatcher
Myiagra nana
Magpie-lark
Grallina cyanoleuca
Lemon-bellied Flycatcher
Microeca flavigaster
Golden-headed Cisticola
Cisticola exilis
Tree Martin
Petrochelidon nigricans
Mistletoebird
Dicaeum hirundinaceum
Double-barred Finch
Taeniopygia bichenovii
Long-tailed Finch
Poephila acuticauda
Crimson Finch
Neochmia phaeton
Yellow-rumped Mannikin
Lonchura flaviprymna
Chestnut-breasted Mannikin
Lonchura castaneothorax
Butterflies ( 4 )
Pale Triangle
Graphium eurypylus
Orange Lacewing
Cethosia penthesilea
Common Crow
Euploea core
Lesser Wanderer
Danaus chrysippus
Reptiles ( 1 )
White-bellied Mangrove Snake
Fordonia leucobalia