Where to Watch Birds
East Point Reserve


East Point Reserve is often the first place we will take you to on a morning half day trip, being only about ten minutes from the Darwin CBD. The whole of the peninsular was once covered in monsoon forest, until World War II when the area was largely occupied by the Australian military, and a significant proportion of it was cleared. Since the 1960's large sections have been regenerated.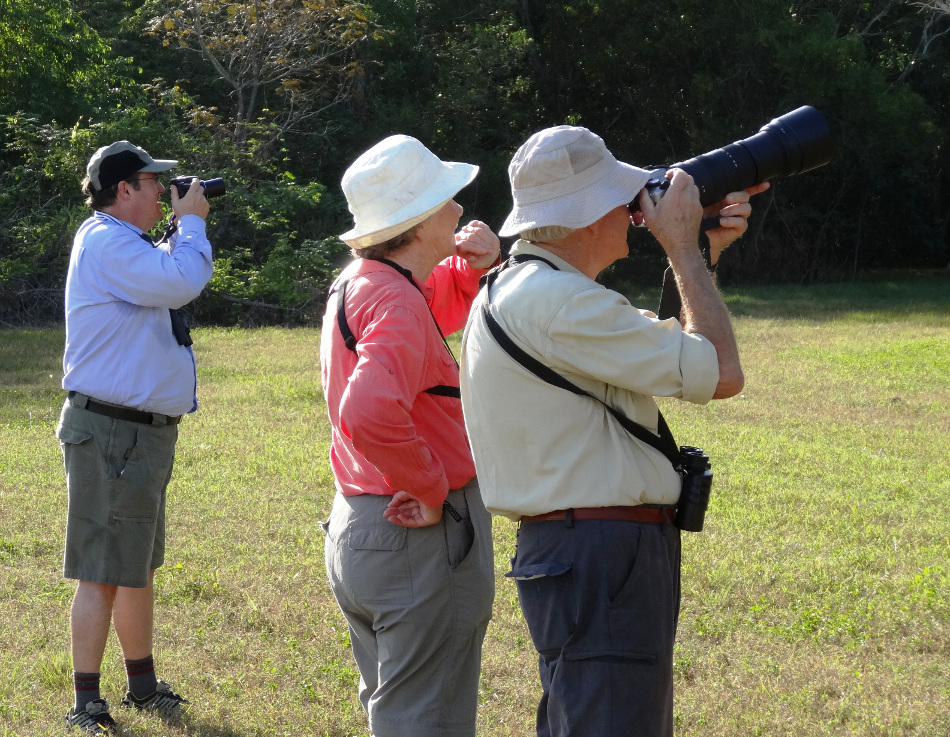 Monsoon forest specialists such as Rainbow Pitta (our logo), Brown (Grey) Whistler, Green-backed Gerygone, Emerald Dove, Rose-crowned Fruit-Dove and Little Bronze-cuckoo are to be found here. There are some enormous nesting mounds created by the Orange-footed Scrubfowl, which can be seen close to the path that meanders through the forest.
There is also large grassy area, popular with a large group of Agile Wallabies who can be seen grazing in the early morning or late afternoon, and sometimes we see Brushtail Possums.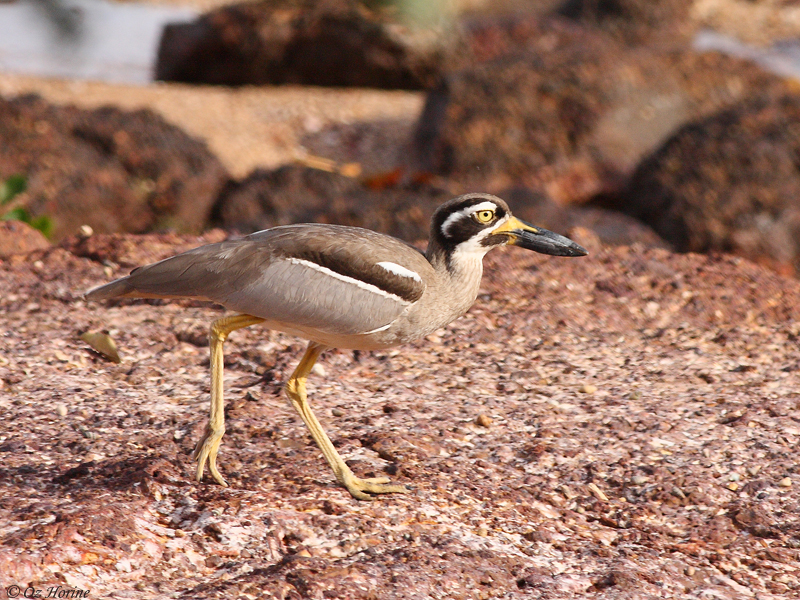 The shoreline varies from rocky, sandy through to mangrove. There is a superb mangrove boardwalk that takes us easily and safely right through the mangrove habitat to the shoreline. Mangrove Golden Whistler, Black Butcherbird, Broad-billed Flycatcher, Lemon-bellied Flyrobin and Collared Kingfisher all inhabit this area. Then there are the parks and gardens that surround the man-made Lake Alexander, where Striated Heron and Great Egret are often seen. The rocky shoreline is a great place to see shorebirds when the tide is right, especially between September and April, but even during the dry season there are usually some 'overwintering' waders to be seen.
Gilbert's Dragon, Filled Lizard and Yellow-spotted Monitor are some of the non-avian species we regularly see.
With such a mosaic of different habitats, a large list of sightings from East Point is inevitable. Be sure to check the nearby
East Point Mangrove Boardwalk
as well.
Links below are to other excellent birding locations within the Darwin and Palmerston suburban areas.
Leanyer Sewerage Treatment Plant
Species seen here recently
Birds ( 132 )
Orange-footed Scrubfowl
Megapodius reinwardt
Magpie Goose
Anseranas semipalmata
Radjah Shelduck
Tadorna radjah
Emerald Dove
Chalcophaps indica
Pacific Emerald Dove
Chalcophaps longirostris
Peaceful Dove
Geopelia striata
Bar-shouldered Dove
Geopelia humeralis
Rose-crowned Fruit-Dove
Ptilinopus regina
Pied Imperial-Pigeon
Ducula bicolor
Tawny Frogmouth
Podargus strigoides
Large-tailed Nightjar
Caprimulgus macrurus
Fork-tailed Swift
Apus pacificus
Brown Booby
Sula leucogaster
Australasian Darter
Anhinga novaehollandiae
Little Pied Cormorant
Microcarbo melanoleucos
Australian Pelican
Pelecanus conspicillatus
Black-necked Stork
Ephippiorhynchus asiaticus
Eastern Great Egret
Ardea modesta
Intermediate Egret
Ardea intermedia
Striated Heron
Butorides striata
Little Egret
Egretta garzetta
Eastern Reef Egret
Egretta sacra
Australian White Ibis
Threskiornis molucca
Straw-necked Ibis
Threskiornis spinicollis
Black-shouldered Kite
Elanus axillaris
Square-tailed Kite
Lophoictinia isura
Whistling Kite
Haliastur sphenurus
Brahminy Kite
Haliastur indus
Black Kite
Milvus migrans
Brown Goshawk
Accipiter fasciatus
Collared Sparrowhawk
Accipiter cirrocephalus
Australian Hobby
Falco longipennis
Bush Stone-curlew
Burhinus grallarius
Beach Stone-curlew
Esacus magnirostris
Australian Pied Oystercatcher
Haematopus longirostris
Sooty Oystercatcher
Haematopus fuliginosus
Pacific Golden Plover
Pluvialis fulva
Grey Plover
Pluvialis squatarola
Red-capped Plover
Charadrius ruficapillus
Lesser Sand Plover
Charadrius mongolus
Greater Sand Plover
Charadrius leschenaultii
Oriental Plover
Charadrius veredus
Masked Lapwing
Vanellus miles
Bar-tailed Godwit
Limosa lapponica
Little Curlew
Numenius minutus
Whimbrel
Numenius phaeopus
Eastern Curlew
Numenius madagascariensis
Terek Sandpiper
Xenus cinereus
Common Sandpiper
Actitis hypoleucos
Grey-tailed Tattler
Tringa brevipes
Common Greenshank
Tringa nebularia
Marsh Sandpiper
Tringa stagnatilis
Common Redshank
Tringa totanus
Ruddy Turnstone
Arenaria interpres
Great Knot
Calidris tenuirostris
Red-necked Stint
Calidris ruficollis
Sharp-tailed Sandpiper
Calidris acuminata
Little Tern
Sternula albifrons
Gull-billed Tern
Gelochelidon nilotica
Caspian Tern
Hydroprogne caspia
Whiskered Tern
Chlidonias hybrida
White-winged Black Tern
Chlidonias leucopterus
Common Tern
Sterna hirundo
Lesser Crested Tern
Thalasseus bengalensis
Crested Tern
Thalasseus bergii
Silver Gull
Chroicocephalus novaehollandiae
Red-tailed Black-Cockatoo
Calyptorhynchus banksii
Galah
Eolophus roseicapillus
Little Corella
Cacatua sanguinea
Sulphur-crested Cockatoo
Cacatua galerita
Red-collared Lorikeet
Trichoglossus rubritorquis
Varied Lorikeet
Psitteuteles versicolor
Red-winged Parrot
Aprosmictus erythropterus
Pheasant Coucal
Centropus phasianinus
Channel-billed Cuckoo
Scythrops novaehollandiae
Little Bronze-Cuckoo
Chalcites minutillus
Brush Cuckoo
Cacomantis variolosus
Oriental Cuckoo
Cuculus optatus
Barking Owl
Ninox connivens
Forest Kingfisher
Todiramphus macleayii
Sacred Kingfisher
Todiramphus sanctus
Collared Kingfisher
Todiramphus chloris
Rainbow Bee-eater
Merops ornatus
Dollarbird
Eurystomus orientalis
Rainbow Pitta
Pitta iris
Mangrove Gerygone
Gerygone levigaster
Large-billed Gerygone
Gerygone magnirostris
Green-backed Gerygone
Gerygone chloronota
Striated Pardalote
Pardalotus striatus
White-gaped Honeyeater
Lichenostomus unicolor
Bar-breasted Honeyeater
Ramsayornis fasciatus
Rufous-banded Honeyeater
Conopophila albogularis
Rufous-throated Honeyeater
Conopophila rufogularis
Dusky Honeyeater
Myzomela obscura
Red-headed Honeyeater
Myzomela erythrocephala
Brown Honeyeater
Lichmera indistincta
White-throated Honeyeater
Melithreptus albogularis
Butterflies ( 4 )
Blue-faced Honeyeater
Entomyzon cyanotis
Helmeted Friarbird
Philemon buceroides
Silver-crowned Friarbird
Philemon argenticeps
Little Friarbird
Philemon citreogularis
Grey-crowned Babbler
Pomatostomus temporalis
Black-faced Cuckoo-shrike
Coracina novaehollandiae
White-bellied Cuckoo-shrike
Coracina papuensis
White-winged Triller
Lalage sueurii
Varied Triller
Lalage leucomela
Grey Whistler
Pachycephala simplex
Little Shrike-thrush
Colluricincla megarhyncha
Australasian Figbird
Sphecotheres vieilloti
Yellow Oriole
Oriolus flavocinctus
White-breasted Woodswallow
Artamus leucorynchus
White-browed Woodswallow
Artamus superciliosus
Black Butcherbird
Cracticus quoyi
Silver-backed Butcherbird
Cracticus argenteus
Spangled Drongo
Dicrurus bracteatus
Arafura Fantail
Rhipidura dryas
Northern Fantail
Rhipidura rufiventris
Broad-billed Flycatcher
Myiagra ruficollis
Leaden Flycatcher
Myiagra rubecula
Shining Flycatcher
Myiagra alecto
Magpie-lark
Grallina cyanoleuca
Lemon-bellied Flyrobin
Microeca flavigaster
Yellow White-eye
Zosterops luteus
Tree Martin
Petrochelidon nigricans
Mistletoebird
Dicaeum hirundinaceum
Double-barred Finch
Taeniopygia bichenovii
Long-tailed Finch
Poephila acuticauda
Crimson Finch
Neochmia phaeton
Australasian Pipit
Anthus novaeseelandiae
Butterflies ( 4 )
Fuscous Swallowtail
Papilio fuscus
Orange Lacewing
Cethosia penthesilea
Meadow Argus
Junonia villida 6
Common Crow
Euploea core
Mammals ( 4 )

Northern Brown Bandicoot
Isoodon macrourus
Common Brushtail Possum
Trichosurus vulpecula
Agile Wallaby
Macropus agilus
Dingo
Canis lupis dingo
Reptiles ( 2 )
Gilbert's Dragon; Ta-ta Lizard
Amphibolurus gilberti
Frilled Lizard
Chlamydosaurus kingii