Where to Watch Birds
Palmerston Sewerage Treatment Plant

'Palmy Ponds' used to be my favourite birding location. It is still very good and the easiest place to find Mangrove Fantail and Mangrove Robin. Unfortunately access is more difficult now as NT Power and Water have barricaded a large buffer zone in front of the ponds.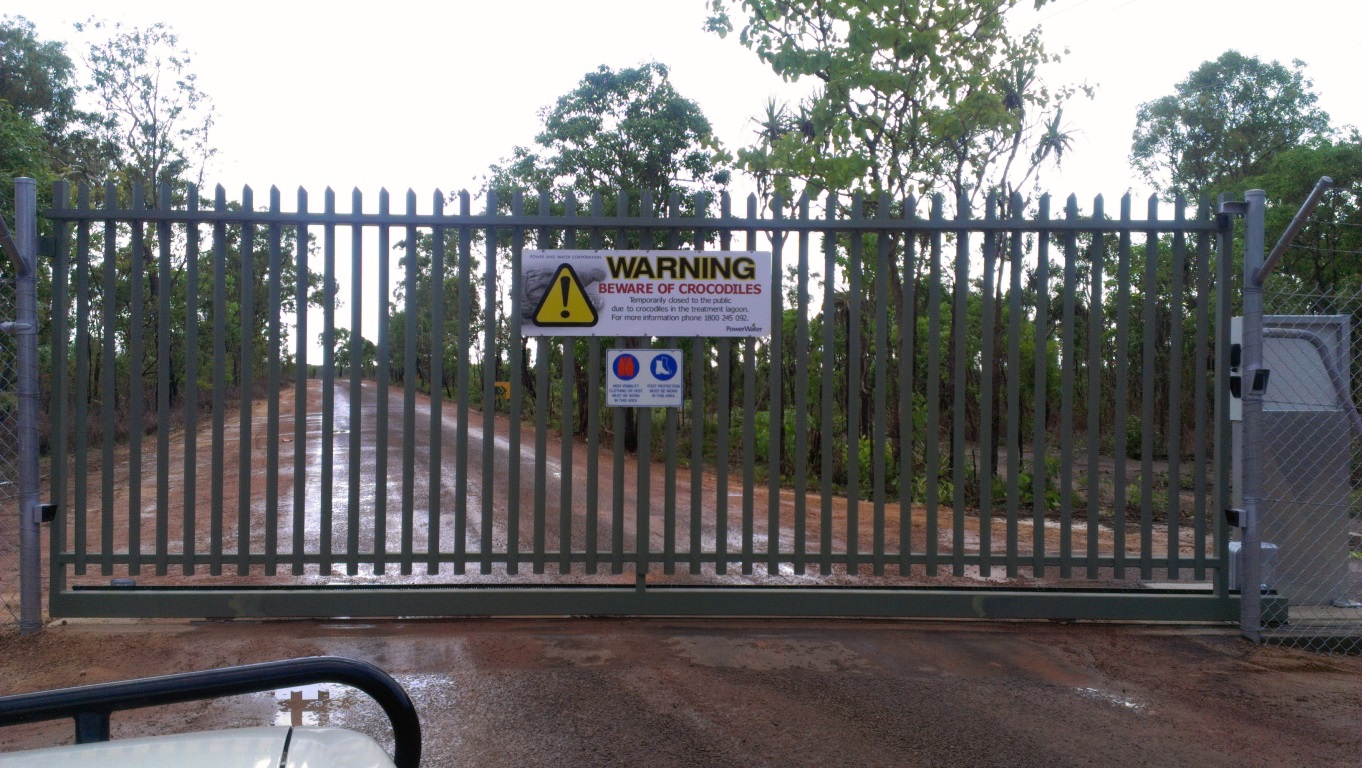 It is possible to walk around the outside of the ponds, but take care as you will be walking along uneven ground and through high grass.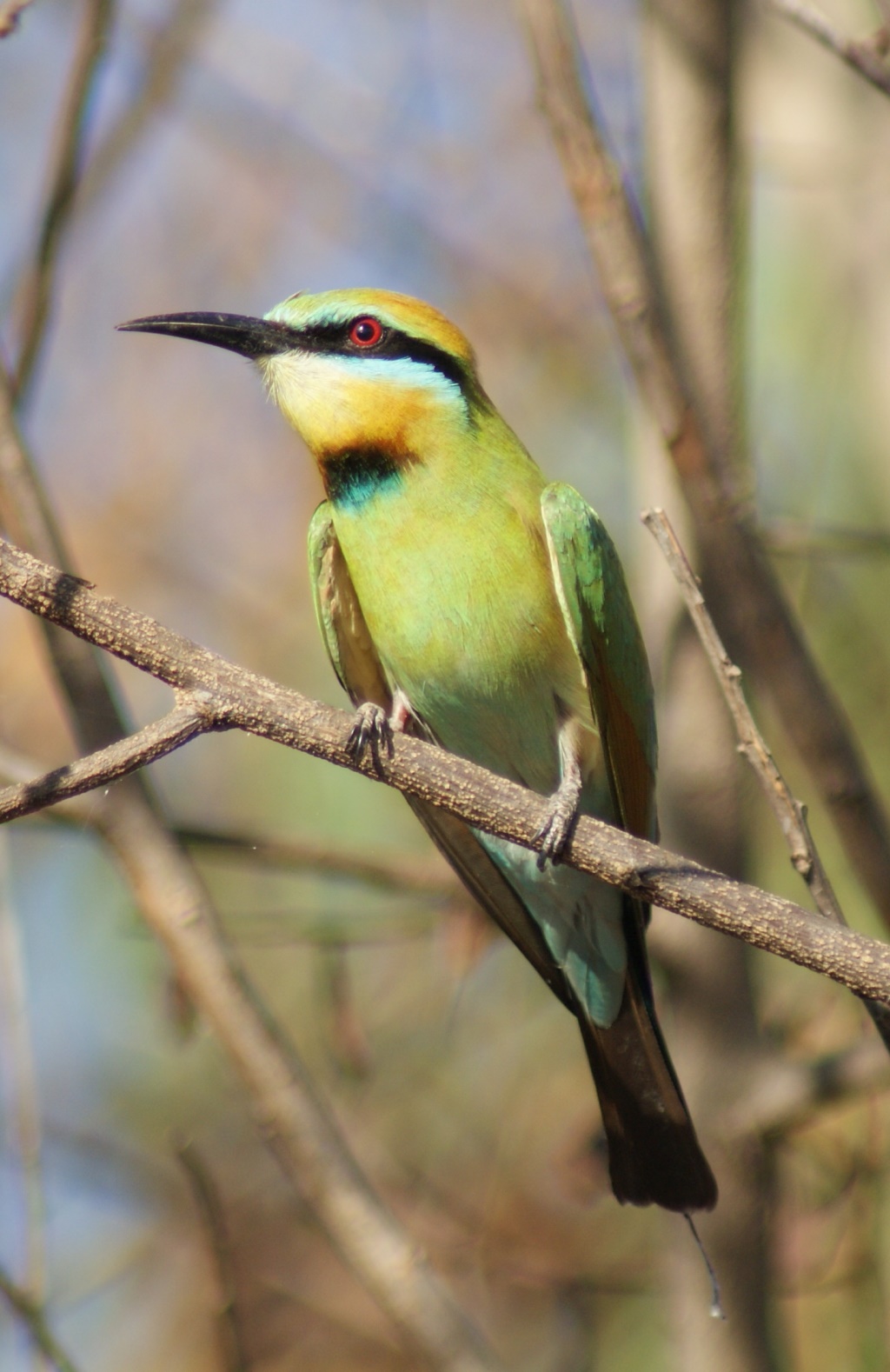 First drive down Catalina Road and turn right into Bridle Road, just after the railway crossing. On the left you will see the turf farm and then a small clearing where you can park. Walk down the outside of the turf farm perimeter fence and through the bush to the Ponds. You will see a large power pole above the tree line, try and head for that. By now you will probably have seen Crimson, Long-tailed and Double-barred Finches, Chestnut-breasted Mannikins and Red-backed Fairy-wrens. The list is just starting, a typical list of sightings in a one or two hour explore in this area is over 50.
When you get to the ponds continue to the right around the fence line, when you get to the corner you will find an opening in the mangroves, this is a great place to stop and look for Mangrove Fantails and Mangrove Robins. I have seen Chestnut Rails here too.
The ponds themselves are rich in various waders, terns and other water birds.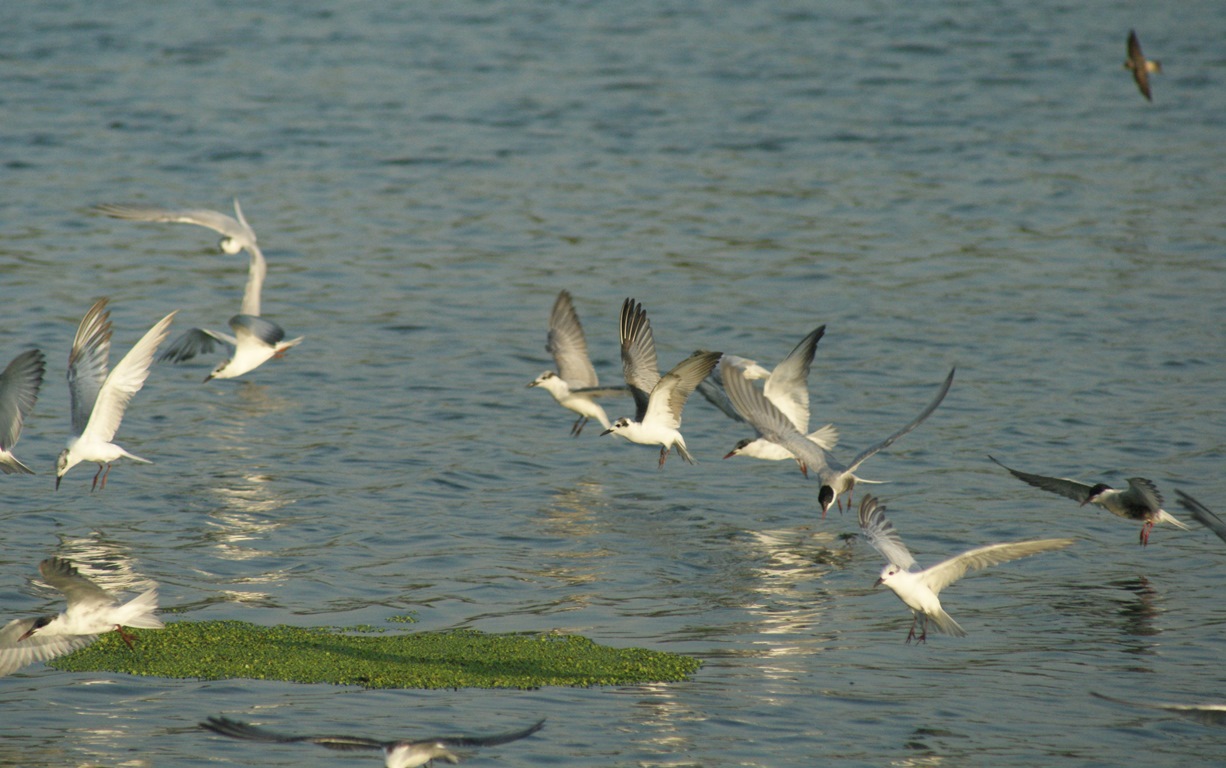 Links below are to other excellent birding locations within the Darwin and Palmerston suburban areas.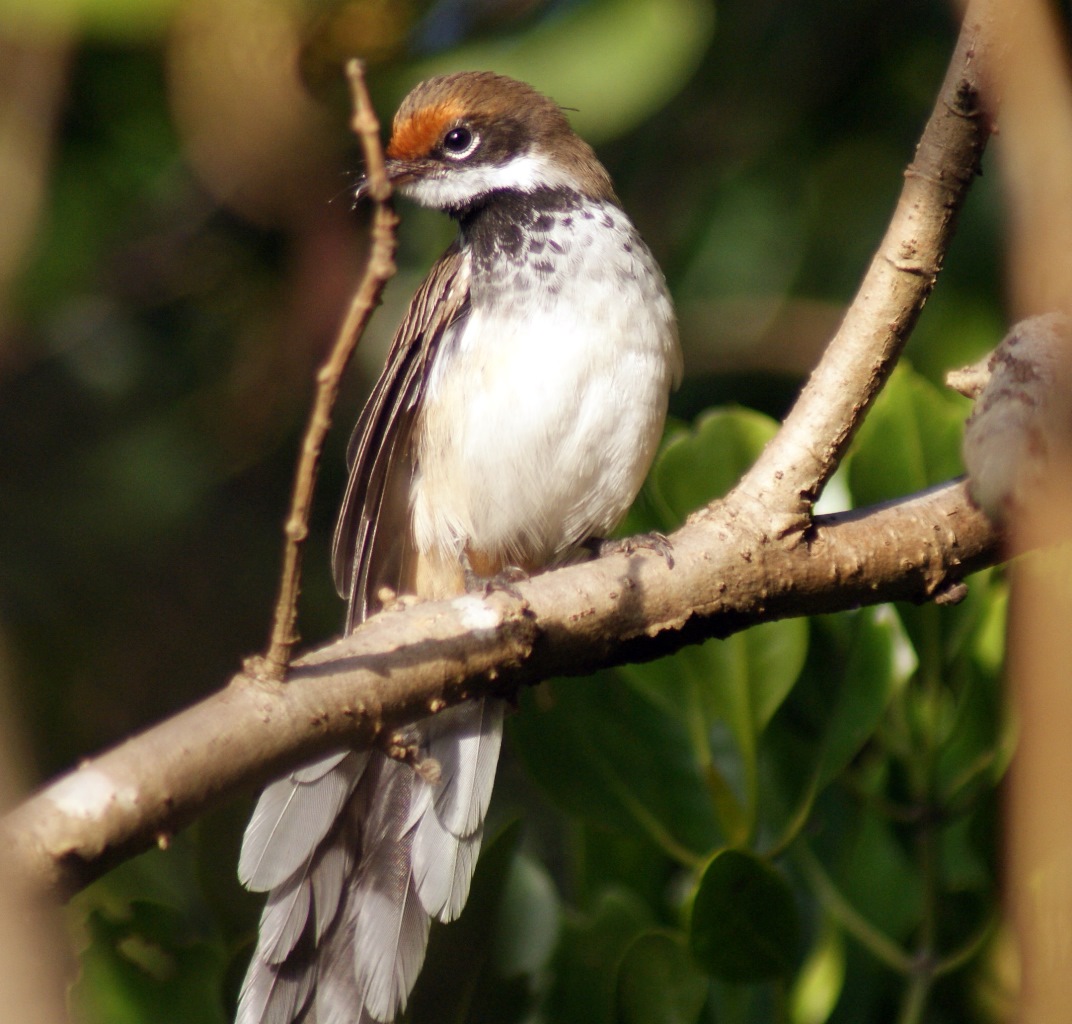 Leanyer Sewerage Treatment Plant
Species seen here recently
Birds ( 134 )
Orange-footed Scrubfowl
Megapodius reinwardt
Brown Quail
Coturnix ypsilophora
Wandering Whistling-Duck
Dendrocygna arcuata
Radjah Shelduck
Tadorna radjah
Pink-eared Duck
Malacorhynchus membranaceus
Green Pygmy-goose
Nettapus pulchellus
Grey Teal
Anas gracilis
Hardhead
Aythya australis
Australasian Grebe
Tachybaptus novaehollandiae
Pacific Emerald Dove
Chalcophaps longirostris
Peaceful Dove
Geopelia striata
Bar-shouldered Dove
Geopelia humeralis
Banded Fruit-Dove
Ptilinopus cinctus
Pied Imperial-Pigeon
Ducula bicolor
Large-tailed Nightjar
Caprimulgus macrurus
Little Pied Cormorant
Microcarbo melanoleucos
Black-necked Stork
Ephippiorhynchus asiaticus
Eastern Great Egret
Ardea modesta
Intermediate Egret
Ardea intermedia
Cattle Egret
Ardea ibis
Striated Heron
Butorides striata
Pied Heron
Egretta picata
Little Egret
Egretta garzetta
Nankeen Night-Heron
Nycticorax caledonicus
Australian White Ibis
Threskiornis molucca
Straw-necked Ibis
Threskiornis spinicollis
Royal Spoonbill
Platalea regia
Pacific Baza
Aviceda subcristata
White-bellied Sea-Eagle
Haliaeetus leucogaster
Whistling Kite
Haliastur sphenurus
Brahminy Kite
Haliastur indus
Black Kite
Milvus migrans
Brown Goshawk
Accipiter fasciatus
Collared Sparrowhawk
Accipiter cirrocephalus
Australian Hobby
Falco longipennis
Chestnut Rail
Eulabeornis castaneoventris
Eurasian Coot
Fulica atra
Beach Stone-curlew
Esacus magnirostris
Black-winged Stilt
Himantopus himantopus
Pacific Golden Plover
Pluvialis fulva
Red-capped Plover
Charadrius ruficapillus
Black-fronted Dotterel
Elseyornis melanops
Masked Lapwing
Vanellus miles
Whimbrel
Numenius phaeopus
Eastern Curlew
Numenius madagascariensis
Terek Sandpiper
Xenus cinereus
Common Sandpiper
Actitis hypoleucos
Common Greenshank
Tringa nebularia
Marsh Sandpiper
Tringa stagnatilis
Wood Sandpiper
Tringa glareola
Sanderling
Calidris alba
Red-necked Stint
Calidris ruficollis
Sharp-tailed Sandpiper
Calidris acuminata
Curlew Sandpiper
Calidris ferruginea
Gull-billed Tern
Gelochelidon nilotica
Whiskered Tern
Chlidonias hybrida
White-winged Black Tern
Chlidonias leucopterus
Red-tailed Black-Cockatoo
Calyptorhynchus banksii
Galah
Eolophus roseicapillus
Little Corella
Cacatua sanguinea
Sulphur-crested Cockatoo
Cacatua galerita
Red-collared Lorikeet
Trichoglossus rubritorquis
Varied Lorikeet
Psitteuteles versicolor
Red-winged Parrot
Aprosmictus erythropterus
Northern Rosella
Platycercus venustus
Pheasant Coucal
Centropus phasianinus
Eastern Koel
Eudynamys orientalis
Little Bronze-Cuckoo
Chalcites minutillus
Brush Cuckoo
Cacomantis variolosus
Oriental Cuckoo
Cuculus optatus
Azure Kingfisher
Ceyx azureus
Blue-winged Kookaburra
Dacelo leachii
Forest Kingfisher
Todiramphus macleayii
Sacred Kingfisher
Todiramphus sanctus
Collared Kingfisher
Todiramphus chloris
Rainbow Bee-eater
Merops ornatus
Dollarbird
Eurystomus orientalis
Great Bowerbird
Ptilonorhynchus nuchalis
Red-backed Fairy-wren
Malurus melanocephalus
Weebill
Smicrornis brevirostris
Mangrove Gerygone
Gerygone levigaster
Large-billed Gerygone
Gerygone magnirostris
Green-backed Gerygone
Gerygone chloronota
Striated Pardalote
Pardalotus striatus
White-gaped Honeyeater
Lichenostomus unicolor
Rufous-banded Honeyeater
Conopophila albogularis
Rufous-throated Honeyeater
Conopophila rufogularis
Dusky Honeyeater
Myzomela obscura
Red-headed Honeyeater
Myzomela erythrocephala
Brown Honeyeater
Lichmera indistincta
White-throated Honeyeater
Melithreptus albogularis
Helmeted Friarbird
Philemon buceroides
Silver-crowned Friarbird
Philemon argenticeps
Little Friarbird
Philemon citreogularis
Black-faced Cuckoo-shrike
Coracina novaehollandiae
White-bellied Cuckoo-shrike
Coracina papuensis
Cicadabird
Coracina tenuirostris
Varied Triller
Lalage leucomela
Mangrove Golden Whistler
Pachycephala melanura
Grey Whistler
Pachycephala simplex
Little Shrike-thrush
Colluricincla megarhyncha
Grey Shrike-thrush
Colluricincla harmonica
Australasian Figbird
Sphecotheres vieilloti
Green Oriole
Oriolus flavocinctus
Olive-backed Oriole
Oriolus sagittatus
White-breasted Woodswallow
Artamus leucorynchus
Masked Woodswallow
Artamus personatus
Little Woodswallow
Artamus minor
Black Butcherbird
Cracticus quoyi
Grey Butcherbird
Cracticus torquatus
Pied Butcherbird
Cracticus nigrogularis
Spangled Drongo
Dicrurus bracteatus
Arafura Fantail
Rhipidura dryas
Grey Fantail
Rhipidura albiscapa
Mangrove Fantail
Rhipidura phasiana
Northern Fantail
Rhipidura rufiventris
Willie Wagtail
Rhipidura leucophrys
Torresian Crow
Corvus orru
Broad-billed Flycatcher
Myiagra ruficollis
Leaden Flycatcher
Myiagra rubecula
Shining Flycatcher
Myiagra alecto
Paperbark Flycatcher
Myiagra nana
Magpie-lark
Grallina cyanoleuca
Lemon-bellied Flycatcher
Microeca flavigaster
Mangrove Robin
Peneonanthe pulverulenta
Golden-headed Cisticola
Cisticola exilis
Yellow White-eye
Zosterops luteus
Tree Martin
Petrochelidon nigricans
Double-barred Finch
Taeniopygia bichenovii
Long-tailed Finch
Poephila acuticauda
Crimson Finch
Neochmia phaeton
Chestnut-breasted Mannikin
Lonchura castaneothorax
Eastern Yellow Wagtail
Motacilla tschutschensis
Mammals ( 2 )
Little-red Flying-fox
Pteropus scapulatus
Dingo
Canis lupis dingo
Reptiles ( 2 )
Estuarine Crocodile
Crocodylus porosus
Mitchell's Water Monitor
Varanus mitchelli