Where to Watch Birds
Lee Point

Lee Point is the place to see waders, terns, sometimes in huge numbers, and often, Beach Stone-curlew. Lee Point is the northern most tip of Darwin and faces the open sea. Because of this it is one of the most important sites for shore bird counting which is done by an intrepid group of volunteers on a regular basis through the year, particularly from September to April. The efforts of people like this are crucial to the conservation of habitats for these amazing flyers!
Dogs off lead are banned on this section of beach but unfortunately many dog owners are oblivious to either the ban or the reason for the ban. There is a need for better signage to help people appreciate the needs of these birds.
The ideal tide for shorebird watching is around the 4 mark and rising. Spotting scopes are essential to be able to properly see and identify shorebirds as it is not possible or advisable to approach too closely.
Parking is available at the Casuarina Coastal Reserve and you will find great habitat there for a variety of bush birds like Striated Pardalote, Grey-crowned Babbler and Red-winged Parrot.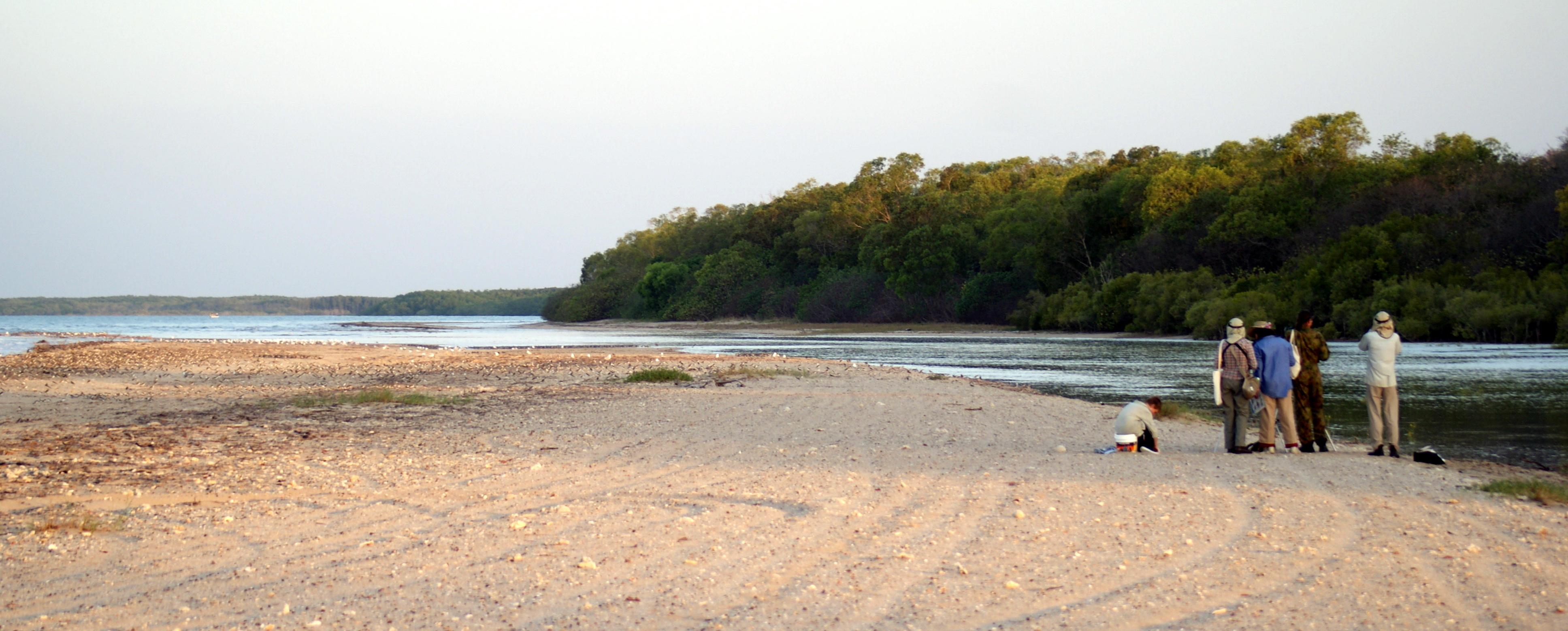 Species seen here recently
(81 Birds)
Orange-footed Scrubfowl
Megapodius reinwardt
Emerald Dove
Chalcophaps indica
Peaceful Dove
Geopelia striata
Bar-shouldered Dove
Geopelia humeralis
Pied Imperial-Pigeon
Ducula bicolor
Large-tailed Nightjar
Caprimulgus macrurus
Lesser Frigatebird
Fregata ariel
Little Black Cormorant
Phalacrocorax sulcirostris
Eastern Reef Egret
Egretta sacra
Straw-necked Ibis
Threskiornis spinicollis
Whistling Kite
Haliastur sphenurus
Brahminy Kite
Haliastur indus
Black Kite
Milvus migrans
Collared Sparrowhawk
Accipiter cirrocephalus
Bush Stone-curlew
Burhinus grallarius
Beach Stone-curlew
Esacus magnirostris
Sooty Oystercatcher
Haematopus fuliginosus
Pacific Golden Plover
Pluvialis fulva
Red-capped Plover
Charadrius ruficapillus
Lesser Sand Plover
Charadrius mongolus
Greater Sand Plover
Charadrius leschenaultii
Masked Lapwing
Vanellus miles
Bar-tailed Godwit
Limosa lapponica
Whimbrel
Numenius phaeopus
Eastern Curlew
Numenius madagascariensis
Terek Sandpiper
Xenus cinereus
Common Sandpiper
Actitis hypoleucos
Grey-tailed Tattler
Tringa brevipes
Ruddy Turnstone
Arenaria interpres
Great Knot
Calidris tenuirostris
Red Knot
Calidris canutus
Sanderling
Calidris alba
Red-necked Stint
Calidris ruficollis
Little Tern
Sternula albifrons
Gull-billed Tern
Gelochelidon nilotica
Caspian Tern
Hydroprogne caspia
Lesser Crested Tern
Thalasseus bengalensis
Crested Tern
Thalasseus bergii
Silver Gull
Chroicocephalus novaehollandiae
Red-tailed Black-Cockatoo
Calyptorhynchus banksii
Galah
Eolophus roseicapillus
Little Corella
Cacatua sanguinea
Sulphur-crested Cockatoo
Cacatua galerita
Red-collared Lorikeet
Trichoglossus rubritorquis
Varied Lorikeet
Psitteuteles versicolor
Red-winged Parrot
Aprosmictus erythropterus
Pheasant Coucal
Centropus phasianinus
Brush Cuckoo
Cacomantis variolosus
Blue-winged Kookaburra
Dacelo leachii
Forest Kingfisher
Todiramphus macleayii
Sacred Kingfisher
Todiramphus sanctus
Collared Kingfisher
Todiramphus chloris
Dollarbird
Eurystomus orientalis
Great Bowerbird
Ptilonorhynchus nuchalis
Striated Pardalote
Pardalotus striatus
White-gaped Honeyeater
Lichenostomus unicolor
Rufous-banded Honeyeater
Conopophila albogularis
Dusky Honeyeater
Myzomela obscura
Red-headed Honeyeater
Myzomela erythrocephala
Brown Honeyeater
Lichmera indistincta
White-throated Honeyeater
Melithreptus albogularis
Silver-crowned Friarbird
Philemon argenticeps
Little Friarbird
Philemon citreogularis
Grey-crowned Babbler
Pomatostomus temporalis
Black-faced Cuckoo-shrike
Coracina novaehollandiae
White-bellied Cuckoo-shrike
Coracina papuensis
White-winged Triller
Lalage sueurii
Varied Triller
Lalage leucomela
Australasian Figbird
Sphecotheres vieilloti
Green Oriole
Oriolus flavocinctus
White-breasted Woodswallow
Artamus leucorynchus
Black Butcherbird
Cracticus quoyi
Spangled Drongo
Dicrurus bracteatus
Torresian Crow
Corvus orru
Magpie-lark
Grallina cyanoleuca
Lemon-bellied Flycatcher
Microeca flavigaster
Mistletoebird
Dicaeum hirundinaceum
Double-barred Finch
Taeniopygia bichenovii
Long-tailed Finch
Poephila acuticauda
Crimson Finch
Neochmia phaeton
Chestnut-breasted Mannikin
Lonchura castaneothorax