Where to Watch Birds
Buffalo Creek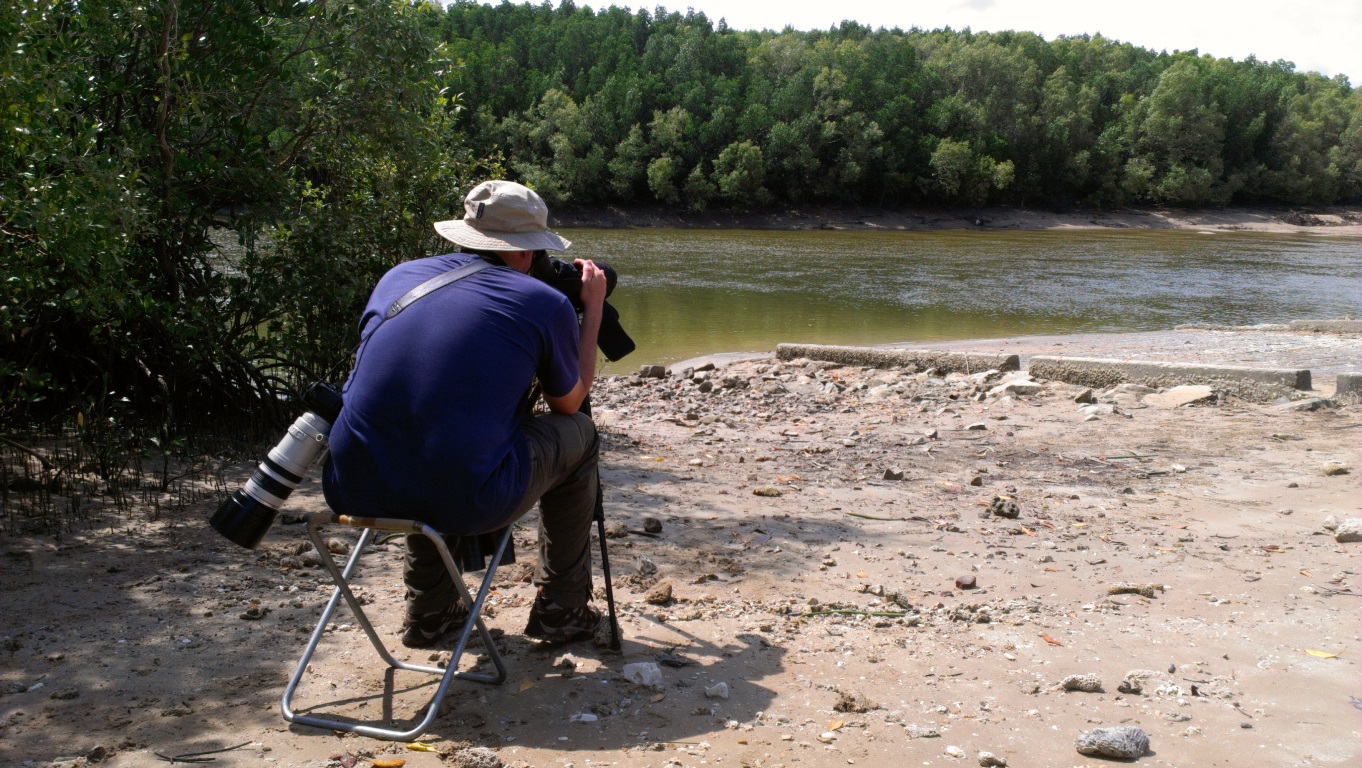 Buffalo Creek is probably the most reliable vplace to see Chestnut Rail. The ideal conditions are when the tide is around 4 metres and falling, early in the morning, and preferably on a week day, as weekends and public holidays see alot of boating and fishing activity at this location. it is also a great location for other mangrove specialialists such as Red-headed Honeyeater, Mangrove Gerygone, Brown Whistler, Little Bronze-cuckoo, Black Butcherbird and Little Shrike-thrush.
Around the mouth of the creek there are usually various terns and shorebirds. Continuing in a westerly direction along the beach here leads to Lee Point. On a rising tide numerous waders can found roosing until the tidal zone is exposed again. This is also a good location for Beach Stone-curlew.
There is a narrow strip of monsoon forest running parallel with the beach where Rainbow Pitta and Rose-crowned Fruit-Dove are sometimes seen. On the southern side of the road there is open forest, with likely sightings of Red-tailed Black Cockatoos, Red-winged Parrots and Forest Kingfishers.
To get to Buffalo Creek, go down Lee Point Road towards the sea and take 'Buffalo Creek Road' to the right, just after the Lee Point Village Resort.
Species seen here recently
Buffalo Creek
Birds ( 99 )
Orange-footed Scrubfowl
Megapodius reinwardt
Radjah Shelduck
Tadorna radjah
Pacific Emerald Dove
Chalcophaps longirostris
Peaceful Dove
Geopelia striata
Bar-shouldered Dove
Geopelia humeralis
Rose-crowned Fruit-Dove
Ptilinopus regina
Pied Imperial-Pigeon
Ducula bicolor
Australasian Darter
Anhinga novaehollandiae
Australian Pelican
Pelecanus conspicillatus
Black-necked Stork
Ephippiorhynchus asiaticus
Eastern Great Egret
Ardea modesta
Striated Heron
Butorides striata
Little Egret
Egretta garzetta
Eastern Reef Egret
Egretta sacra
Nankeen Night-Heron
Nycticorax caledonicus
Straw-necked Ibis
Threskiornis spinicollis
Royal Spoonbill
Platalea regia
Eastern Osprey
Pandion cristatus
White-bellied Sea-Eagle
Haliaeetus leucogaster
Whistling Kite
Haliastur sphenurus
Brahminy Kite
Haliastur indus
Black Kite
Milvus migrans
Brown Goshawk
Accipiter fasciatus
Grey Goshawk
Accipiter novaehollandiae
Chestnut Rail
Eulabeornis castaneoventris
Buff-banded Rail
Gallirallus philippensis
Beach Stone-curlew
Esacus magnirostris
Australian Pied Oystercatcher
Haematopus longirostris
Pacific Golden Plover
Pluvialis fulva
Grey Plover
Pluvialis squatarola
Red-capped Plover
Charadrius ruficapillus
Lesser Sand Plover
Charadrius mongolus
Greater Sand Plover
Charadrius leschenaultii
Masked Lapwing
Vanellus miles
Black-tailed Godwit
Limosa limosa
Bar-tailed Godwit
Limosa lapponica
Whimbrel
Numenius phaeopus
Eastern Curlew
Numenius madagascariensis
Common Sandpiper
Actitis hypoleucos
Grey-tailed Tattler
Tringa brevipes
Common Greenshank
Tringa nebularia
Marsh Sandpiper
Tringa stagnatilis
Ruddy Turnstone
Arenaria interpres
Sanderling
Calidris alba
Curlew Sandpiper
Calidris ferruginea
Little Tern
Sternula albifrons
Gull-billed Tern
Gelochelidon nilotica
Caspian Tern
Hydroprogne caspia
Whiskered Tern
Chlidonias hybrida
Lesser Crested Tern
Thalasseus bengalensis
Crested Tern
Thalasseus bergii
Silver Gull
Chroicocephalus novaehollandiae
Red-tailed Black-Cockatoo
Calyptorhynchus banksii
Sulphur-crested Cockatoo
Cacatua galerita
Rainbow Lorikeet
Trichoglossus haematodus
Red-collared Lorikeet
Trichoglossus rubritorquis
Varied Lorikeet
Psitteuteles versicolor
Red-winged Parrot
Aprosmictus erythropterus
Pheasant Coucal
Centropus phasianinus
Eastern Koel
Eudynamys orientalis
Little Bronze-Cuckoo
Chalcites minutillus
Azure Kingfisher
Ceyx azureus
Forest Kingfisher
Todiramphus macleayii
Sacred Kingfisher
Todiramphus sanctus
Rainbow Bee-eater
Merops ornatus
Dollarbird
Eurystomus orientalis
Rainbow Pitta
Pitta iris
Great Bowerbird
Ptilonorhynchus nuchalis
Mangrove Gerygone
Gerygone levigaster
Large-billed Gerygone
Gerygone magnirostris
Green-backed Gerygone
Gerygone chloronota
White-gaped Honeyeater
Lichenostomus unicolor
Rufous-banded Honeyeater
Conopophila albogularis
Red-headed Honeyeater
Myzomela erythrocephala
Brown Honeyeater
Lichmera indistincta
White-throated Honeyeater
Melithreptus albogularis
Helmeted Friarbird
Philemon buceroides
Silver-crowned Friarbird
Philemon argenticeps
Black-faced Cuckoo-shrike
Coracina novaehollandiae
White-bellied Cuckoo-shrike
Coracina papuensis
Varied Triller
Lalage leucomela
Grey Whistler
Pachycephala simplex
Little Shrike-thrush
Colluricincla megarhyncha
Australasian Figbird
Sphecotheres vieilloti
Yellow Oriole
Oriolus flavocinctus
Olive-backed Oriole
Oriolus sagittatus
White-breasted Woodswallow
Artamus leucorynchus
Black Butcherbird
Cracticus quoyi
Spangled Drongo
Dicrurus bracteatus
Northern Fantail
Rhipidura rufiventris
Torresian Crow
Corvus orru
Shining Flycatcher
Myiagra alecto
Magpie-lark
Grallina cyanoleuca
Lemon-bellied Flycatcher
Microeca flavigaster
Yellow White-eye
Zosterops luteus
Tree Martin
Petrochelidon nigricans
Long-tailed Finch
Poephila acuticauda
Chestnut-breasted Mannikin
Lonchura castaneothorax
Mammals ( 1 )
Agile Wallaby
Macropus agilus
Reptiles ( 1 )
Gilbert's Dragon; Ta-ta Lizard
Amphibolurus gilberti
List compiled from my Bird Journal records