Friends of Experience the Wild
Here are links to websites for some of the bird knowledge resources we keep contact with. You might find these contacts useful and rewarding too.
---
Bird Watching and Nature Related
Australian Wildlife Conservancy Owns and manages more than 3 million hectares, protecting more native wildlife than any other organisation. Experience the Wild is proud to support this conservation organization.
Bird Forum A great international resource for sharing photos and information pertaining to bird watching.
Beginner's Guide to Birdwatching Good information and links for beginning birders, US based but useful to all parts of the world.
How to Get Kids Interested in Bird Watching Children are like sponges; they soak up the information presented to them, and then they like to go out and explore or gain experiences in their own way. UK based site.
Blue Sky Wildlife Blue Sky Wildlife, a new collection of established and award winning tour operators and companies offering unique wildlife experiences from around the world. From off the beaten track birdwatching adventures in Uganda to whale watching in New Zealand, there really is something to suit all wildlife lovers seeking exciting nature tours and holidays.
The Kangaroo Trail We can see up five different macropods on our tours. The more adventurous can follow a Big Red into the spectacular landscapes and big skies of the Outback. The Wallaroos that span the continent will lead you into the most spectacular wilderness through the gorges and ranges of the Great Divide, the Flinders Ranges, the Red Centre, Cape York, Arnhem Land, the Kimberley and the Pilbara. Here is an interactive map with fact sheets for different species and where to see them.
Lake Argyle Cruises Between Kununurra, WA and the NT border, they operate a full day birdwatching safari, sometimes sighting up to 113 species in one day, check out their birdwatching page.
Leanyer Sewerage Treatment Plant NT Power and Water state on their website that they are 'proud to manage and support public bird watching at two world-class bird watching facilities, Leanyer ponds in Darwin and Ilparpa ponds in Alice Springs. A number of ornithology books note these sites and they attract tourists from across Australia and around the world. These sites are not always open, and this website should be checked before proceeding to the site.'
Access to waste stabilisation ponds is to members of the public on completion of an online safety induction and online indemnity form. If you wish to visit this facility as part of a tour with us you will not need to obtain a key as we already have one.
NOTE: Power and Water is not currently allowing any bird watchers in to the ponds for administration reasons, we can, however, see many of these species by walking around the outside of the fenceline.

Lloyd Nielsen is a Field ornithologist and bird researcher, the first Queenslander to receive the prestigious J.N. Hobbs Medal, awarded in 2014 by BirdLife Australia for outstanding amateur contributions to Australasian ornithology. His website is a useful resource for local and overseas birders, especially for north Queensland.
NT Birding Yahoo email group reporting rare or unusual bird sightings around Darwin and the NT.
NT Birds Mike Reed's guide to birdwatching in the Top End.
NT Field Naturalists Club Darwin hosts a number of agencies and world class scientists who undertake quality research into the Northern Territory's natural environments and ecology. We also have individuals who through years of dedicated observations and personal research have gained great insight into our natural world.
Pudakul Aboriginal Cultural Tours Pudakul Aboriginal Cultural Tours is an established 100% fully Aboriginal owned and operated family business. They deliver an original popular Aboriginal culture and nature based engagement experience. This is an authentic experience rich with information, knowledge and culture!
The Grip Chris Watson's interesting blog of unique birding insights, regularly features superb reviews of recent book releases.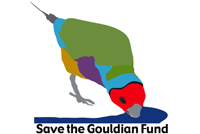 Save the Gouldian Fund The Save The Gouldian Fund is a not-for-profit charity for the research and conservation of the Gouldian Finch, they conduct an annual Gouldian Finch Census at Wyndham, Western Australia. This site has some informative links to various studies on Gouldians.
Top End Bird Finder Katherine birder and tour guide Mick Jerram's sightings.
Wildcare NT A non-profit care and rescue organization in Darwin which provides a support network carers of sick and orphaned wildlife. The primary objective is to rehabilitate and release these animals back into their natural habitat and to raise community awareness concerning the care and conservation of native animals. There are tips for providing emergency first aid and contact numbers for expert carers.
Wildiaries Wildlife experiences around Australia and the rest of the world.