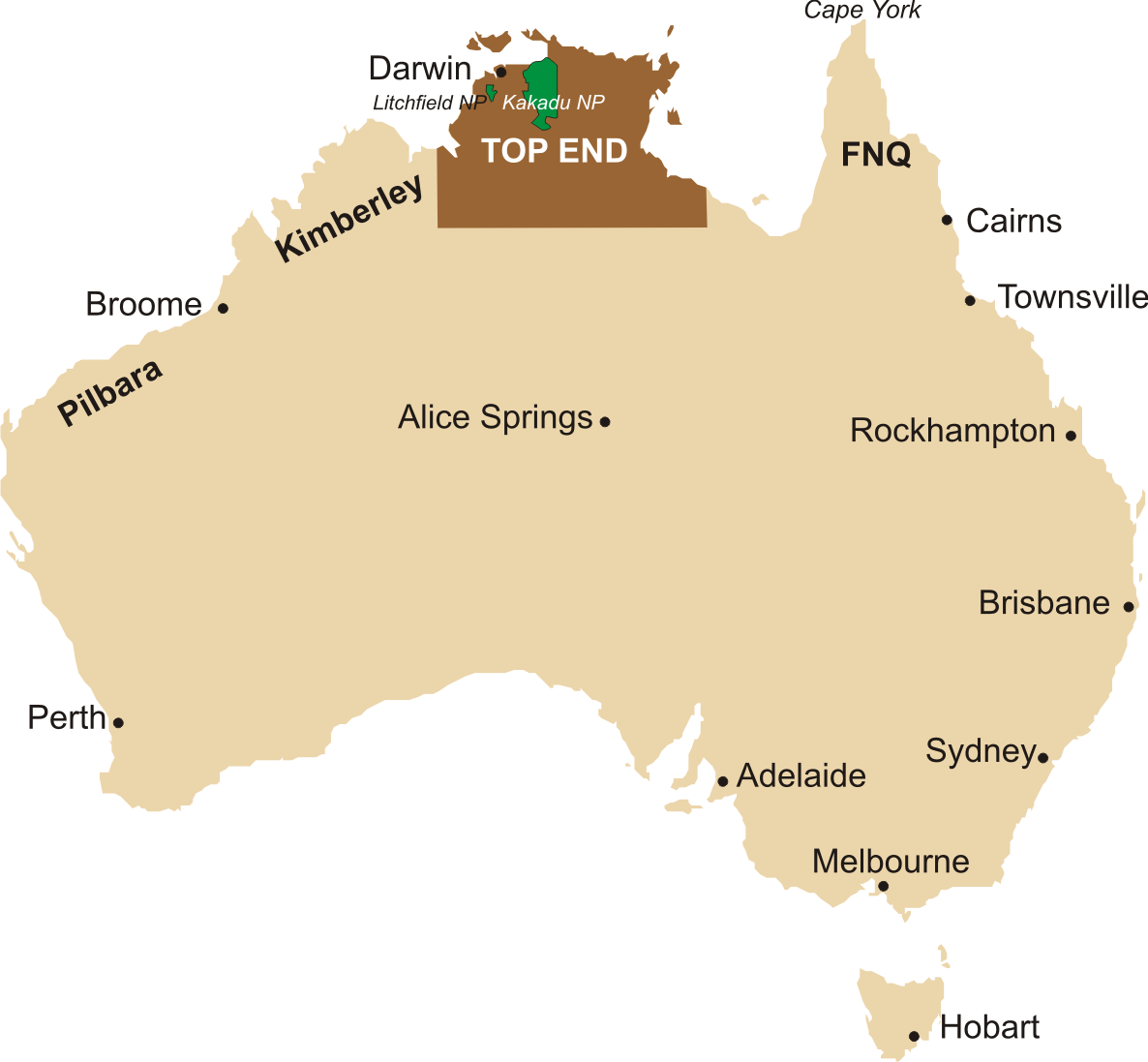 Top End Endemics
Birds
The Top End has six endemic species (Banded Fruit Dove, Chestnut-quilled Rock Pigeon, Hooded Parrot, White-throated Grasswren, White-lined Honeyeater, Helmeted Friarbird). When we include species occurring in the Top End and into the east Kimberley region we have a total of twenty-two endemic bird species.
Extending the list to include Far-north Queensland and you have fifty-six endemic species. This list is especially useful if you are endeavouring to check off species you won't find elsewhere in Australia.
1. Chestnut Rail Eulabeornis castaneoventris - Seen in mangrove habitat across the coastal Top End and Kimberley region. Relatively common but notoriously hard to see. They emerge from the mangroves, often on a falling tide, to forage muddy river, creek or banks for crabs, favouring the steeper banks. They are often easier to see from a boat than land, seeming to be indifferent to boats but very furtive and shy when watched from land. Creeks flowing into Darwin Harbour are a great place to see them. Buffalo Creek is the established location for Chestnut Rail viewing potential. We sometimes run a boat-based Chestnut Rail Expedition.
Black-banded Fruit-Dove Ptilinopus alligator - Restricted to Arnhemland Escarpment, often seen in monsoon forest habtat in deep gorges and boulder-stewn gullies in sandstone escarpment in Kakadu. It has the most restrictive habitat requirements of any Australian pigeon. Rarely more than one or two birds are seen together in one location. They feed on the fruit of various ficus spp. and other monsoon forest trees, rarely ever being seen on the ground, even drinking from rocky ledges. They rarely call and when they do it is a low-pitched, soft coo repeated six or seven times at intervals.


Partridge Pigeon Geophaps smithii smithii - Once common across the Top End in suitable habitat but now becoming harder to find and classed as 'vulnerable', we still find them on most visits to Kakadu. A yellow faced sub-species G.s.blaauwi is endemic to the coastal Kimberley region. Has a prefererence for open woodland with short grasses. They feed and nest on the ground and have been adversely affected by frequent fires late in the dry season, exacerbated by introduced weeds such as Gamba Grass. Cats are also a significant threat.
4. White-quilled Rock Pigeon Petrophassa albipennis boothi - The nominate species albipennis is found in the Kimberley and the boothi subspecies in the Victoria River district, NT. Sandstone, quartzite and limestone plateux and escarpments, usually near permanent water. Usually in pairs or small groups, feedind on small seeds on the ground or in rock crevices. If disturbed, they will fly to rocks, run along, and fly higher and further if necesssary, but never take refuge in trees.
Chestnut-quilled Rock Pigeon at Ubirr. This very restricted species is only found in the Arnhem Land escarpment habitat (photo copyright Alan Kydd)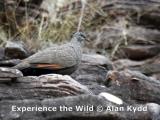 5. Chestnut-Quilled Rock Pigeon Petrophassa rufipennis - Restricted to Arnhemland Escarpment, often seen in suitable habitat in Kakadu. As with the White-Quilled Rock Pigeon, they are found in sanstone habitat, where they feed on small seds on the ground and rocky surfaces. If disturbed, they scurry up to the rocks, often running up to a rocky ridge, ready to fly to the next level if need be. I have never seen one perch in a tree. Ubirr, on the East Alligator River, Kakadu. is a reliable place to see them.

6. Red-collared Lorikeet Trichoglossus rubritorquis - Very common in Darwin, found right across the Top End and Kimberley as far as Broome, distinct from Rainbow Lorikeet common in eastern Australia. Around dusk small flocks fly in from all directions to meet up in communal roosting areas. Some of these roosts are in highly populated areas such as Darwin city and Palmerston CBD. They are nectar feeders, and will noisily compete with honeyeaters at favourite blossoming trees.

7. Northern Rosella Platycercus adscitus - Uncommon species, patchy distribution across the Top End and Kimberley. Though uncommon, can show up nearly anywhere in suitable habitat. Will quietly feed on seeds of grasses and herbs on roadsides. Usually in pairs or small family groups of up to eight.

Hooded Parrot Psephotus dissimilis - 'Dissimilis' in reference to the diference between the male and female plumage, male is spectacular in turquoise and gold, female is an understated beauty, both can be seen in this photo. Patchily distributed from the western edge of the Arnhem Land escarpment to the upper reaches of the South Alligator River, Pine Creek and Katherine. Found in dry savannah woodland, near watercourses, and where tall terrestial termite mounds are found. They escavate a nest hollow in these mounds.

9. Rainbow Pitta Pitta iris - The nominate species is moderately common in monsoon forest habitat in coastal regions across the Territory, and a sub-species (R. p. johnstoneiana) occurs in the East Kimberley region. Rainbow Pittas are totally dependent on the availablity of earthworms, which constitue around 80% of their diet. Breeding is in the early wet season, October to February, coinciding with the seasonal abundance of food.

White-throated Grasswren Amytornis woodwardi - restricted to Arnhemland Escarpment, rarely seen and only in suitable, rugged, habitat in Kakadu. They require mature spinifex to breed, and because spinifex burns very easily, innappropriate fire regimes have caused population declines.

11. Purple-crowned Fairywren Malarus coranatus - Race coronatus occurs in the East Kimberley and south west Top End and race macgillvarayi occurs in the eastern Top End along the gulf and just past the Qld border. Found in thick canegrass along river banks.

12. Green-backed Gerygone Gerygone chloronota - Coastal Top End and Kimberley, common in Darwin (also found in New Guinea). Song is a distinctive reeling trill, reminiscent of the sound of a teaspoon stirring a cup of tea. A very dainty bird, the smallest of our gerygones. Found in monsoon forest, edge of mangroves and riparian habitat. Nest is a pendulous hanging globe with a hooded side entrance, lined with plant down and decorated with caterpillar pellets.


White-lined Honeyeater Meliphaga albilineata - Escarpment endemic, one to look for at Kakadu as it is only found in the Arnhem Land escarpment. Melodic, cheery then melancholy whistles echoing off the sandstone escarpment walls alert you to their presence. Favouring paperbark and monsoon vegatative areas in sandstone gorges.


Helmeted Friarbird Philemon buceroides - Northwest Coastal Top End, with 'Sandstone' sub-species P.b. ammitophila in the Kakadu region, recently split from the Cape York species (now called 'Hornbill Friarbird' P.yorki). The Darwin and coastal nominate race is mid-sized between the Little and Silver-crowned Friarbirds. They favour mangrove and monsoon forest habitats. The Sandstone race is a larger bird and an escarpment specialist.


15. Northern (Crested) Shrike-tit Falcunculus frontatus whitei - Coastal Top End and Kimberley region WA, rare. Found in savannah woodland in a few restricted locations, mainly in the southern Top End. Pulls off loose bark with it's powerful bill in search of invertebrate food.

16. White-breasted Whistler Pachycephala lanioides - Coastal Top End (P.l.fretorum) and Pilbara and Kimberley (P.l.lanioides) in the west, also Gulf of Carpentaria around Karumba, Qld. Very rare in the NT, sighted occasionally in some mangrove pockes near Darwin city. Reasonably easy to see in Broome. Favours mangrove habitat, feeding on small crabs and other invertebrates.

17. Sandstone Shrike-thrush Colluricincla woodwardi - Escarpment specialist in Arhem Land sandstone escarpment. Also in escarpment areas in the southwest Top End (Timber Creek) and Kimberley region WA has the C.w.assimilus sub-species, Also on the edge of the Barkly tableland at Lawn Hill NP, Qld (P.l.didimus). A fairly plain bird, but as with other shrike-thrushes, has an exquisite song.

18. Mangrove Fantail Ripudura phasiana - Coastal Top End and Pilbara and Kimberley in the west. Restricted to mangrove habitat and quite rare in Darwin. More common in Broome. Call very high pitched and distinctive from Grey and Northern Fantail.

19. Arafura Fantail Ripudura dryas - Coastal Top End and Kimberley, coastal areas around the Gulf of Carpentaria, moderately common around Darwin and Fogg Dam. Distinguished from the Rufous Fantail by it's smaller size and more white on the edge of it's tail. Seen in mangrove and monsoon forest habitats.

20. Silver-backed Butcherbird Cracticus argenteus - Top End species smaller and lighter on the back than the Grey Butcherbird, also in the Kimberley. Not as common as the Pied Butcherbird but reliable in scattered pockets across the Top End. Found in tall eucalypt forests and riparian woodland. Quick to take advantage of feeding opportunities in freshly burnt out areas and also in picnic grounds.

21. Yellow-rumped Mannikin Lonchura flaviprymna - southwestern Top End, Kimberley, occasionally seen in Darwin. Often mixes with Chestnut-breasted Mannikin. Distinguish from juvenile Chestnut-breasted Mannikin by checking for the whitish grey head. Likes to be close to water, with flocks working long grass on river edges for small seeds.


Gouldian Finch Erythrura gouldiae - regularly spotted within an hours drive of Darwin, some hot spots for Gouldian spotting in the Kimberley, almost extinct in Queensland. This beautiful bird is a prime target for bird watchers, not only because of it's beauty but also it's rarity. Has struggled with numbers as low as an estimated 2500 in the wild since the 1990's. Seems to be recovering steadily, with flocks of hundreds sometimes seen in September-October.
---
Top End Targets
If you are visiting Darwin, watch out for these birds too, you won't see them in any other Australian city except in some cases Cairns. This list is compiled to help overseas and interstate visitors prioritize their targets when visiting Darwin. Some of our target species range west to the Kimberley area, where resident expert bird guide, George Swann, leads tours.
1. Orange-footed Scrubfowl - Seen from Darwin and Cairns, also Kimberley region WA
2. Chestnut-backed Button-quail - See from Darwin, also found in Kimberley region WA
3. Radjah Shelduck - Common in Darwin, also in Cairns and as far south as Rockhampton, but much less common
4. Green Pygmy-goose - Easily seen in Darwin and Cairns
5. Chestnut Rail - Seen from Darwin and Kimberley region WA
6. Great-billed Heron - Seen from Darwin or Cairns, also Kimberley region WA
7. Pied Heron - Common in Darwin, also in Cairns but less common
8. Little Ringed Plover - A rarely seen migrant visitor to northern Australian shorelines, almost a regular at the Leanyer Sewerage Treatment Plant from July to April
9. Black-breasted Buzzard - mostly inland raptor, moderately common close to Darwin in dry season months from May to October
10. Pied Imperial-Pigeon - Common in Darwin during the wet season, comes down from Indonesia to breed. Also seen in Cairns.
11. Banded Fruit-Dove - Restricted to Arnhemland Escarpment, often seen in suitable habitat in Kakadu
12. White-quilled Rock Pigeon -
13. Chestnut-Quilled Rock-Pigeon - Restricted to Arnhemland Escarpment, often seen in suitable habitat in Kakadu.
14. Partridge Pigeon - Moderately common in Kakadu, a yellow faced sub-species is endemic to the coastal Kimberley region
15. Red-collared Lorikeet - Common in Darwin, distinct from Rainbow Lorikeet common in southern cities
16. Varied Lorikeet - Top End bird extending slightly east and west of NT borders, moderately common in Darwin
17. Northern Rosella - Moderately common in Darwin and Kimberley region WA
18. Hooded Parrot - Locally moderately common from Pine Creek to Katherine, within 200 kilometres of Darwin
19. Oriental Cuckoo - Uncommon seasonal (October to April) visitor to coastal Top End
20. Rufous Owl - Uncommon coastal and near coastal resident in NT, NW Kimberley, also Cape York to Cairns
21. Rainbow Pitta - Coastal Top End including monsoon forest habitat within ten minutes of Darwin city, also NW Kimberley
22. Black-tailed Treecreeper - Top End coastal and near coastal, also in the Kimberley
23. White-throated Grasswren - restricted to Arnhemland Escarpment, rarely seen and only in suitable habitat in Kakadu
24. Purple-crowned Fairywren - Race coronatus occurs in the East Kimberley and south west Top End and race macgillvarayi occurs in the eastern Top End along the gulf and just past the Qld border
25. Green-backed Gerygone - Coastal Top End and Kimberley, common in Darwin
26. Large-billed Gerygone - Coastal Top End, Kimberley and Cape York to Rockhampton, common in Darwin
27. Silver-crowned Friarbird - Top End, Kimberley and Cape York, seen in Darwin
28. Helmeted Friarbird - Northwest Coastal Top End, with 'Sandstone' sub-species in the Kakadu region, recently split from the Cape York species now called 'Hornbill Friarbird'
29. White-lined Honeyeater - Escarpment specialist, one to look for at Kakadu
30. White-gaped Honeyeater - Top End, Kimberley Far North Queensland, very common in Darwin
31. Yellow-tinted Honeyeater - can be seen in southern Top End, east and west of the Katherine area, Kimberley
32. Bar-breasted Honeyeater - Darwin, Kimberley and Far North Queensland
33. Rufous-banded Honeyeater - very common around Darwn, coastal Top End and Far North Queensland
34. Banded Honeyeater - very common around Darwn, coastal Top End and Far North Queensland
35. Lemon-bellied Flyrobin - Top End, coastal Kimberley and north Queensland south to Rockhampton
36. Buff-sided Robin - Coastal Top End and Kimberley region WA
37. Northern (Crested) Shrike-tit - Coastal Top End and Kimberley region WA, rare
38. Sandstone Shrike-thrush - Escarpment specialist, Top End and Kimberley region WA, Also on the edge of the Barkly tableland at Lawn Hill NP, Qld
39. Brown (Grey) Whistler - Coastal Top End, moderately common in Darwin monsoon forests, Grey race in Far North Queensland
40. White-breasted Whistler - Coastal Top End and Pilbara and Kimberley in the west, rare, also Gulf of Carpentaria around Karumba, Qld
41. Northern Fantail - Top End, Kimberley and Far North Queensland, common around Darwin
42. Mangrove Grey Fantail - Coastal Top End and Pilbara and Kimberley in the west
43. Arafura Fantail - Coastal Top End and Kimberley, moderately common around Darwin
44. Broad-billed Flycatcher - Top End, Kimberley and north Queensland south to Cooktown, seen in mangroves around Darwin
45. Green (previously Yellow) Oriole - Top End, Kimberley and north Queensland south to Cairns, common around Darwin
46. Great Bowerbird - Top End, Kimberley and north Queensland south to Townsville, common around Darwin
47. Black Butcherbird - Coastal Top End and Far North Queensland, moderately common in mangroves around Darwin
48. Silver-backed Butcherbird - Top End species smaller and lighter on the back than the Grey Butcherbird, also in the Kimberley
49. Yellow Wagtail - Uncommon visitor to northern Australia, October to March, sometimes seen at Leanyer Sewerage Treatment Plant, Kimberley, especially Broome
50. Long-tailed Finch - Top End and Kimberley, Lawn Hill and Gulf country Qld, reasonably common around Darwin if you know where to search
51. Masked Finch - Top End, Kimberley and Far North Queensland south to Cooktown
52. Crimson Finch - Top End, Kimberley and north Queensland south to Rockhampton
53. Pictorella Mannikin - southern Top End, south and west of Katherine, Kimberley, Gulf of Carpentaria and inland towards Mt Isa and Cloncurry, Qld
54. Yellow-rumped Mannikin - southwestern Top End, Kimberley, occasionally seen in Darwin
55. Gouldian Finch - regularly spotted within an hours drive of Darwin, some hot spots for Gouldian spotting in the Kimberley, almost extinct in Queensland
56. Yellow White-eye - Coastal Top End and west as far south as Exmouth (Pilbara), east to Gulf of Carpentaria around Karumba, Qld
---
Race differences are interesting and noticeable with the following species that are also found in southern areas -
Masked Lapwing, now a distinct species from the southern counterpart which is now called the Black-shouldered Lapwing
Grey-crowned Babbler - more of a chestnut than grey and much more secure population, common in suburban gardens around Darwin
Magpie-lark, our bird is slightly smaller and resident of the Top End, while the southern cousins are a partial migrant, seen in flocks of up to forty or fifty during the dry season
Download a free Top End Birdlist