Where to Watch Birds
Ubirr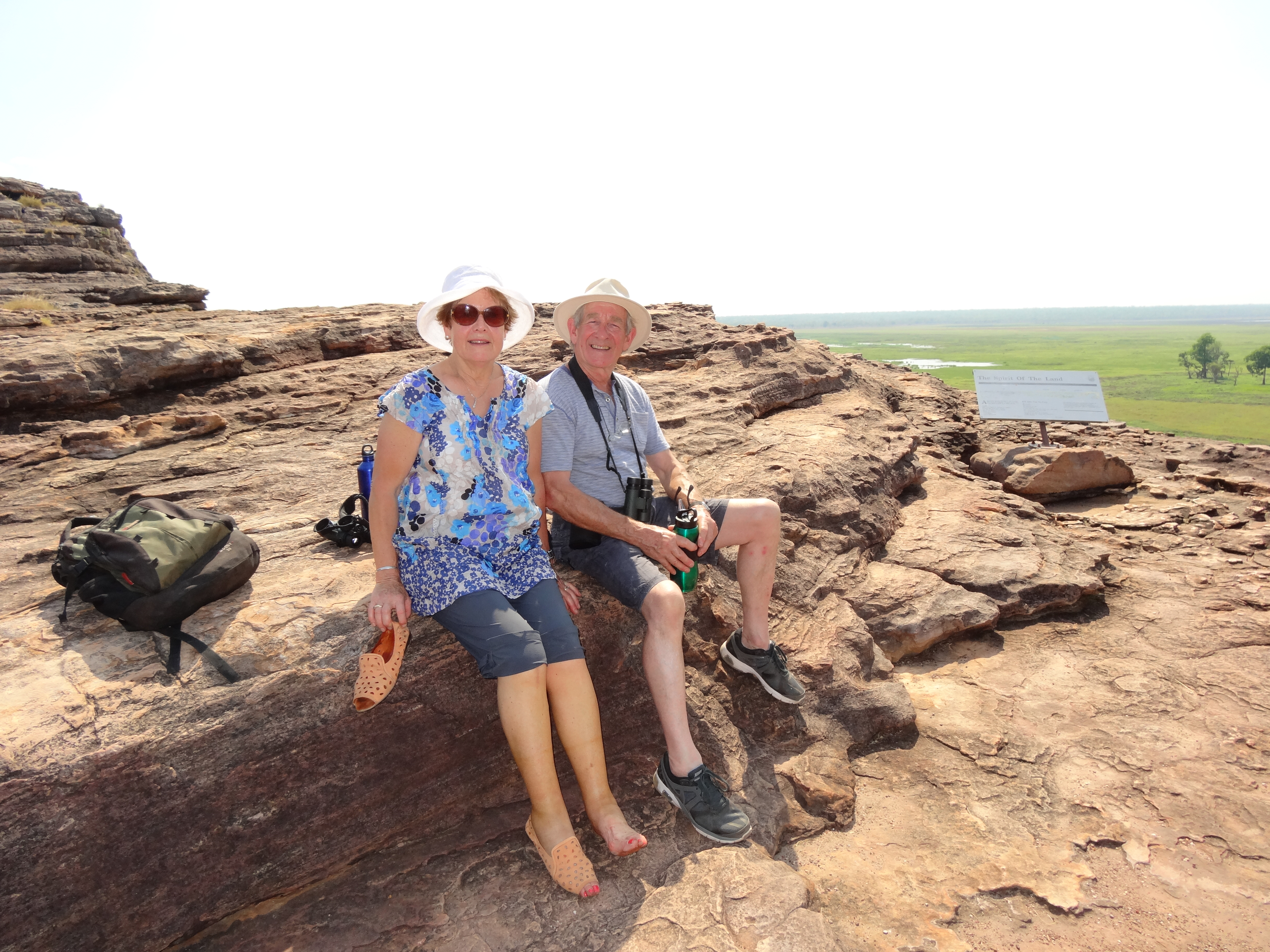 Ubirr (pronounced Oo-beerr) is part of the Arnhem Land escarpment on the East Alligator River on the border between Kakadu and Arnhem Land. A 1km circuit walk takes you to several galleries of ancient rock art.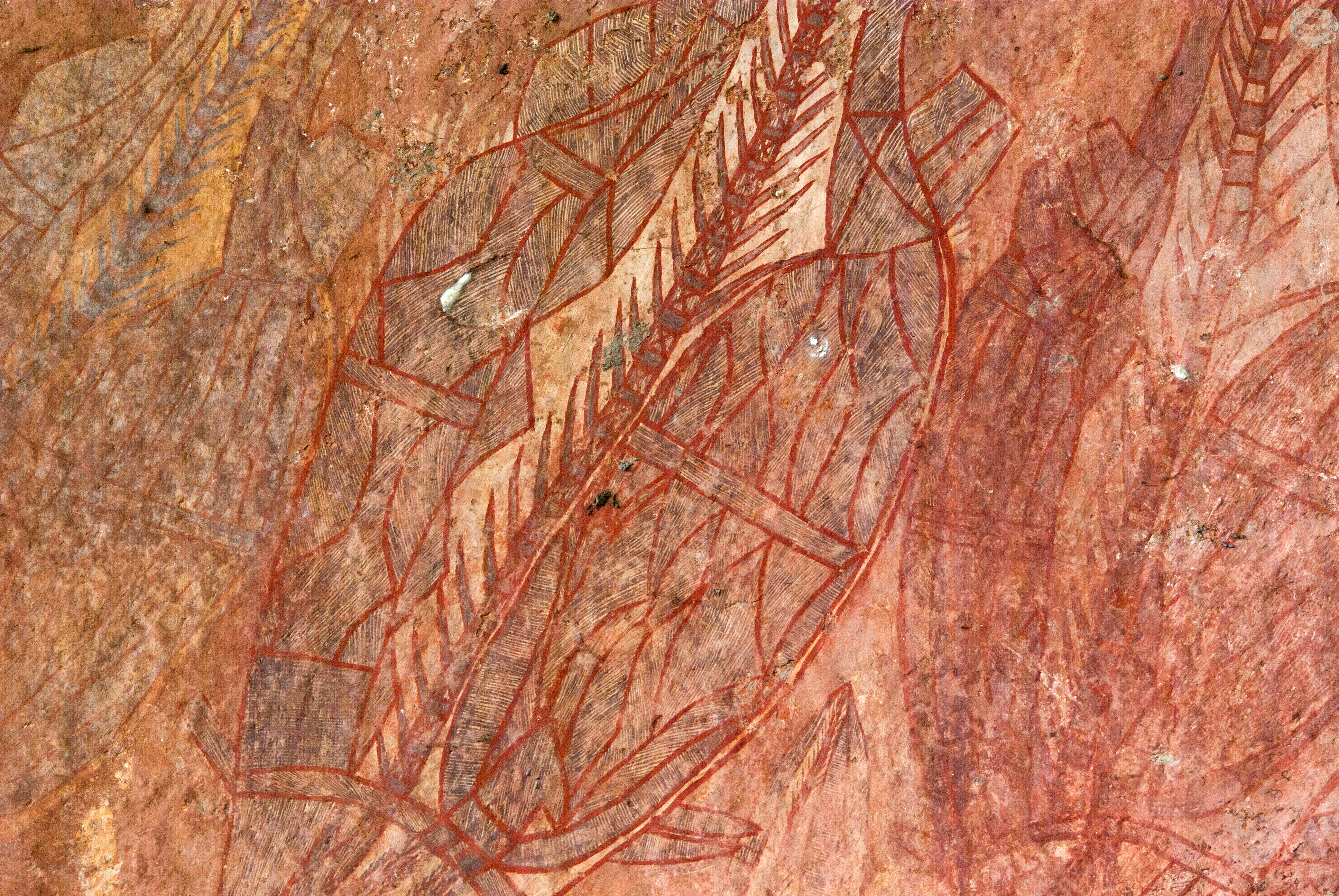 Aboriginal people used this area as a wet season shelter for countless generations up until the 1960's. Their life, religion and interaction with wildlife is recorded with ochre paintings on rock faces prolifically and in intricate detail.
There is a painting of a Thylacine (Tasmanian Tiger), thought to be extinct on the mainland for 3500 years.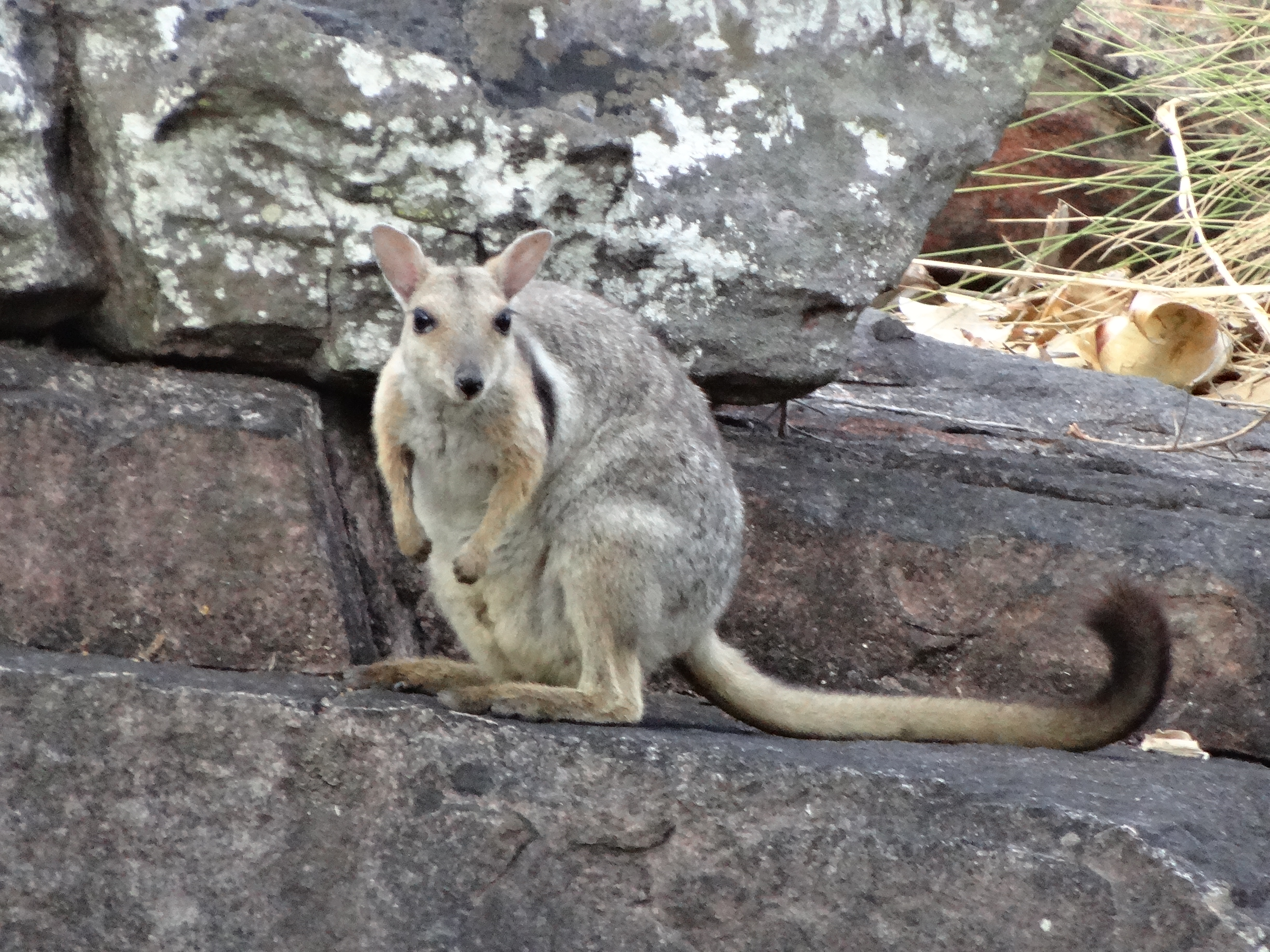 Here it is possible to encounter Sandstone Shrike-thrush, Chestnut-quilled Rock-Pigeon and the newly recognized Wilkin's Rock Wallaby, while you are looking at the rock art.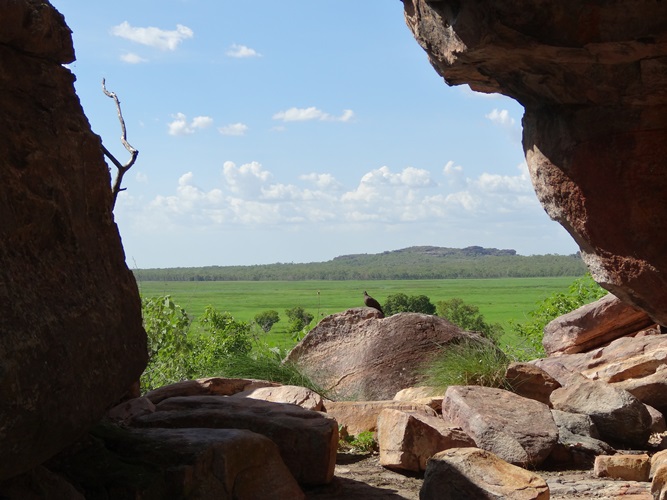 The Mangarre Monsoon Forest walk is a reliable site for Rainbow Pitta. Nearby there is the 2.5 km loop Bardedjilidji Sandstone Walk, which is the best location to see the endemic Chestnut-quilled Rock-Pigeon.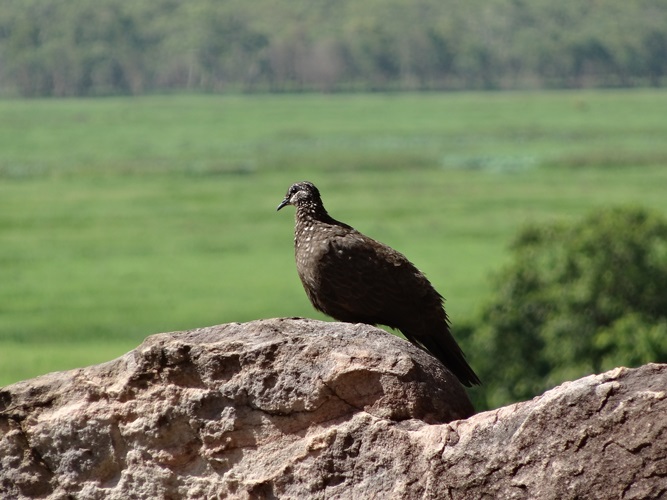 Other good birding locations to visit in Kakadu National Park are:-
The
Kakadu Nature's Way
5 day, 4 day and 3 day tours visit this location as well as the Best of Top End Birding and Top End Birding Adventure (photography tour).
Species seen here recently
Ubirr Birds ( 40 )
Chestnut-quilled Rock-Pigeon
Petrophassa rufipennis
Peaceful Dove
Geopelia striata
Pied Imperial-Pigeon
Ducula bicolor
Black-necked Stork
Ephippiorhynchus asiaticus
Black-breasted Buzzard
Hamirostra melanosternon
White-bellied Sea-Eagle
Haliaeetus leucogaster
Whistling Kite
Haliastur sphenurus
Red-tailed Black-Cockatoo
Calyptorhynchus banksii
Sulphur-crested Cockatoo
Cacatua galerita
Red-collared Lorikeet
Trichoglossus rubritorquis
Varied Lorikeet
Psitteuteles versicolor
Pheasant Coucal
Centropus phasianinus
Eastern Koel
Eudynamys orientalis
Channel-billed Cuckoo
Scythrops novaehollandiae
Little Bronze-Cuckoo
Chalcites minutillus
Brush Cuckoo
Cacomantis variolosus
Blue-winged Kookaburra
Dacelo leachii
Forest Kingfisher
Todiramphus macleayii
Sacred Kingfisher
Todiramphus sanctus
Rainbow Bee-eater
Merops ornatus
Dollarbird
Eurystomus orientalis
White-gaped Honeyeater
Lichenostomus unicolor
Brown Honeyeater
Lichmera indistincta
White-throated Honeyeater
Melithreptus albogularis
Silver-crowned Friarbird
Philemon argenticeps
Little Friarbird
Philemon citreogularis
White-bellied Cuckoo-shrike
Coracina papuensis
White-winged Triller
Lalage sueurii
Varied Triller
Lalage leucomela
Rufous Whistler
Pachycephala rufiventris
Sandstone Shrike-thrush
Colluricincla woodwardi
Green Oriole
Oriolus flavocinctus
Olive-backed Oriole
Oriolus sagittatus
Little Woodswallow
Artamus minor
Spangled Drongo
Dicrurus bracteatus
Northern Fantail
Rhipidura rufiventris
Torresian Crow
Corvus orru
Leaden Flycatcher
Myiagra rubecula
Lemon-bellied Flyrobin
Microeca flavigaster
Mistletoebird
Dicaeum hirundinaceum
Butterflies ( 1 )
Varied Eggfly
Hypolymnus bolina
Mammals ( 3 )
Sandstone False Antechinus
Pseudoantechinus bilarni
Black Wallaroo
Macropus bernardus
Wilkin's (Short-eared) Rock Wallaby
Petrogale brachyotis