Where to Watch Birds
Bardedjilidji Sandstone Walk
The 2.5 km Bardedjilidji Sandstone Walk is the most reliable location to see Chestnut-quilled Rock Pigeons. I like to do the walk in a clockwise direction, walk slowly, look ahead for movement on the sandy walk track as that is often where you will find the Rock Pigeons. Look for their tracks in the sand. Sometimes they can be seen in the rocky formations. When they flush they go to the sandstone formations, never to trees. They are shy so your best chance is if the track is undisturbed by other walkers.
The first part of the walk take you through a narrow section of vine thicket, look out for Rainbow Pitta here.
The walk takes you down to the waters edge in places. This is the East Alligator River. Keep a few meters back from the water's edge, there are large Estuarine Crocodiles here, keep safe!
There is a shortened version of this track, bypassing the river's edge, that is doable during the wet season.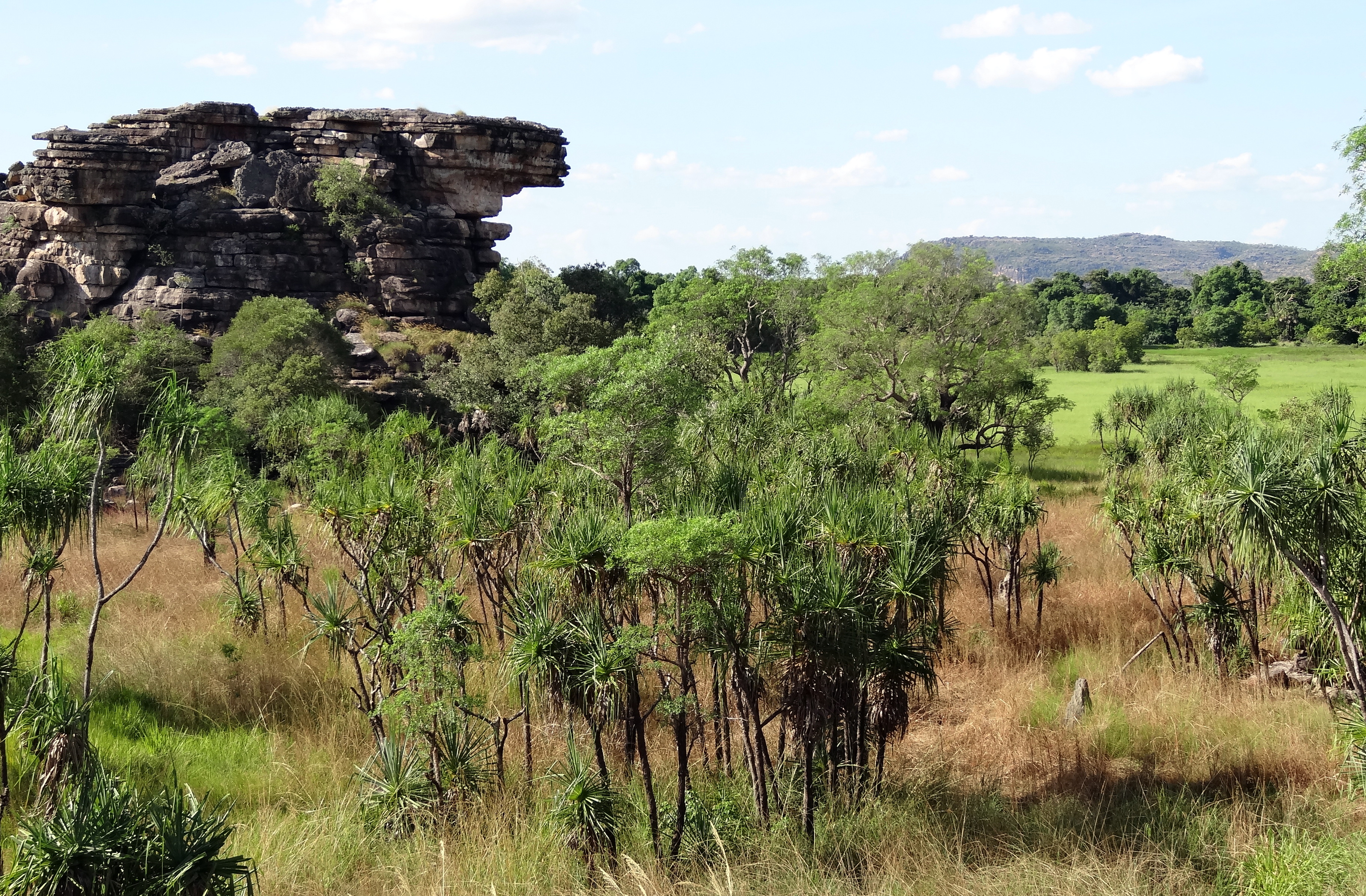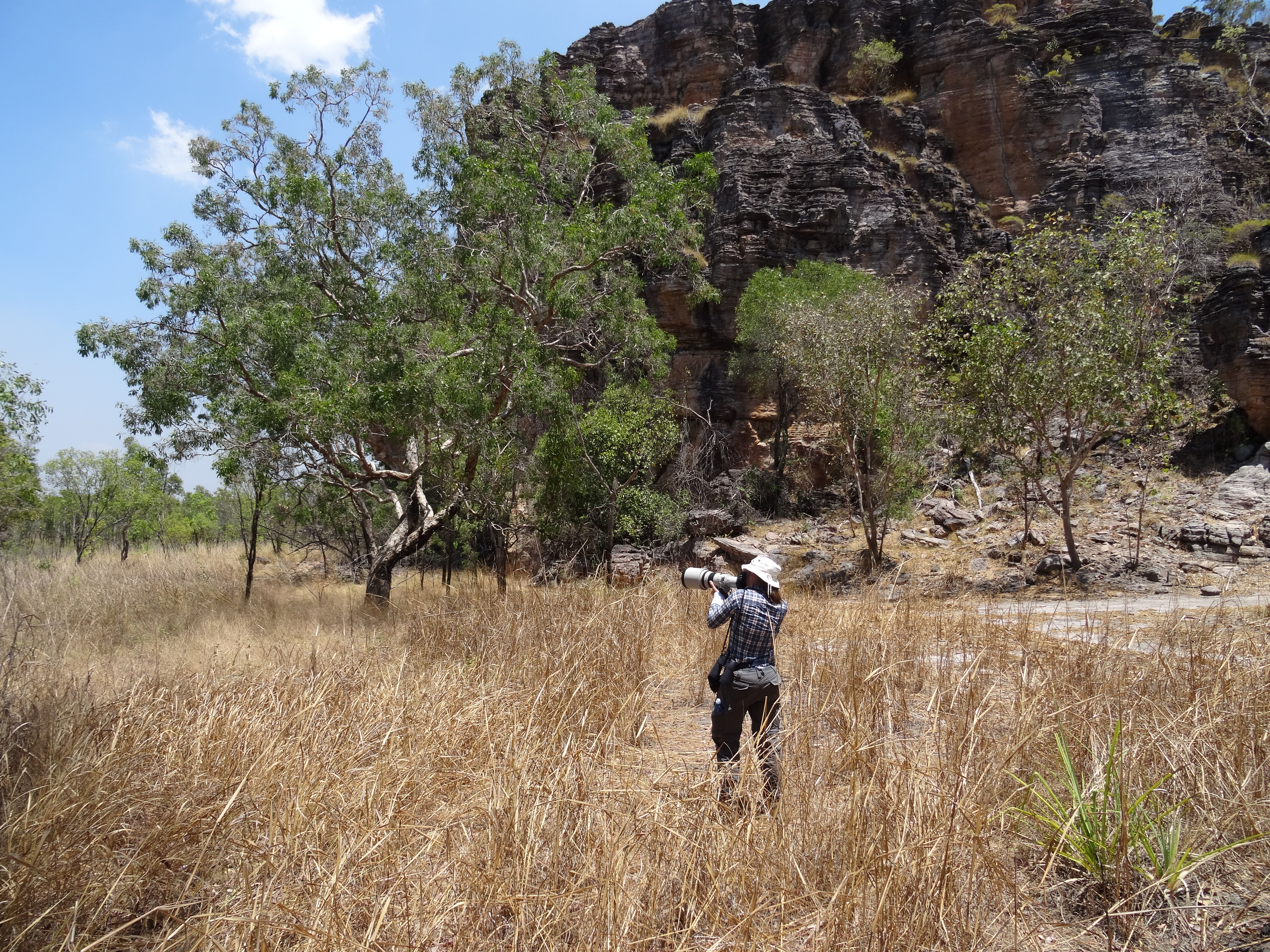 Other good birding locations to visit in Kakadu National Park are:-
The Kakadu Nature's Way 5 day, 4 day and 3 day tours visit this location as well as the Best of Top End Birding and Top End Birding Adventure (photography tour).
Species seen here recently
Bardedjidli
Orange-footed Scrubfowl
Megapodius reinwardt
Chestnut-quilled Rock-Pigeon
Petrophassa rufipennis
Peaceful Dove
Geopelia striata
Bar-shouldered Dove
Geopelia humeralis
Rose-crowned Fruit-Dove
Ptilinopus regina
Pied Imperial-Pigeon
Ducula bicolor
Australian Pelican
Pelecanus conspicillatus
Pacific Baza
Aviceda subcristata
Whistling Kite
Haliastur sphenurus
Red-tailed Black-Cockatoo
Calyptorhynchus banksii
Little Corella
Cacatua sanguinea
Sulphur-crested Cockatoo
Cacatua galerita
Rainbow Lorikeet
Trichoglossus haematodus
Red-collared Lorikeet
Trichoglossus rubritorquis
Red-winged Parrot
Aprosmictus erythropterus
Pheasant Coucal
Centropus phasianinus
Eastern Koel
Eudynamys orientalis
Blue-winged Kookaburra
Dacelo leachii
Sacred Kingfisher
Todiramphus sanctus
Rainbow Bee-eater
Merops ornatus
Dollarbird
Eurystomus orientalis
Rainbow Pitta
Pitta iris
Great Bowerbird
Ptilonorhynchus nuchalis
White-gaped Honeyeater
Lichenostomus unicolor
Blue-faced Honeyeater
Entomyzon cyanotis
Little Friarbird
Philemon citreogularis
Black-faced Cuckoo-shrike
Coracina novaehollandiae
White-bellied Cuckoo-shrike
Coracina papuensis
Varied Triller
Lalage leucomela
Rufous Whistler
Pachycephala rufiventris
Yellow Oriole
Oriolus flavocinctus
White-breasted Woodswallow
Artamus leucorynchus
Little Woodswallow
Artamus minor
Spangled Drongo
Dicrurus bracteatus
Arafura Fantail
Rhipidura dryas
Torresian Crow
Corvus orru
Broad-billed Flycatcher
Myiagra ruficollis
Leaden Flycatcher
Myiagra rubecula
Shining Flycatcher
Myiagra alecto
Paperbark Flycatcher
Myiagra nana
Mistletoebird
Dicaeum hirundinaceum
Double-barred Finch
Taeniopygia bichenovii
Crimson Finch
Neochmia phaeton