Where to Watch Birds
Anbangbang Billabong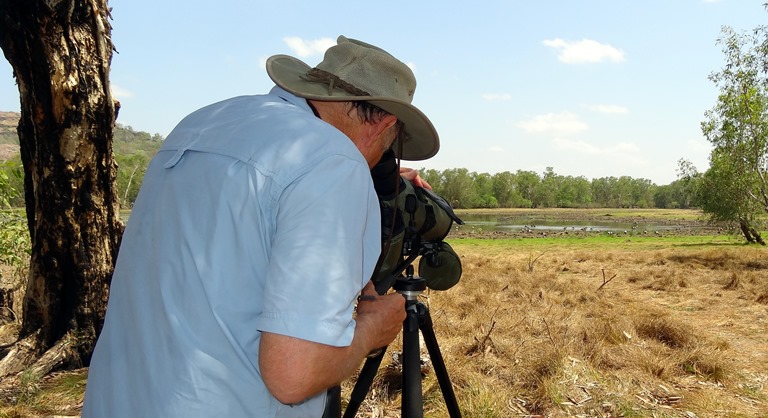 Have a picnic lunch at one of the shaded park benches or do the 2.5 km walk around the billabong. This is a great place to set up the scope and scan for wetland waterbirds. Royal Spoonbill, Glossy Ibis, Black-necked Stork, Little, Intermediate and Great Egrets and Green Pygmy-geese will be here. Bush birds like Little Shrike-thrush and Partridge Pigeon are often seen here too.
Estuarine Crocodiles are present as well. Always keep a few metres back from the water's edge at any body of water in Kakadu.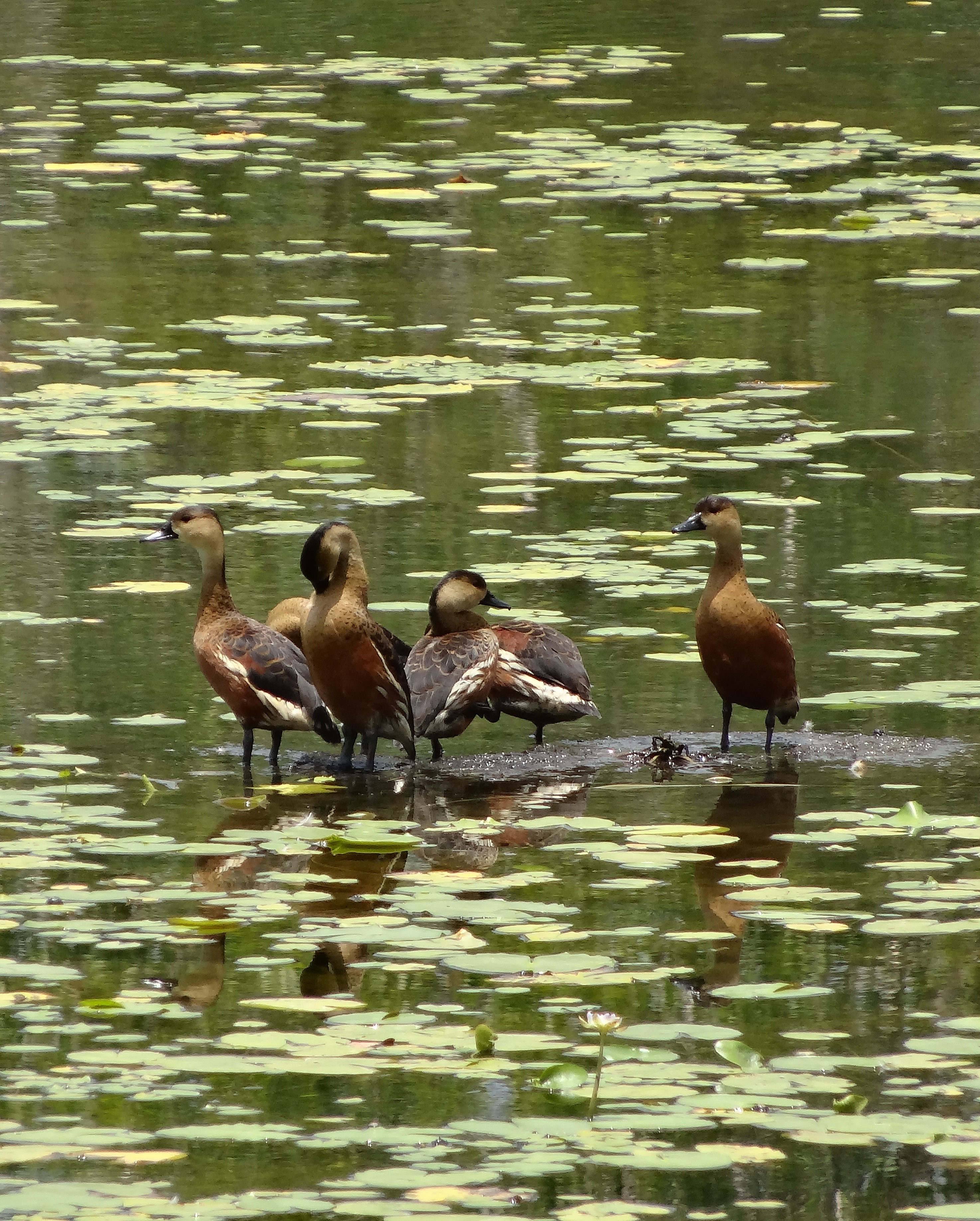 Other good birding locations to visit in Kakadu National Park are:-
The Kakadu Nature's Way 5 day, 4 day and 3 day tours visit this location as well as the Best of Top End Birding and Top End Birding Adventure (photography tour).
Species seen here recently
Anbangbang Birds ( 57 )
Magpie Goose
Anseranas semipalmata
Plumed Whistling-Duck
Dendrocygna eytoni
Wandering Whistling-Duck
Dendrocygna arcuata
Radjah Shelduck
Tadorna radjah
Green Pygmy-goose
Nettapus pulchellus
Grey Teal
Anas gracilis
Australasian Grebe
Tachybaptus novaehollandiae
Hoary-headed Grebe
Poliocephalus poliocephalus
Partridge Pigeon
Geophaps smithii
Peaceful Dove
Geopelia striata
Bar-shouldered Dove
Geopelia humeralis
Australasian Darter
Anhinga novaehollandiae
Little Pied Cormorant
Microcarbo melanoleucos
Little Black Cormorant
Phalacrocorax sulcirostris
Black-necked Stork
Ephippiorhynchus asiaticus
White-necked Heron
Ardea pacifica
Eastern Great Egret
Ardea modesta
Intermediate Egret
Ardea intermedia
Cattle Egret
Ardea ibis
Pied Heron
Egretta picata
White-faced Heron
Egretta novaehollandiae
Little Egret
Egretta garzetta
Nankeen Night-Heron
Nycticorax caledonicus
Glossy Ibis
Plegadis falcinellus
Australian White Ibis
Threskiornis molucca
Straw-necked Ibis
Threskiornis spinicollis
Royal Spoonbill
Platalea regia
White-bellied Sea-Eagle
Haliaeetus leucogaster
Whistling Kite
Haliastur sphenurus
Black Kite
Milvus migrans
Australian Hobby
Falco longipennis
Peregrine Falcon
Falco peregrinus
Bush Stone-curlew
Burhinus grallarius
Black-winged Stilt
Himantopus himantopus
Black-fronted Dotterel
Elseyornis melanops
Masked Lapwing
Vanellus miles
Comb-crested Jacana
Irediparra gallinacea
Common Greenshank
Tringa nebularia
Sharp-tailed Sandpiper
Calidris acuminata
Whiskered Tern
Chlidonias hybrida
Red-tailed Black-Cockatoo
Calyptorhynchus banksii
Little Corella
Cacatua sanguinea
Sulphur-crested Cockatoo
Cacatua galerita
Eastern Koel
Eudynamys orientalis
Forest Kingfisher
Todiramphus macleayii
Rainbow Bee-eater
Merops ornatus
Great Bowerbird
Ptilonorhynchus nuchalis
Rufous-banded Honeyeater
Conopophila albogularis
White-bellied Cuckoo-shrike
Coracina papuensis
Pied Butcherbird
Cracticus nigrogularis
Willie Wagtail
Rhipidura leucophrys
Torresian Crow
Corvus orru
Leaden Flycatcher
Myiagra rubecula
Paperbark Flycatcher
Myiagra nana
Magpie-lark
Grallina cyanoleuca
Lemon-bellied Flycatcher
Microeca flavigaster
Mistletoebird
Dicaeum hirundinaceum
Mammals ( 1 )
Pig
Sus scofa
Reptiles ( 1 )
Estuarine Crocodile
Crocodylus porosus