Checklists
Latest Checklist of Birds of Australia
Checklist of Birds of Australia and Island Territories - with subspecies (photo copyright Mike Jarvis)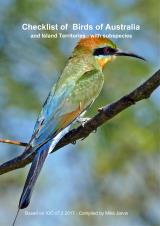 If you are keen on identifying and recording the birds you see, you will find a comprensive checklist to be very useful. In recent years major revisions of taxonomic order, new splits and names, have been a challenge to keep up with. The rate of change seems to be settling and hopefully we will see the list remain fairly stable now.
I have compiled a list of all birds seen in Australia and it's island territories, including subspecies. The A5 booklet is 48 pages and includes:-
Numbering system - useful for cataloguing photos (there are spare numbers where future splits may occur)
Scientific and Common names - follows IOC v7.2, with some additions from HBW (Birdlife International checklist)
Current Taxonomic Order - as of July 2017
IUCN status - International Union for Conservation of Nature (the world's main authority on the conservation status of species)
Range and Map
Provision for personal notes and totalling birds seen
Booklet is $12 including postage to anywhere in Australia, (two booklets $22 including postage). US, UK and Europe AUD$20, (two booklets $30 including postage). Please email us if you would like a copy.
Hello again,

WoW! Now that I have looked more thoroughly at this Checklist I have to tell you it is absolutely the best layout of a checklist I have ever seen. The amount of information per bird line is an invaluable reference especially for such a large continent.

I very much appreciate the hard work that you and the other experts put into to creating and sharing this format.

Sincerely

Christine
Would you like a free 'Top End Birds Checklist'?
Please click here http://www.experiencethewild.com.au/Uploads/Top End Birds Checklist page 1.pdf

and here http://www.experiencethewild.com.au/Uploads/Top End Birds Checklist page 2.pdf
for a printable list.