See Wild Creatures in Unspoiled Places
Birdwatching and Nature Tours in Darwin and the Top End
Best of Top End Birding group watching target finch species near Timber Creek (photo copyright Marg Lacey)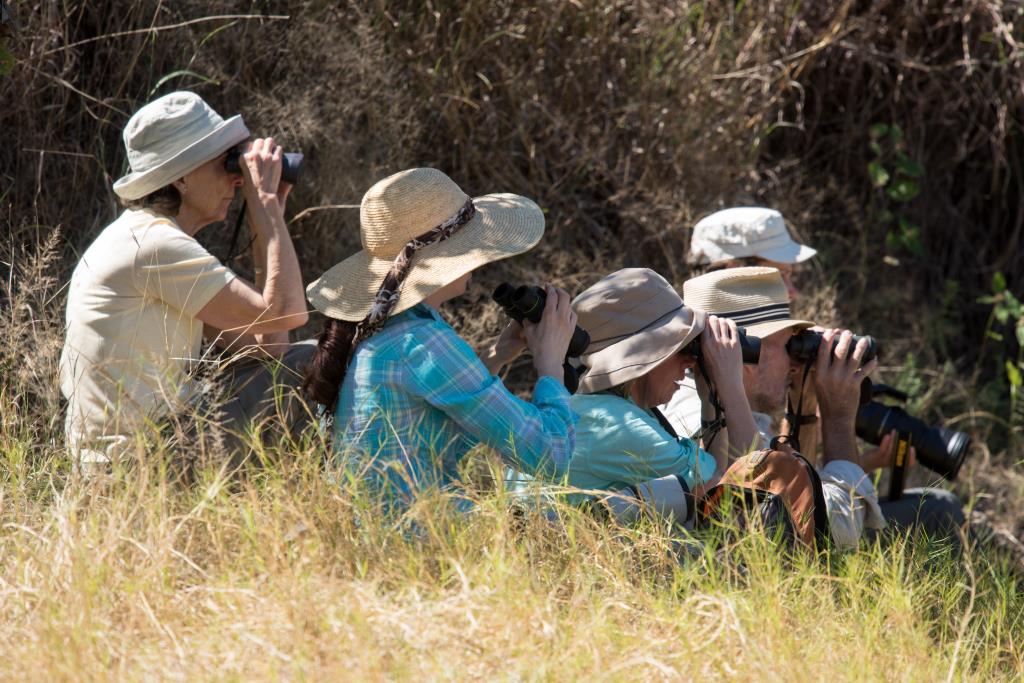 Let us take you somewhere wild!
Learn about our amazing variety of unique birdlife, reptiles, mammals and invertebrates in monsoon forests, savannah woodlands, mangroves, wetlands and billabongs around Darwin and the Top End. Your tour with us will be like an immersion in your very own wildlife documentary where you are informed, enriched and enabled with close and intimate connections to the wildlife and bush.
We specialise in very small group, bird and nature watching tours. Your guide is Ian McKerrow, owner and operator of Experience the Wild, and on some tours joined by Mike Jarvis or Ian Morris. We are passionate about the environment, local birdlife, wildlife and habitat as well as Indigenous culture and NT history and heritage.
After a pause due to Covid 19, we are taking bookings again for birding tours in 2023. Please contact us

here or email -

ianmck_ca@yahoo.com

- if you would like to enquire about availability -

# 30% off all marked tour prices


Experience the Wild!

The Northern Territory's Top End features a mosaic of habitats offering an exceptional variety and density of birds.
A Top End birding experience starts with these treasure chest locations around Darwin and then ventures out to other areas such as Fogg Dam. There we see typical wetland and paperbark forest species.
Learn about the significance of the landforms, wildlife and birds to the traditional owners of the country we are travelling through, and the conservation methods they have practiced for thousands of years. See evidence of several climate changes that have affected the territory habitats over the last few thousand years. And as we do this we constantly adding new bird sightings to our list!
---
Some Interesting Links..
Gouldian Finches in Darwin!
Reliably seen on the coastal edges of Darwin's northern suburbs for over a year now, we hope this population can survive unmolested, unfortunately, the area is marked for major development. In the meantime, Gouldian Finch is on the target list for birding day trips around Darwin!
State of the World's Birds BirdLife's periodic flagship science publication uses data on birds to assess the condition of the natural world, and is established as one of the most authoritative and influential syntheses of its kind.
You can find information about specific habitat, best time of year and where to find each Top End species here. Information on Top End endemic species and other target species for a Darwin visit can be found on this page. You can download our free printable taxonomic Top End Birdlist by clicking here Top End Birds Checklist
Bird Watching Tips!! Improve your skills and learn about the many and varied products that are available to help you be more proficient and have more fun out birding!
Click here to read our recent Newsletters

Click here to learn about Top End weather and seasons.
New, up to date checklists!! Click here
Please go to our links page for Darwin information, tours, accommodation and bird watching info.
"Birding is hunting without killing, preying without punishing and collecting without clogging your home" Mark Obmascik
(Obmascik, M.,The Big Year, 1 New York, Free Press, 2004)


All photos on this website are taken by me or generously provided by my guests and local fellow birders. All photos are acknowledged and may not be copied without written permission.
All photos are taken in Top End habitats, in most cases right in the location being discussed.
If you are a previous guest of Experience the Wild and have any photos you would like to contribute, I would be grateful for their submission.
Special thanks to the following contributors: Ian Morris, Marg Lacey, Marie Holding, Peter McKenzie, Frank Taylor, Anthony Thompson, Rob and Caroline Gully, Andrew Fedoruk
Bird Photography Ethics
Most nature photographers are cognizant of the needs of birds and avoid causing any undue stress to their avian subjects. We don't use playback to bring birds closer and we keep a respectable distance from nests. There are photos of birds at the nest on this website. These are taken from a reasonable distance with the aid of powerful zoom lenses and in most cases, from an established pathway. Also, we don't chase or deliberately flush birds. Quietly stalking them will yield better results, but even this can be interpreted by birds as predatory behaviour. The most satisfying close encounters are had when birds move in to range of their own volition when we wait patiently in the one location. We never place food to bait birds to come in to range either. Local guides have the benefit of an intimate familiarity with local species and habitats and can set you up to get great results without resorting to any of these dubious practises. Guests are encouraged to speak up if they see any situation that could be detrimental to birds or the environment while on tour.
Please Click Here for Birdwatching Itineraries