Where to Watch Birds
McMinn's Lagoon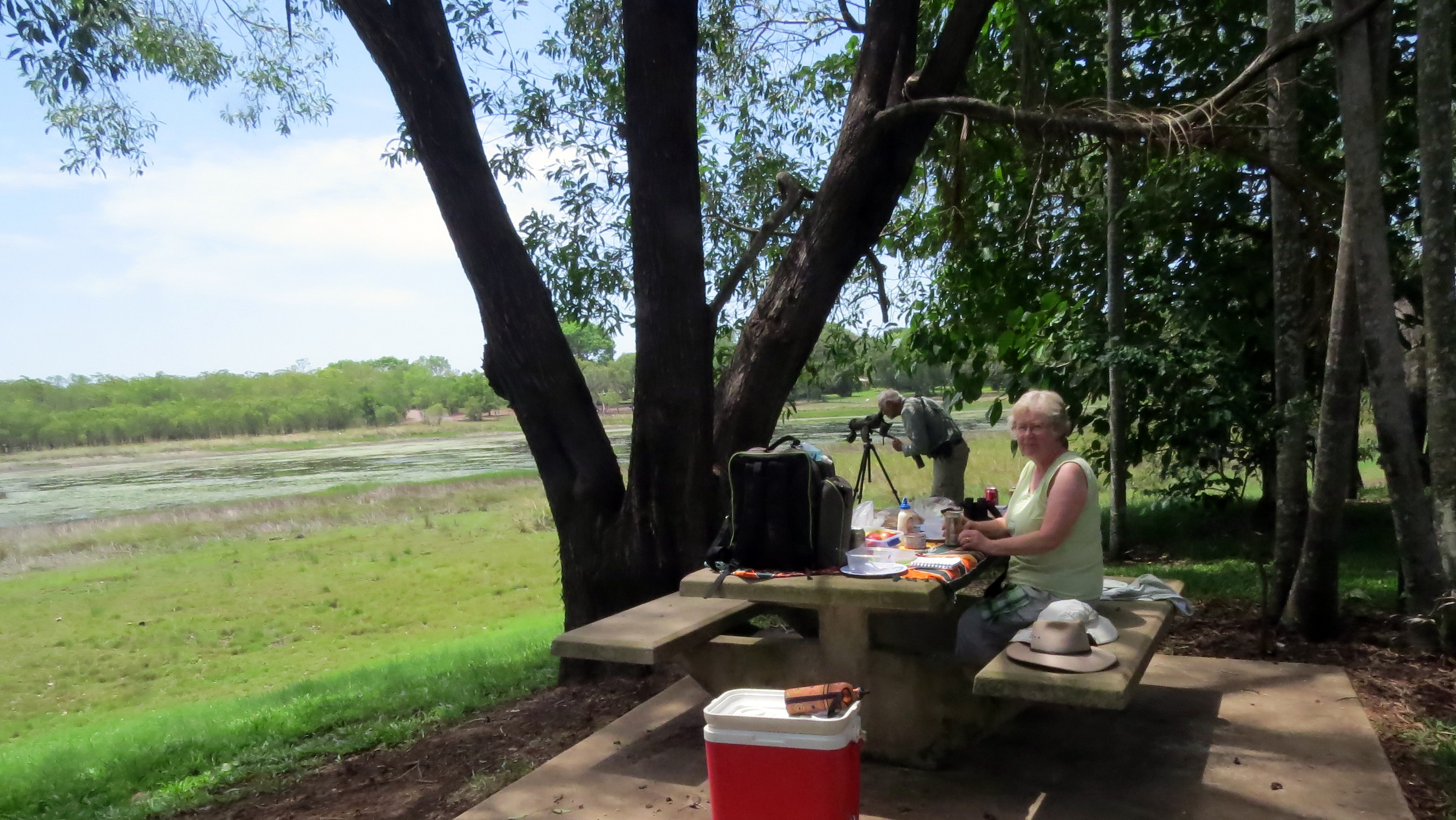 A delightful private reserve is tucked away in the rural area of McMinn's Lagoon. The reserve and surrroundings are maintained by volunteers for the McMinn's Lagoon Reserve Association Incorporated, and donations are gratefully received.
It is a great place to have a picnic lunch with the spotting scopes set up to scan the breadth of the lagoon for water birds. Various bush birds such as Varied Triller, Rufous Whistler, Dollarbird and Forest Kingfisher can be seen in the walk that takes you right around the lagoon.
Other good birding locations to visit in the outer Darwin area are:-
Experience the Wild tours sometimes visit the reserve while on a day tour and on day one of the Ten Grassfinch tour.
Species seen here recently
Birds ( 58 )
Magpie Goose
Anseranas semipalmata
Plumed Whistling-Duck
Dendrocygna eytoni
Wandering Whistling-Duck
Dendrocygna arcuata
Radjah Shelduck
Tadorna radjah
Green Pygmy-goose
Nettapus pulchellus
Grey Teal
Anas gracilis
Pacific Black Duck
Anas superciliosa
Hardhead
Aythya australis
Australasian Grebe
Tachybaptus novaehollandiae
Peaceful Dove
Geopelia striata
Bar-shouldered Dove
Geopelia humeralis
Pied Imperial-Pigeon
Ducula bicolor
Australasian Darter
Anhinga novaehollandiae
Little Pied Cormorant
Microcarbo melanoleucos
Little Black Cormorant
Phalacrocorax sulcirostris
Australian Pelican
Pelecanus conspicillatus
Black-necked Stork
Ephippiorhynchus asiaticus
White-necked Heron
Ardea pacifica
Eastern Great Egret
Ardea modesta
Intermediate Egret
Ardea intermedia
Cattle Egret
Ardea ibis
Pied Heron
Egretta picata
Little Egret
Egretta garzetta
Glossy Ibis
Plegadis falcinellus
Australian White Ibis
Threskiornis molucca
Straw-necked Ibis
Threskiornis spinicollis
Royal Spoonbill
Platalea regia
Whistling Kite
Haliastur sphenurus
Black Kite
Milvus migrans
Buff-banded Rail
Gallirallus philippensis
Black-winged Stilt
Himantopus himantopus
Masked Lapwing
Vanellus miles
Comb-crested Jacana
Irediparra gallinacea
Swinhoe's Snipe
Gallinago megala
Common Sandpiper
Actitis hypoleucos
Common Greenshank
Tringa nebularia
Marsh Sandpiper
Tringa stagnatilis
Whiskered Tern
Chlidonias hybrida
Red-tailed Black-Cockatoo
Calyptorhynchus banksii
Red-winged Parrot
Aprosmictus erythropterus
Pheasant Coucal
Centropus phasianinus
Blue-winged Kookaburra
Dacelo leachii
Sacred Kingfisher
Todiramphus sanctus
Rainbow Bee-eater
Merops ornatus
Dollarbird
Eurystomus orientalis
White-gaped Honeyeater
Lichenostomus unicolor
Yellow-throated Miner
Manorina flavigula
Brown Honeyeater
Lichmera indistincta
White-throated Honeyeater
Melithreptus albogularis
Little Friarbird
Philemon citreogularis
Varied Triller
Lalage leucomela
Green Oriole
Oriolus flavocinctus
Olive-backed Oriole
Oriolus sagittatus
Spangled Drongo
Dicrurus bracteatus
Northern Fantail
Rhipidura rufiventris
Willie Wagtail
Rhipidura leucophrys
Magpie-lark
Grallina cyanoleuca
Lemon-bellied Flycatcher
Microeca flavigaster
Tree Martin
Petrochelidon nigricans
Butterflies ( 2 )
Varied Eggfly
Hypolymnus bolina
Lesser Wanderer
Danaus chrysippus
Reptiles ( 1 )
Gilbert's Dragon; Ta-ta Lizard
Amphibolurus gilberti