Where to Watch Birds
Marrakai Track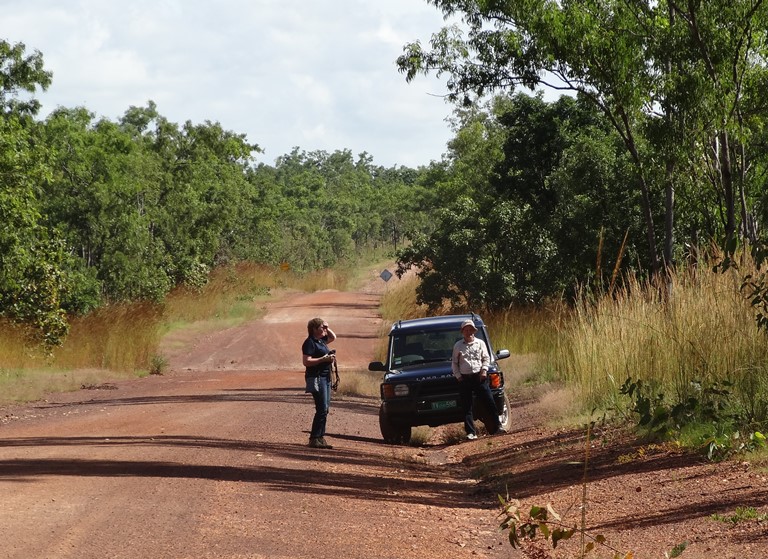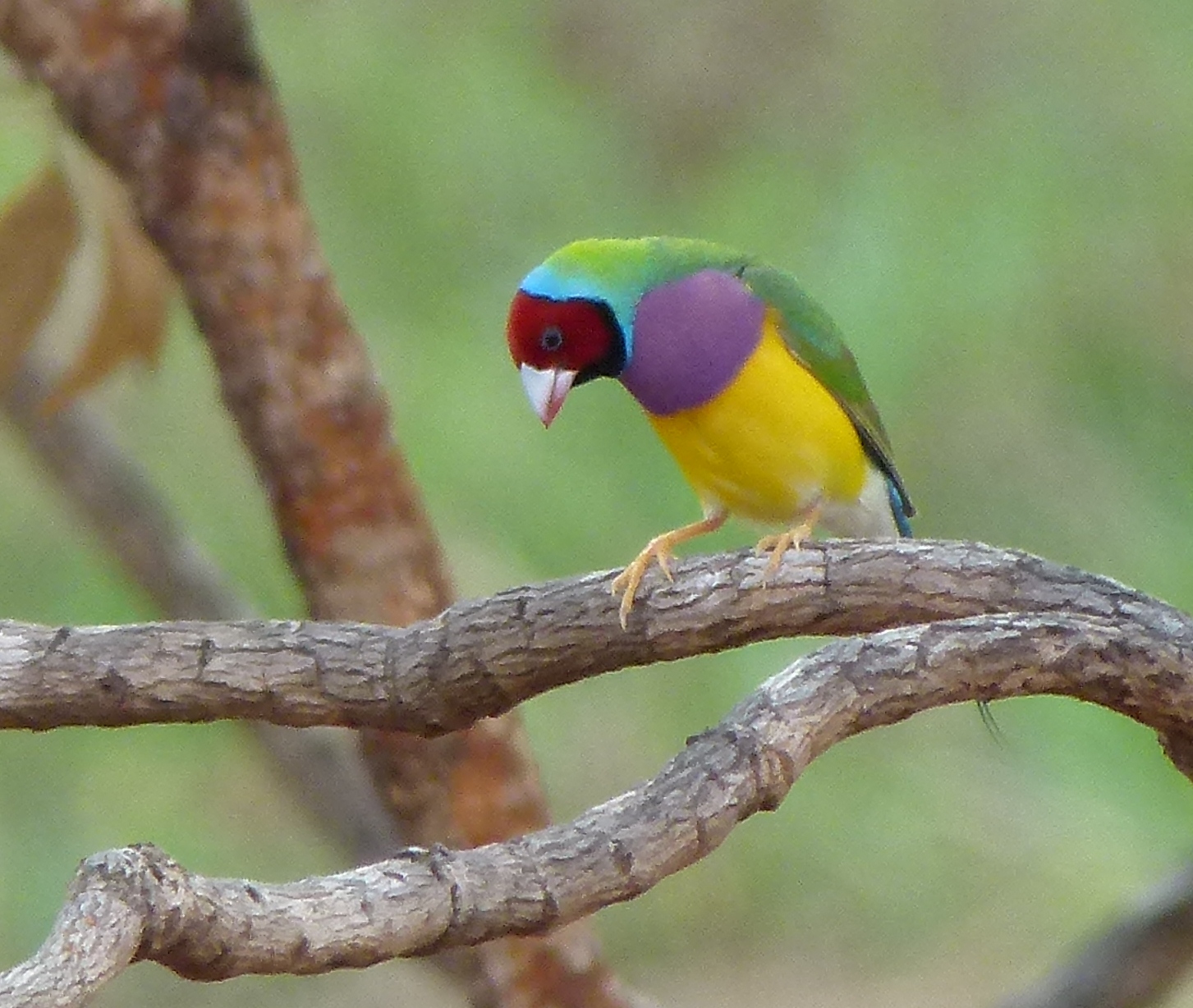 The Marrakai Track is an unsealed road that runs between Arnhem Highway and Stuart Highway about 85 kms from Darwin. The Arnhem Highway junction is two kms before Corroboree Park, on the left, and takes you through open savannah woodland, floodplains and river crossings. Four wheel drive is recommended, though two wheel drive may be ok if careful. Take care especially during the wet season and early dry as washouts on the side of the road could do serious damage to your front end if taken to fast. Most of it passes through private land and you must stick to the road. Do not cross fences. Pastoral leasees regularly have trouble with shooters trespassing on their land and will be upset with anyone taking liberties.
My usual strategy is to drive slowly with the car windows down listening for bird calls, and stopping whenever there are calls or bird activity, then get out and walk. There is usually very little traffic along the Marrakai, but take care to keep to the left and wind windows up when vehicles pass so your vehicle doesn't fill with dust.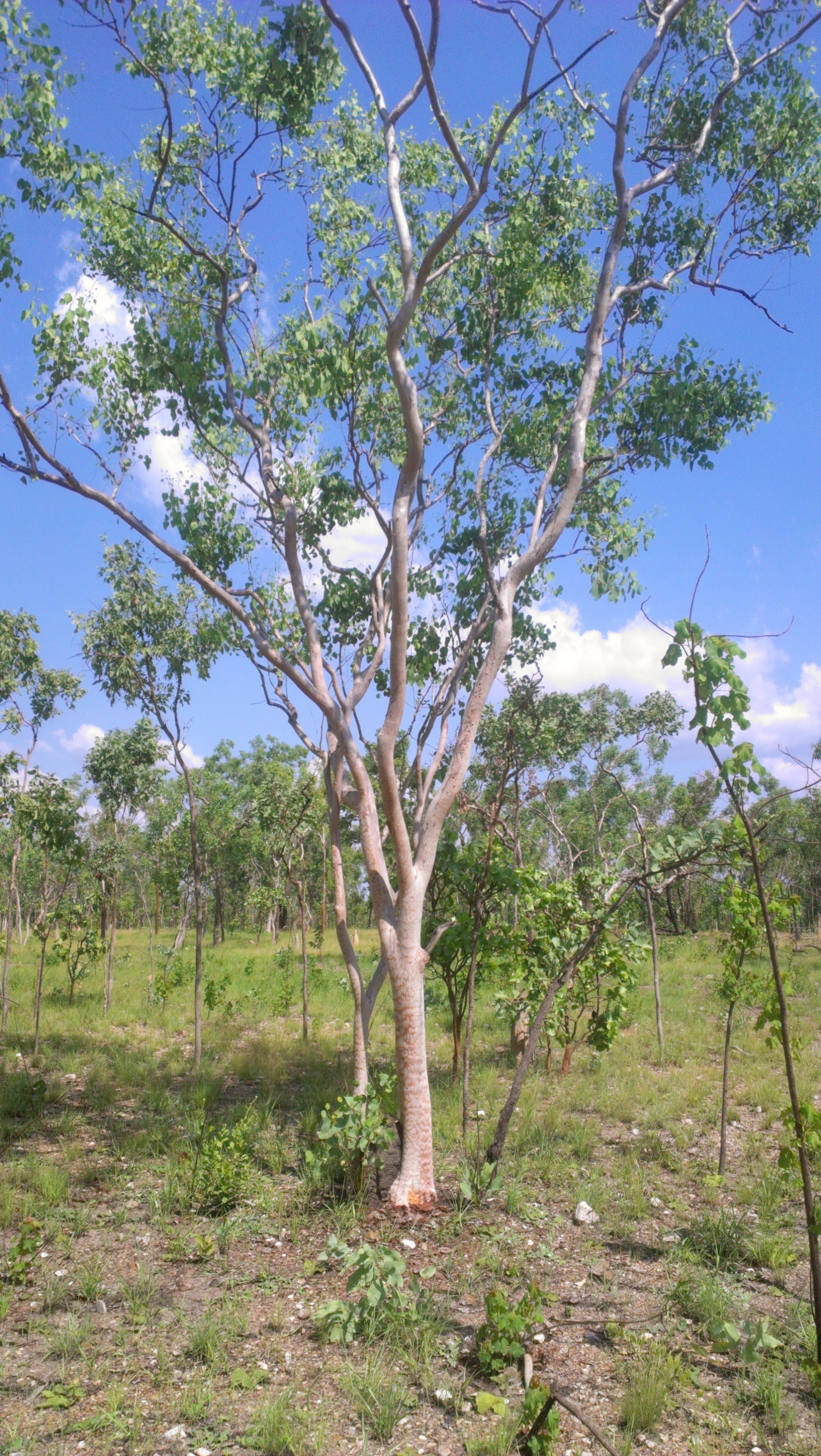 Almost anywhere along the track can be productive. Areas of open forest with trees having rough bark eg Darwin Woollybut Eucalyptus miniata and Stringybark Eucalyptus tetradonta, are good locations for Black-tailed Treecreeper and Varied Sittella. Where you see the smooth, orange bark of the Northern Salmon Gum Eucalyptus tintinus signifies likely Gouldian Finch country. Very early in the dry season there are remnant pools of water on the side of the road which attract finches and honeyeaters, so look ahead for these and approach slowly.
From about December to April, the Margaret River (30 kms from Arnhem Highway) is flowing and too high to cross. Here there are large thickets of the native bamboo Bambusa arnhemica which provides ideal habitat for Buff-sided Robin and this is the best location to find this stunning bird. We have seen Black Bittern here too.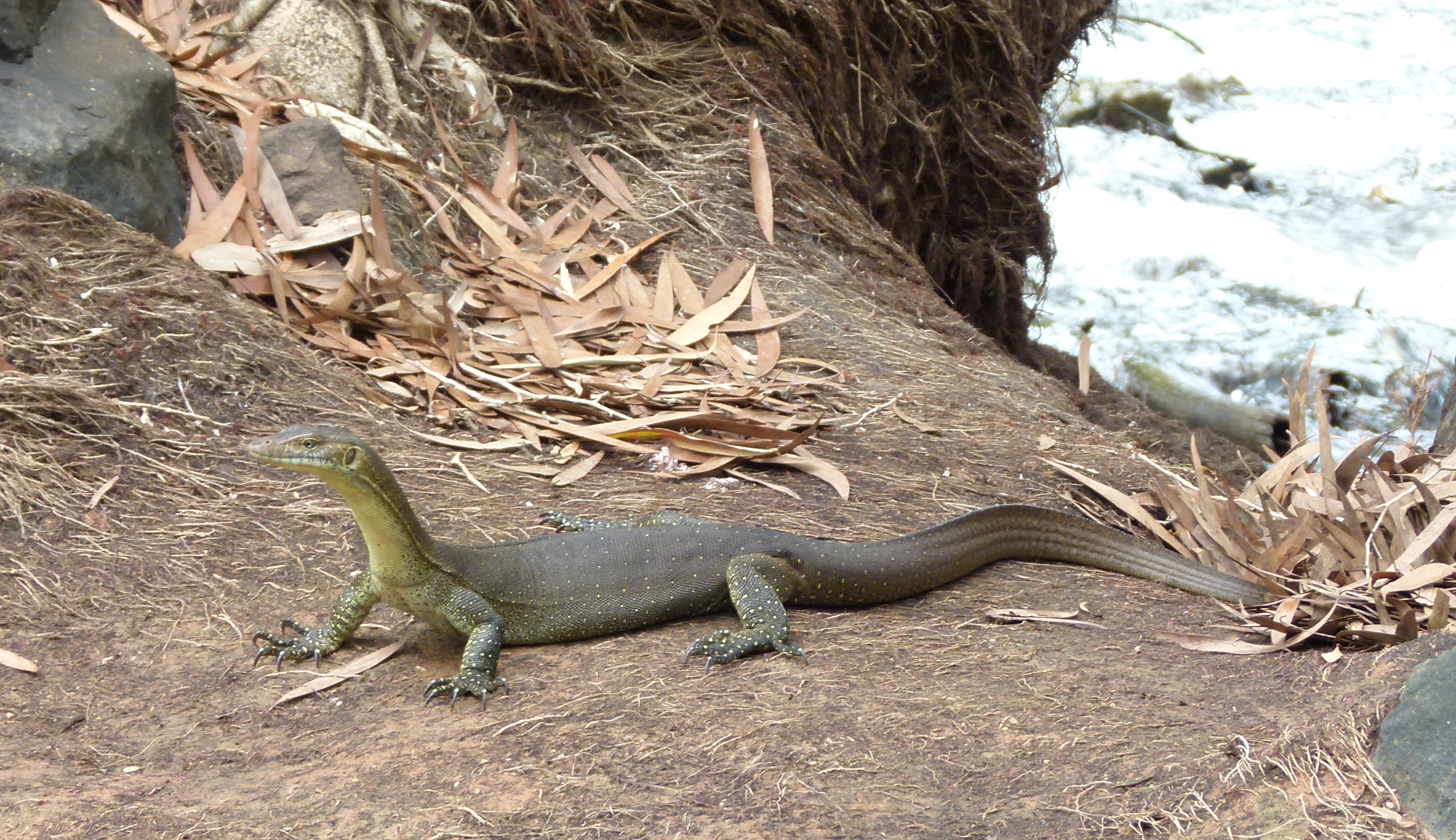 If you can cross the Margaret River, continue on a short distance and you will come to the Adelaide River. Both these riverine habitats are great for Shining Flycatchers, Broad-billed Flycatchers, Paperbark Flycatchers and Leaden Flycatchers. Look out for Arafura Fantail, Northern Fantail and Azure Kingfisher also. From this point you can either continue on for another ten kms or so to the Stuart Highway or back track to Arnhem Highway.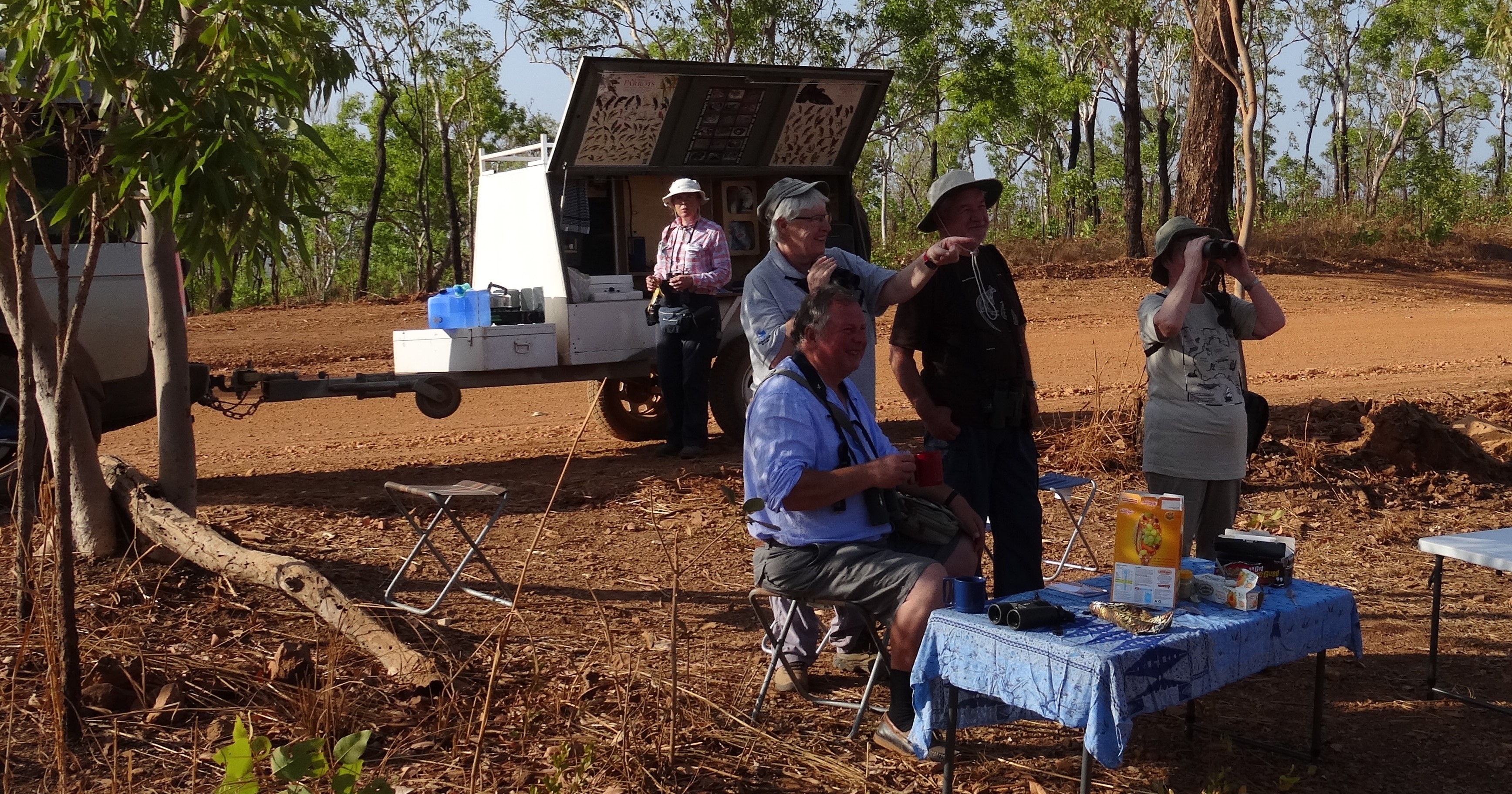 Species seen here recently
Birds ( 126 )
Helmeted Guineafowl
Numida meleagris
Brown Quail
Coturnix ypsilophora
Magpie Goose
Anseranas semipalmata
Plumed Whistling-Duck
Dendrocygna eytoni
Radjah Shelduck
Tadorna radjah
Pacific Black Duck
Anas superciliosa
Partridge Pigeon
Geophaps smithii
Diamond Dove
Geopelia cuneata
Peaceful Dove
Geopelia striata
Bar-shouldered Dove
Geopelia humeralis
Pied Imperial-Pigeon
Ducula bicolor
Fork-tailed Swift
Apus pacificus
Australasian Darter
Anhinga novaehollandiae
Little Pied Cormorant
Microcarbo melanoleucos
Little Black Cormorant
Phalacrocorax sulcirostris
Pied Cormorant
Phalacrocorax varius
Australian Pelican
Pelecanus conspicillatus
Black-necked Stork
Ephippiorhynchus asiaticus
Black Bittern
Ixobrychus flavicollis
White-necked Heron
Ardea pacifica
Eastern Great Egret
Ardea modesta
Intermediate Egret
Ardea intermedia
Cattle Egret
Ardea ibis
Pied Heron
Egretta picata
White-faced Heron
Egretta novaehollandiae
Nankeen Night-Heron
Nycticorax caledonicus
Australian White Ibis
Threskiornis molucca
Straw-necked Ibis
Threskiornis spinicollis
Black-shouldered Kite
Elanus axillaris
Black-breasted Buzzard
Hamirostra melanosternon
White-bellied Sea-Eagle
Haliaeetus leucogaster
Whistling Kite
Haliastur sphenurus
Black Kite
Milvus migrans
Brown Goshawk
Accipiter fasciatus
Collared Sparrowhawk
Accipiter cirrocephalus
Grey Goshawk
Accipiter novaehollandiae
Swamp Harrier
Circus approximans
Wedge-tailed Eagle
Aquila audax
Little Eagle
Hieraaetus morphnoides
Nankeen Kestrel
Falco cenchroides
Brown Falcon
Falco berigora
Australian Hobby
Falco longipennis
Black Falcon
Falco subniger
Brolga
Grus rubicunda
Chestnut-backed Button-quail
Turnix castanotus
Red-tailed Black-Cockatoo
Calyptorhynchus banksii
Galah
Eolophus roseicapillus
Little Corella
Cacatua sanguinea
Sulphur-crested Cockatoo
Cacatua galerita
Rainbow Lorikeet
Trichoglossus haematodus
Red-collared Lorikeet
Trichoglossus rubritorquis
Varied Lorikeet
Psitteuteles versicolor
Red-winged Parrot
Aprosmictus erythropterus
Northern Rosella
Platycercus venustus
Pheasant Coucal
Centropus phasianinus
Eastern Koel
Eudynamys orientalis
Little Bronze-Cuckoo
Chalcites minutillus
Pallid Cuckoo
Cacomantis pallidus
Brush Cuckoo
Cacomantis variolosus
Azure Kingfisher
Ceyx azureus
Blue-winged Kookaburra
Dacelo leachii
Forest Kingfisher
Todiramphus macleayii
Red-backed Kingfisher
Todiramphus pyrrhopygius
Sacred Kingfisher
Todiramphus sanctus
Rainbow Bee-eater
Merops ornatus
Dollarbird
Eurystomus orientalis
Black-tailed Treecreeper
Climacteris melanura
Great Bowerbird
Ptilonorhynchus nuchalis
Red-backed Fairy-wren
Malurus melanocephalus
White-throated Grasswren
Amytornis woodwardi
Weebill
Smicrornis brevirostris
Green-backed Gerygone
Gerygone chloronota
White-throated Gerygone
Gerygone albogularis
Striated Pardalote
Pardalotus striatus
White-gaped Honeyeater
Lichenostomus unicolor
Bar-breasted Honeyeater
Ramsayornis fasciatus
Rufous-banded Honeyeater
Conopophila albogularis
Rufous-throated Honeyeater
Conopophila rufogularis
Dusky Honeyeater
Myzomela obscura
Banded Honeyeater
Cissomela pectoralis
Brown Honeyeater
Lichmera indistincta
White-throated Honeyeater
Melithreptus albogularis
Blue-faced Honeyeater
Entomyzon cyanotis
Helmeted Friarbird
Philemon buceroides
Silver-crowned Friarbird
Philemon argenticeps
Little Friarbird
Philemon citreogularis
Grey-crowned Babbler
Pomatostomus temporalis
Varied Sittella
Daphoenositta chrysoptera
Black-faced Cuckoo-shrike
Coracina novaehollandiae
White-bellied Cuckoo-shrike
Coracina papuensis
White-winged Triller
Lalage sueurii
Varied Triller
Lalage leucomela
Grey Whistler
Pachycephala simplex
Rufous Whistler
Pachycephala rufiventris
Little Shrike-thrush
Colluricincla megarhyncha
Grey Shrike-thrush
Colluricincla harmonica
Australasian Figbird
Sphecotheres vieilloti
Green Oriole
Oriolus flavocinctus
Masked Woodswallow
Artamus personatus
Black-faced Woodswallow
Artamus cinereus
Little Woodswallow
Artamus minor
Pied Butcherbird
Cracticus nigrogularis
Spangled Drongo
Dicrurus bracteatus
Arafura Fantail
Rhipidura dryas
Northern Fantail
Rhipidura rufiventris
Willie Wagtail
Rhipidura leucophrys
Torresian Crow
Corvus orru
Leaden Flycatcher
Myiagra rubecula
Shining Flycatcher
Myiagra alecto
Paperbark Flycatcher
Myiagra nana
Magpie-lark
Grallina cyanoleuca
Jacky Winter
Microeca fascinans
Lemon-bellied Flyrobin
Microeca flavigaster
Buff-sided Robin
Poecilodryas cerviniventris
Horsfield's Bushlark
Mirafra javanica
Golden-headed Cisticola
Cisticola exilis
Rufous Songlark
Cincloramphus mathewsi
Tree Martin
Petrochelidon nigricans
Mistletoebird
Dicaeum hirundinaceum
Double-barred Finch
Taeniopygia bichenovii
Long-tailed Finch
Poephila acuticauda
Masked Finch
Poephila personata
Crimson Finch
Neochmia phaeton
Gouldian Finch
Erythrura gouldiae
Chestnut-breasted Mannikin
Lonchura castaneothorax
Amphibians ( 1 )
Green Tree Frog
Litoria caerulea
Butterflies ( 1 )
Lesser Wanderer
Danaus chrysippus
Insects ( 2 )
Painted Grasshawk
Neurothemis stigmatizans
Graphic Flutterer
Rhyothemis graphiptera
Mammals ( 3 )
Agile Wallaby
Macropus agilus
Antilopine Wallaroo
Macropus antilopinus
Dingo
Canis lupis dingo
Reptiles ( 2 )
Johnstone's Crocodile
Crocodylus johnstoni
Merten's Water Monitor
Varanus mertensi