Where to Watch Birds
Adelaide River Bridge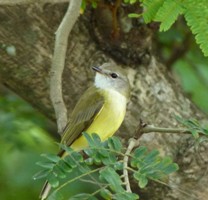 The Adelaide River Bridge on Arnhem Highway is my most reliable spot to see Mangrove Golden Whistler. The river is wide at this point and tidal, so mangroves and mangrove specialists flourish along it's edge. This is the location for one of the famous Jumping Crocodile Cruises and there are lots of big crocodiles in the water here. Don't go close to the waters edge!
The native bamboo Bambusa arnhemica also grows thickly here. Buff-sided Robin has an association with this bamboo and I have seen and heard the Robin here occasionally.
Other good birding locations to visit in the outer Darwin area are:-
Experience the Wild tours often visit this location on the way to Kakadu.
Species seen here recently
Birds ( 53 )
Magpie Goose
Anseranas semipalmata
Plumed Whistling-Duck
Dendrocygna eytoni
Peaceful Dove
Geopelia striata
Bar-shouldered Dove
Geopelia humeralis
Rose-crowned Fruit-Dove
Ptilinopus regina
Pied Imperial-Pigeon
Ducula bicolor
Little Black Cormorant
Phalacrocorax sulcirostris
Intermediate Egret
Ardea intermedia
Striated Heron
Butorides striata
Glossy Ibis
Plegadis falcinellus
Australian White Ibis
Threskiornis molucca
Straw-necked Ibis
Threskiornis spinicollis
White-bellied Sea-Eagle
Haliaeetus leucogaster
Whistling Kite
Haliastur sphenurus
Black Kite
Milvus migrans
Brown Goshawk
Accipiter fasciatus
Brolga
Grus rubicunda
Masked Lapwing
Vanellus miles
Red-tailed Black-Cockatoo
Calyptorhynchus banksii
Little Corella
Cacatua sanguinea
Red-collared Lorikeet
Trichoglossus rubritorquis
Little Bronze-Cuckoo
Chalcites minutillus
Brush Cuckoo
Cacomantis variolosus
Forest Kingfisher
Todiramphus macleayii
Rainbow Bee-eater
Merops ornatus
Rainbow Pitta
Pitta iris
Mangrove Gerygone
Gerygone levigaster
Green-backed Gerygone
Gerygone chloronota
White-gaped Honeyeater
Lichenostomus unicolor
Rufous-banded Honeyeater
Conopophila albogularis
Red-headed Honeyeater
Myzomela erythrocephala
Varied Triller
Lalage leucomela
Mangrove Golden Whistler
Pachycephala melanura
Little Shrike-thrush
Colluricincla megarhyncha
Australasian Figbird
Sphecotheres vieilloti
Yellow Oriole
Oriolus flavocinctus
Olive-backed Oriole
Oriolus sagittatus
Spangled Drongo
Dicrurus bracteatus
Arafura Fantail
Rhipidura dryas
Willie Wagtail
Rhipidura leucophrys
Torresian Crow
Corvus orru
Broad-billed Flycatcher
Myiagra ruficollis
Leaden Flycatcher
Myiagra rubecula
Shining Flycatcher
Myiagra alecto
Paperbark Flycatcher
Myiagra nana
Restless Flycatcher
Myiagra inquieta
Magpie-lark
Grallina cyanoleuca
Lemon-bellied Flycatcher
Microeca flavigaster
Buff-sided Robin
Poecilodryas cerviniventris
Zitting Cisticola
Cisticola juncidus
Golden-headed Cisticola
Cisticola exilis
Yellow White-eye
Zosterops luteus
Crimson Finch
Neochmia phaeton
Butterflies ( 3 )
Lemon Migrant
Catopsilia pomona
Common Crow
Euploea core
Lesser Wanderer
Danaus chrysippus