Ten Grassfinch Tour
See All of Darwin's Finches and More - September 7-11, 2015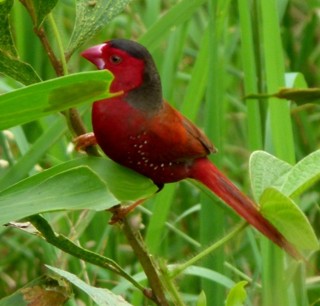 Join us for a five day, five night tour through prime finch country from Darwin to Timber Creek and return. This country has less of the floodplains and wetlands of Kakadu but the savannah woodland is more open and grasslands abundant. This is perfect habitat for many seed eaters.

Double-barred, Crimson and Long-tailed Finches and Chestnut-breasted Mannikins can be seen around Darwin. Masked, Gouldian, Zebra and Star Finches and Yellow-rumped and Pictorella Mannikins can be seen at various locations between Darwin and Timber Creek. Views of most of these finches should be frequent and sustained, enabling guests to properly observe them and learn about their behaviour. Expect to see plenty of other grain eaters too, such as parrots, pigeons and doves, quails and button-quails. This is a good time of the year to see raptors as well.
Included are all touring costs, meals and accommodation. Accommodation is in comfortable rooms with queen and single beds and air-conditioning. Cold water, tea, coffee and snacks are available at any time. This tour is available as a group tour on September 7-11, 2015 and as a private charter at other times by request.
Please click here to see the 2014 Trip Report
DAY 1 - DARWIN to PINE CREEK
6.30am Pick up from Darwin accommodation. After a bush breakfast at Dudley Point we start off exploring some areas close to Darwin where we usually see Double-barred, Long-tailed and Crimson Finches and Chestnut-breasted Mannikins. Parrot species we may see include Red-collared Lorikeets, Red-winged Parrots, Red-tailed Black Cockatoos, Little Corellas and Sulphur-crested Cockatoos.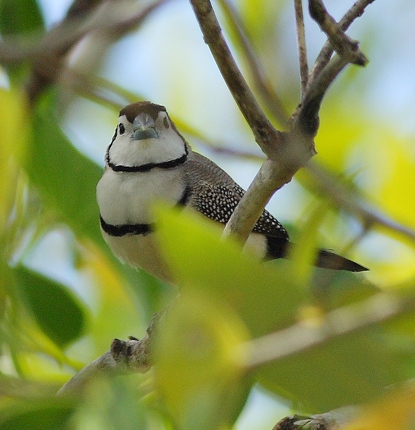 We have a picnic lunch at a wetland area on the outskirts of Darwin, affording great scope views of many species of waterbird, including Magpie Goose, Little Egret Intermediate Egret, Great Egret, Cattle Egret, Pied Heron, White-necked Heron, Royal Spoonbill, Little Black Cormorant, Black-fronted Dotterel, Black-necked Stork and Green Pygmy-goose, and then we head down to Pine Creek.
There are some great areas around Pine Creek for birding, with potential to see Hooded Parrot, Grey-crowned Babbler, Bar-breasted Honeyeater, Great Bowerbird and many other bush species.
We have dinner at the Railway Resort and compare notes on sightings for the day. Accommodation at Pine Creek.
DAY 2 - PINE CREEK to KATHERINE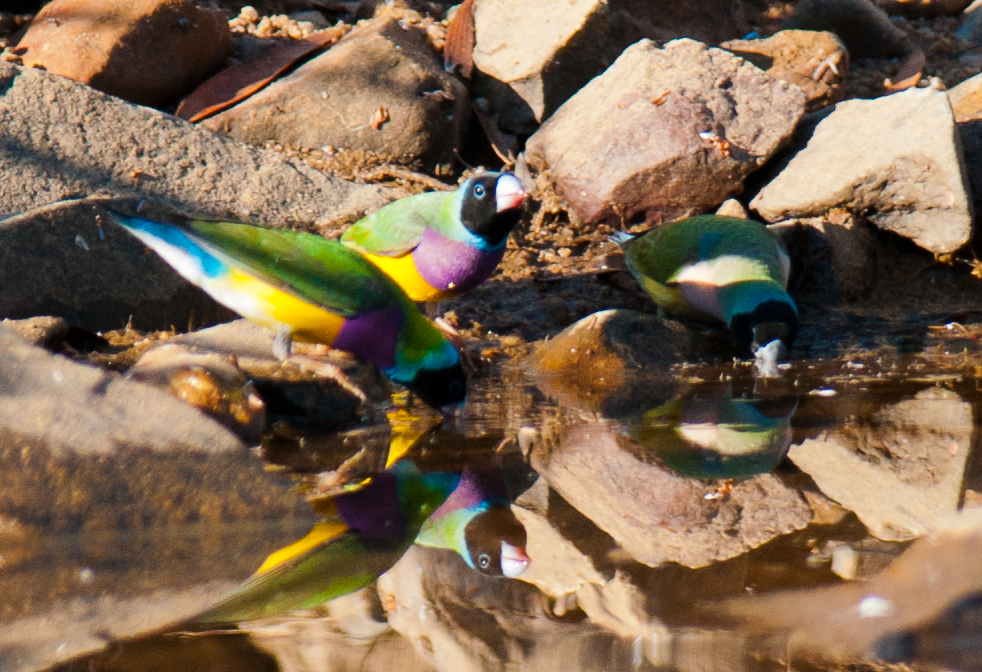 We check out early from our accommodation at Pine Creek and head down to Edith Falls. Here we enjoy a bush breakfast while watching birds coming to drink from a creek. Here there are some reliable areas for Gouldian Finch and Hooded Parrot! Other target species here are Banded Honeyeater, Bar-breasted Honeyeater, Rufous-throated Honeyeater, Budgerigar, Cockatiel, Red-winged Parrot, Varied Lorikeet, Great Bowerbird and Grey-crowned Babbler.
We take in the scenery around Edith Falls and then head south through Katherine and have a picnic lunch at Nitmiluk National Park. Great Bowerbirds, Blue-winged Kookaburras and Apostlebirds are common at the picnic spot, Ospreys can often be seen on the river's edge.
If there is time we will check out some great birding locations in Katherine before dinner at a local restaurant.
Katherine accommodation.
DAY 3 - KATHERINE to TIMBER CREEK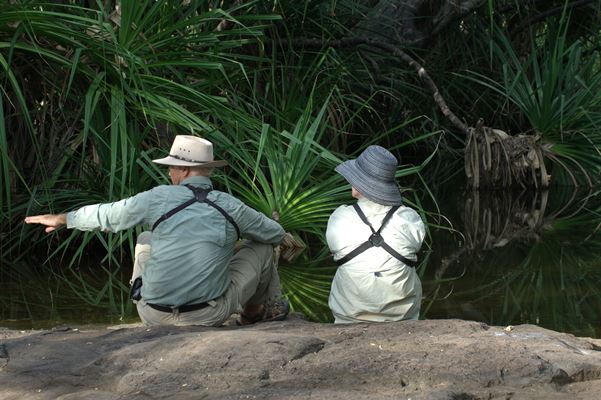 Today we head into real outback country! After departing early from Katherine, we have a bush breakfast at a great birding location further along the Victoria Highway. As well as finch species we are looking out for Chestnut-backed Button-quail, Black-tailed Treecreeper, Varied Sittella, Hooded Parrot, Varied Lorikeet, Rufous-throated Honeyeater and Black-chinned Honeyeater. The rare northern race of the Crested Shrike-tit is sometimes seen in this area.
We continue west where the habitat changes dramatically as we travel through magnificent escarpment country, trees here include the amazing Boab and Nutwood. Raptors including Wedge-tailed Eagle, Black-breasted Buzzard, Spotted Harrier and Square-tailed Kite are often seen here. There are records of the rare Grey Falcon in the area too.
There are many waterholes in otherwise dry creek beds that make this time of the year so productive for bird watching. We leave Victoria Highway and travel down some of the tracks that take us to some great little birding spots in beautiful rugged settings. Star, Zebra and Crimson Finches, Crimson Chat and Red-browed Pardalote are among the targets here. Flocks of Cockatiels and Budgerigars are often seen overhead.
Near the Victoria River Roadhouse we explore the river's edge for Purple-crowned Fairy-wren and climb the escarpment walk where we hope to see White-quilled Rock-Pigeon and Sandstone Shrike-thrush.
Bird call, dinner and accommodation at Wirib Tourism Park, Timber Creek.

DAY 4 - TIMBER CREEK to KATHERINE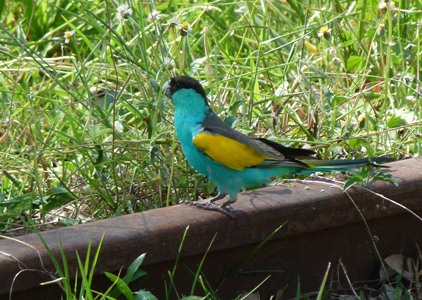 We have a bush breakfast at Policeman's Point, four kilometres from Timber Creek, overlooking the Victoria River. Gouldian and Star Finches, Pictorella and Yellow-rumped Mannikins, Purple-crowned Fairy-wrens, Spinifex Pigeon, Diamond Dove, Yellow-tinted and Black-chinned Honeyeaters are among the species we often see here. After exploring the walks here we go to the airfield nearby where we have more opportunities to see these species. Painted Finch, Crimson Chat and Inland Dotterel have been seen here too.
Next we head back towards Katherine along the Victoria Highway, stopping at more good birding locations along the way.
Bird call, dinner and accommodation at Katherine.
DAY 5 - KATHERINE to DARWIN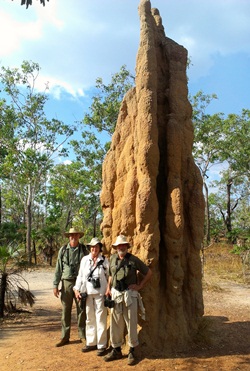 Early breakfast, check out and head north towards Darwin.
We enter Litchfield National Park, visiting and stop to at some magnificent waterfalls and the wildlife in the area. Here we often find Dingo, Short-eared Rock Wallaby, Olive Python, Merton's Water Monitor, Spangled Drongo, Blue-winged Kookaburra, Great Bowerbird, Pheasant Coucal, Pied Butcherbird and Silver-backed Butcherbird. This is also one of the few locations where the amazing magnetic termite mounds are found.
We head back to Darwin now via the back route which takes over the beautiful Finniss River. Both Estuarine and Johnston's Crocodiles are present here. If there is time we will visit Howard Springs Nature Reserve which is a great site for Rainbow Pitta, Emerald Dove, Rufous Owl, Shining Flycatcher and other monsoon forest species.
Return to accommodation in Darwin
Please Note:
The above itinerary is based on the outcomes of many previous tours to the areas described. Each season is different and as various wildlife observing opportunities arise and depending on the preferences of the group, adjustments will be made.
Inclusions - Five nights comfortable air-conditioned accommodation. All meals. Cold water, tea and coffee and refreshments available at all times.
Exclusions - Post tour accommodation and dinner, purchases of a personal nature such as souvenirs, internet use, etc.
Group Tour - $2665 per person twin share, single supplement $150 extra.
Camping Concession - less $550 per person, no single supplement, tent and comfortable bedroll is provided.
Post Tour Accommodation - $195 twin share or single, dinner not included
Private Charter - $6995 (two people), additional persons from $1015 per person single or $880 twin share - dates by arrangement, pre-tour accommodation and dinner not included but can be arranged
Booking Procedure
When you are ready to book, you can contact us and we will email you an invoice or book online directly. A 20% deposit secures the booking, the balance is due 30 days prior to start of tour.
Our Terms and Conditions document outlines our cancellation and refund policy.

All prices are in Australian dollars. Please click here for conversion to your currency.
---