Where to Watch Birds
Pine Creek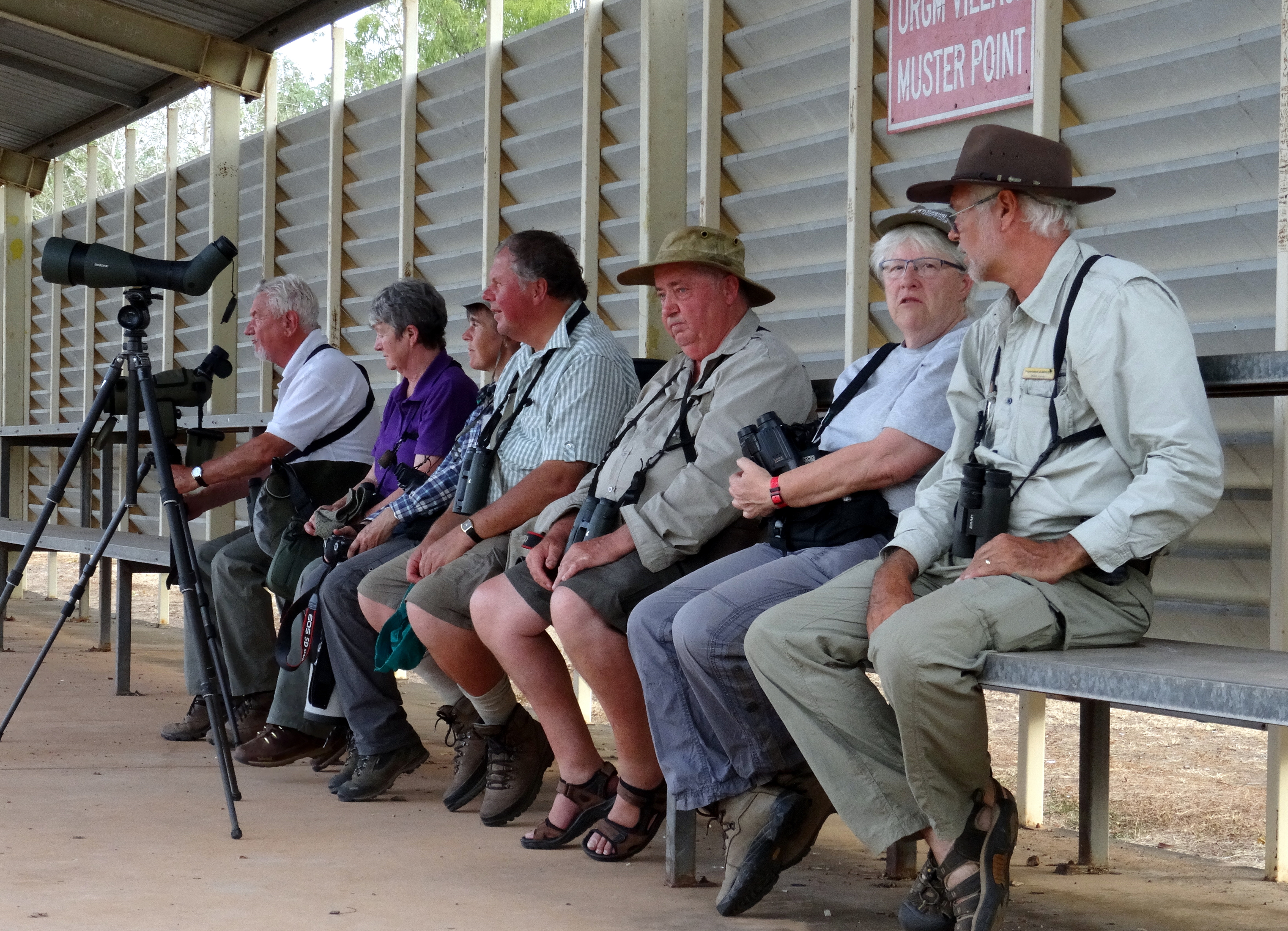 Pine Creek is on Stuart Highway at the Kakadu Highway junction, approximately 300 kilometres from Darwin and 100 from Katherine. It is a surprisingly 'birdy' place. The town itself is an excellent location for Galahs, Red-winged Parrots, Red-collared Lorikeets, Northern Rosellas and is the BEST location for Hooded Parrots.
There is a Great Bowerbird's bower and Grey-crowned Babbler's nests nearby in the campground
The sewerage ponds outside the town usually have a range of ducks and other water birds. Copperfield Dam, the town water supply and recreation area, sometimes has Gouldian Finches come to drink early in the morning.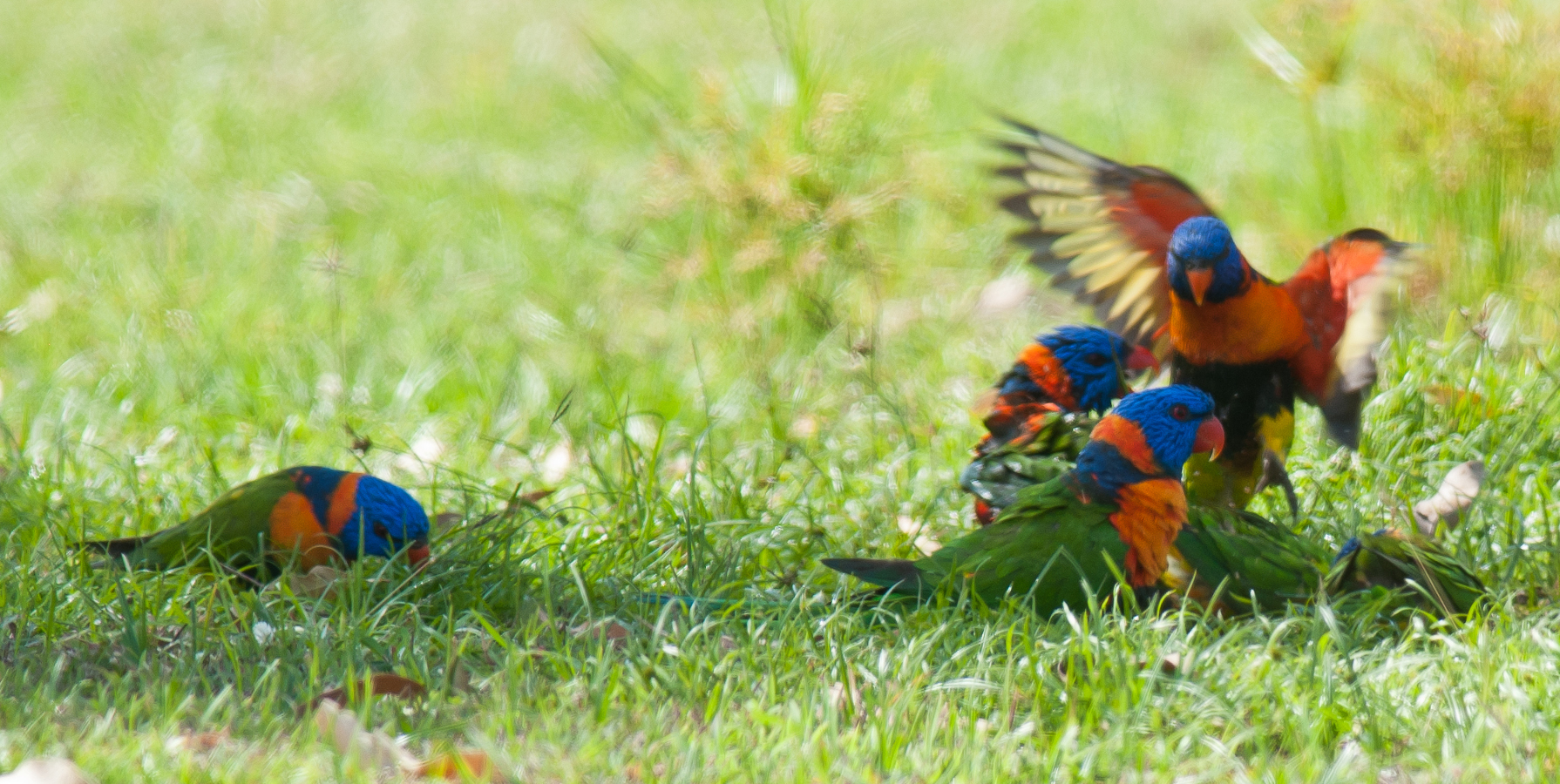 Species seen here recently
Birds ( 74 )
Plumed Whistling-Duck
Dendrocygna eytoni
Wandering Whistling-Duck
Dendrocygna arcuata
Radjah Shelduck
Tadorna radjah
Pink-eared Duck
Malacorhynchus membranaceus
Grey Teal
Anas gracilis
Pacific Black Duck
Anas superciliosa
Hardhead
Aythya australis
Australasian Grebe
Tachybaptus novaehollandiae
Crested Pigeon
Ocyphaps lophotes
Diamond Dove
Geopelia cuneata
Peaceful Dove
Geopelia striata
Bar-shouldered Dove
Geopelia humeralis
Little Pied Cormorant
Microcarbo melanoleucos
Black Bittern
Ixobrychus flavicollis
White-necked Heron
Ardea pacifica
Intermediate Egret
Ardea intermedia
Australian White Ibis
Threskiornis molucca
Straw-necked Ibis
Threskiornis spinicollis
Whistling Kite
Haliastur sphenurus
Black Kite
Milvus migrans
Brown Goshawk
Accipiter fasciatus
Eurasian Coot
Fulica atra
Black-winged Stilt
Himantopus himantopus
Black-fronted Dotterel
Elseyornis melanops
Masked Lapwing
Vanellus miles
Red-tailed Black-Cockatoo
Calyptorhynchus banksii
Galah
Eolophus roseicapillus
Little Corella
Cacatua sanguinea
Sulphur-crested Cockatoo
Cacatua galerita
Cockatiel
Nymphicus hollandicus
Rainbow Lorikeet
Trichoglossus haematodus
Red-collared Lorikeet
Trichoglossus rubritorquis
Varied Lorikeet
Psitteuteles versicolor
Red-winged Parrot
Aprosmictus erythropterus
Northern Rosella
Platycercus venustus
Hooded Parrot
Psephotus dissimilis
Eastern Koel
Eudynamys orientalis
Azure Kingfisher
Ceyx azureus
Blue-winged Kookaburra
Dacelo leachii
Red-backed Kingfisher
Todiramphus pyrrhopygius
Sacred Kingfisher
Todiramphus sanctus
Rainbow Bee-eater
Merops ornatus
Dollarbird
Eurystomus orientalis
Great Bowerbird
Ptilonorhynchus nuchalis
Red-winged Fairy-wren
Malurus elegans
Weebill
Smicrornis brevirostris
Striated Pardalote
Pardalotus striatus
White-gaped Honeyeater
Lichenostomus unicolor
Bar-breasted Honeyeater
Ramsayornis fasciatus
Rufous-throated Honeyeater
Conopophila rufogularis
Dusky Honeyeater
Myzomela obscura
Brown Honeyeater
Lichmera indistincta
White-throated Honeyeater
Melithreptus albogularis
Blue-faced Honeyeater
Entomyzon cyanotis
Silver-crowned Friarbird
Philemon argenticeps
Little Friarbird
Philemon citreogularis
Grey-crowned Babbler
Pomatostomus temporalis
Black-faced Cuckoo-shrike
Coracina novaehollandiae
White-bellied Cuckoo-shrike
Coracina papuensis
White-winged Triller
Lalage sueurii
Varied Triller
Lalage leucomela
Rufous Whistler
Pachycephala rufiventris
Australasian Figbird
Sphecotheres vieilloti
Green Oriole
Oriolus flavocinctus
White-breasted Woodswallow
Artamus leucorynchus
Black-faced Woodswallow
Artamus cinereus
Silver-backed Butcherbird
Cracticus argenteus
Pied Butcherbird
Cracticus nigrogularis
Willie Wagtail
Rhipidura leucophrys
Paperbark Flycatcher
Myiagra nana
Magpie-lark
Grallina cyanoleuca
Jacky Winter
Microeca fascinans
Masked Finch
Poephila personata
Mammals ( 1 )
Litltle-red Flying-fox
Pteropus scapulatus