Where to Watch Birds
Bird Billabong

Bird Billabong, in the Mary River district and about an hour and a half from Darwin, justly lives up to it's name. A four kilometre drive off Arnhem Highway, leads to a 4.5 km easy walk that takes you right around the billabong. The first part of the walk takes you through a mix of savannah woodland, creeks and floodplain.
A great variety of birds is seen here including Northern Fantail, Lemon-bellied Flyrobin, Red-backed Fairy-wren, Black-tailed Treecreeper, Masked, Long-tailed, Crimson and Gouldian Finches, Brown, Rufous-banded, White-throated and Bar-breasted Honeyeaters, Varied and Red-collared Lorikeets, Northern Rosella and Red-winged Parrot.
There is a sheltered viewing platform which is great for setting up the spotting scope and identifying all the different bird species inhabiting the billabong. Little, Intermediate, Eastern Great and Cattle Egrets as well as Royal Spoonbill, Black-necked Stork, Radjah Shelduck, Glossy, Straw-necked and White Ibis, Brolga, Black-fronted Dotterel and other shorebirds and Johnson's Crocodiles are often here too. There is a Whistling Kites nest just next to the boardwalk that leads to the viewing platform and White-bellied Sea-eagles often fly over.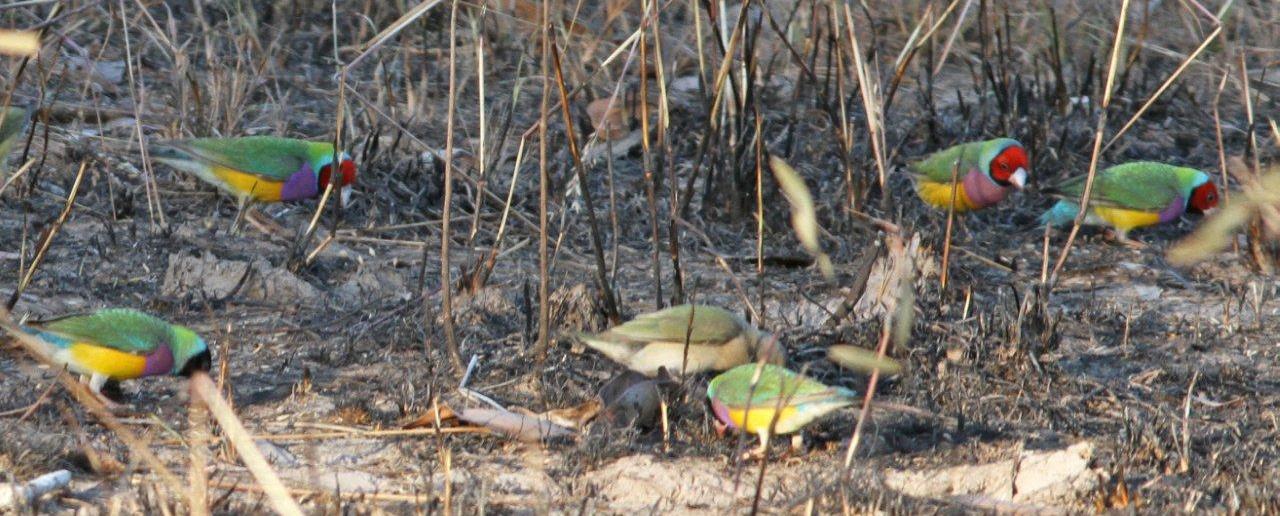 Species seen here recently
Birds ( 125 )
Magpie Goose
Anseranas semipalmata
Plumed Whistling-Duck
Dendrocygna eytoni
Wandering Whistling-Duck
Dendrocygna arcuata
Radjah Shelduck
Tadorna radjah
Australian Wood Duck
Chenonetta jubata
Pink-eared Duck
Malacorhynchus membranaceus
Green Pygmy-goose
Nettapus pulchellus
Grey Teal
Anas gracilis
Pacific Black Duck
Anas superciliosa
Hardhead
Aythya australis
Australasian Grebe
Tachybaptus novaehollandiae
Hoary-headed Grebe
Poliocephalus poliocephalus
Diamond Dove
Geopelia cuneata
Peaceful Dove
Geopelia striata
Bar-shouldered Dove
Geopelia humeralis
Rose-crowned Fruit-Dove
Ptilinopus regina
Pied Imperial-Pigeon
Ducula bicolor
Australasian Darter
Anhinga novaehollandiae
Little Pied Cormorant
Microcarbo melanoleucos
Little Black Cormorant
Phalacrocorax sulcirostris
Australian Pelican
Pelecanus conspicillatus
Black-necked Stork
Ephippiorhynchus asiaticus
White-necked Heron
Ardea pacifica
Eastern Great Egret
Ardea modesta
Intermediate Egret
Ardea intermedia
Great-billed Heron
Ardea sumatrana
Cattle Egret Ardea ibis
Pied Heron Egretta picata
Little Egret Egretta garzetta
Nankeen Night-Heron
Nycticorax caledonicus
Glossy Ibis
Plegadis falcinellus
Australian White Ibis
Threskiornis molucca
Straw-necked Ibis
Threskiornis spinicollis
Royal Spoonbill
Platalea regia
Yellow-billed Spoonbill
Platalea flavipes
Square-tailed Kite
Lophoictinia isura
White-bellied Sea-Eagle
Haliaeetus leucogaster
Whistling Kite
Haliastur sphenurus
Black Kite
Milvus migrans
Brown Goshawk
Accipiter fasciatus
Collared Sparrowhawk
Accipiter cirrocephalus
Grey Goshawk
Accipiter novaehollandiae
Wedge-tailed Eagle
Aquila audax
Brown Falcon
Falco berigora
Australian Hobby
Falco longipennis
Eurasian Coot
Fulica atra
Bush Stone-curlew
Burhinus grallarius
Black-winged Stilt
Himantopus himantopus
Black-fronted Dotterel
Elseyornis melanops
Red-kneed Dotterel
Erythrogonys cinctus
Masked Lapwing
Vanellus miles
Comb-crested Jacana
Irediparra gallinacea
Common Sandpiper
Actitis hypoleucos
Common Greenshank
Tringa nebularia
Marsh Sandpiper
Tringa stagnatilis
Broad-billed Sandpiper
Limicola falcinellus
Red-backed Button-quail
Turnix maculosus
Australian Pratincole
Stiltia isabella
Gull-billed Tern
Gelochelidon nilotica
Whiskered Tern
Chlidonias hybrida
Red-tailed Black-Cockatoo
Calyptorhynchus banksii
Galah
Eolophus roseicapillus
Little Corella
Cacatua sanguinea
Sulphur-crested Cockatoo
Cacatua galerita
Red-collared Lorikeet
Trichoglossus rubritorquis
Varied Lorikeet
Psitteuteles versicolor
Red-winged Parrot
Aprosmictus erythropterus
Northern Rosella
Platycercus venustus
Pheasant Coucal
Centropus phasianinus
Eastern Koel
Eudynamys orientalis
Brush Cuckoo
Cacomantis variolosus
Barking Owl
Ninox connivens
Azure Kingfisher
Ceyx azureus
Blue-winged Kookaburra
Dacelo leachii
Forest Kingfisher
Todiramphus macleayii
Sacred Kingfisher
Todiramphus sanctus
Rainbow Bee-eater
Merops ornatus
Dollarbird
Eurystomus orientalis
Black-tailed Treecreeper
Climacteris melanura
Great Bowerbird
Ptilonorhynchus nuchalis
Red-backed Fairy-wren
Malurus melanocephalus
Weebill
Smicrornis brevirostris
Striated Pardalote
Pardalotus striatus
White-gaped Honeyeater
Lichenostomus unicolor
Bar-breasted Honeyeater
Ramsayornis fasciatus
Rufous-banded Honeyeater
Conopophila albogularis
Rufous-throated Honeyeater
Conopophila rufogularis
Dusky Honeyeater
Myzomela obscura
Banded Honeyeater
Cissomela pectoralis
Brown Honeyeater
Lichmera indistincta
White-throated Honeyeater
Melithreptus albogularis
Silver-crowned Friarbird
Philemon argenticeps
Little Friarbird
Philemon citreogularis
Grey-crowned Babbler
Pomatostomus temporalis
Black-faced Cuckoo-shrike
Coracina novaehollandiae
White-bellied Cuckoo-shrike
Coracina papuensis
Cicadabird
Coracina tenuirostris
White-winged Triller
Lalage sueurii
Varied Triller
Lalage leucomela
Rufous Whistler
Pachycephala rufiventris
Little Shrike-thrush
Colluricincla megarhyncha
Australasian Figbird
Sphecotheres vieilloti
Green Oriole
Oriolus flavocinctus
Olive-backed Oriole
Oriolus sagittatus
White-breasted Woodswallow
Artamus leucorynchus
Little Woodswallow
Artamus minor
Spangled Drongo
Dicrurus bracteatus
Northern Fantail
Rhipidura rufiventris
Willie Wagtail
Rhipidura leucophrys
Torresian Crow
Corvus orru
Broad-billed Flycatcher
Myiagra ruficollis
Leaden Flycatcher
Myiagra rubecula
Shining Flycatcher
Myiagra alecto
Paperbark Flycatcher
Myiagra nana
Magpie-lark
Grallina cyanoleuca
Lemon-bellied Flyrobin
Microeca flavigaster
Tree Martin
Petrochelidon nigricans
Mistletoebird
Dicaeum hirundinaceum
Double-barred Finch
Taeniopygia bichenovii
Long-tailed Finch
Poephila acuticauda
Masked Finch
Poephila personata
Gouldian Finch
Erythrura gouldiae
Chestnut-breasted Mannikin
Lonchura castaneothorax
Mammals ( 4 )
Agile Wallaby
Macropus agilus
Antilopine Wallaroo
Macropus antilopinus
Euro
Macropus robustus
Pig
Sus scofa
Reptiles ( 1 )
Johnstone's Crocodile
Crocodylus johnstoni