Kakadu Nature's Way 4 day Birding, Culture and Nature Tour
Kakadu, Pine Creek and Litchfield National Parks
Join us for a four day, three night Kakadu Nature's Way experience. Nature's Way is the description used for the triangular route from Darwin to Jabiru to Pine Creek and return to Darwin. The route takes you through the best of Kakadu National Park and then the tropical savannah woodland along Stuart Highway and back to Darwin. We incorporate a visit to Litchfield National Park on day four's return journey. This tour starts with an early pick up from your accommodation in Darwin. Also included is a Yellow Waters cruise at Cooinda. Only available as a private charter.
To find out more about Kakadu National Park and prepare yourself for a Kakadu tour, watch and enjoy these one hour ABC documentaries Episode 1, Episode 2, Episode 3, Episode 4
Inclusions - Accommodation - Comfortable cabins with ensuites, two nights at Kakadu, one night at Pine Creek, Yellow Water Sunset Cruise, bush breakfasts, picnic lunches and main meals, Kakadu Park entry fees, cold water, tea and coffee and refreshments available at all times.
Exclusions - Pre and post tour accommodation, alcoholic drinks, purchases of a personal nature such as souvenirs, internet use, etc.
Private Charter - $7345 (two people), additional persons from $660 per person, Camping tour - POA

Itinerary
DAY 1 - DARWIN to KAKADU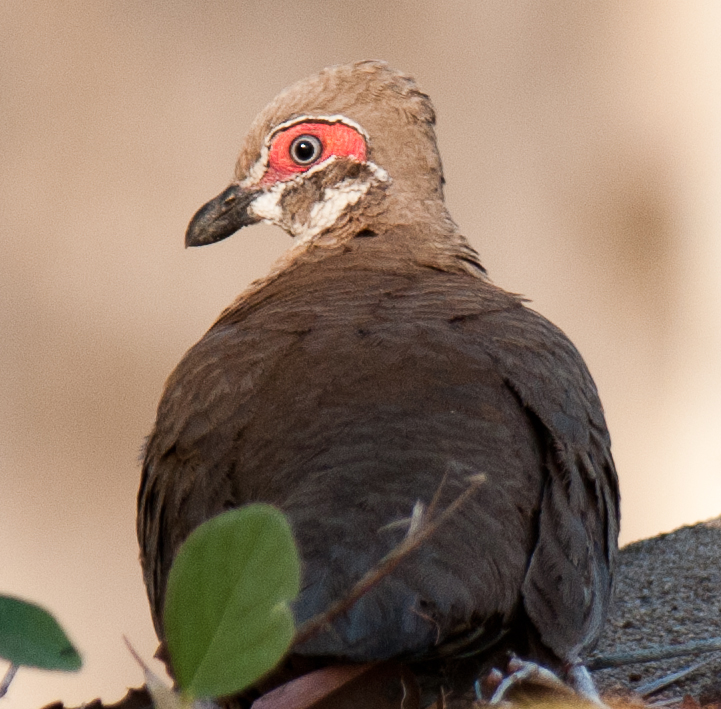 6.00am Pick up from Darwin accommodation
We head out to Kakadu National Park with some brief stops along the way including a bush breakfast* at sunrise at Beatrice Lagoons, then South Alligator River and the Mamukala bird hide.
After a picnic lunch at Ubirr, we explore the Manngarre Monsoon Forest walk, Cahill's Crossing and Bardedjilidji Sandstone Escarpment walks, searching out some Kakadu escarpment endemics such as Chestnut-quilled Rock-pigeon and White-lined Honeyeater.
Other species on our target list are Partride Pigeon, Rainbow Pitta, Shining Flycatcher, Northern Fantail, Arafura Fantail, Little Red Flying Fox and Short-eared Rock Wallaby.
We take in some spectacular ancient rock art and a magnificent view across the Nadab Floodplain.
Dinner (a la carte) and bird call at the resort and some nearby nightspotting for Barking Owl.
Accommodation at Kakadu Lodge, Jabiru
DAY 2 - EXPLORE KAKADU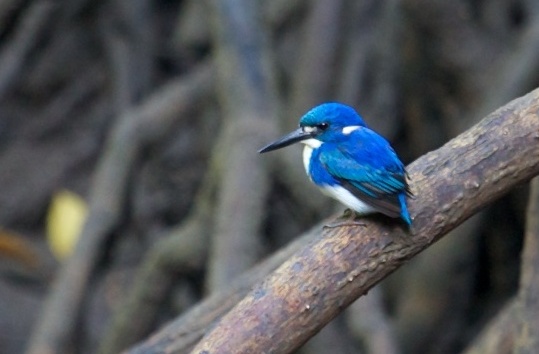 After an early morning continental breakfast at the Lodge, or a bush breakfast at Nourlangie, we head out to the Burrunggui rock and Anbangbang area (Nourlangie). Here there is more ancient Aboriginal rock art, and more endemic species such as Banded Fruit-dove, Sandstone Shrike-thrush, Sandstone Helmeted Friarbird and Black Wallaroo. Other species we will look for include Emerald Dove, Northern Rosella, Partridge Pigeon and Spangled Drongo.
We have a picnic lunch at Anbangbang Billabong while scoping for wetland species then return to Cooinda Resort. Here we either take some time out to relax by the pool or visit the Warradjan Cultural Centre which offers an amazing insight into local Aboriginal culture and history. There is also a well stocked cultural and natural history bookstore and authentic souvenir shop.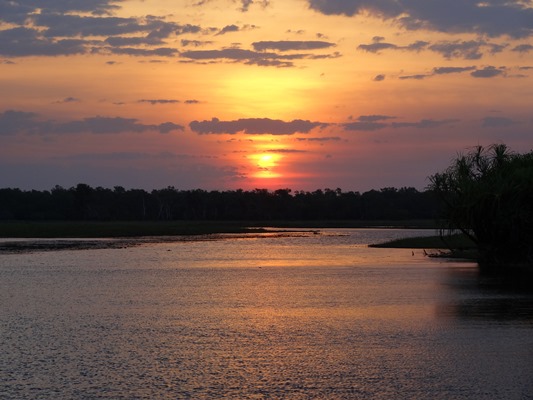 At 4.10 we depart for the famous Yellow Waters cruise. From the comfort and safety of an open sided, covered vessel we are likely to see our four species of Egret -Great, Intermediate, Little and Cattle as well as Black-necked Stork, Brolga, Radjah Shelduck, Wandering and Plumed Whistling-ducks, Green Pygmy-goose, Pied Heron, Nankeen Night-heron, Comb-crested Jacana, Royal Spoonbill, Azure Kingfisher, Little Kingfisher, Buff-sided Robin as well as many large Estuarine Crocodiles. What is particularly amazing about this cruise, is that, because it runs four times a day, every day of the year, the birds and crocodiles are so accustomed to it that they continue on in their natural behaviour completely undisturbed by the presence of the boat.
We pause on sunset and take a few minutes to absorb the splendour of the location as the sun dips below the horizon, often with hundreds of birds flying overhead to their night roosts. Then it's the short drive back to the resort to freshen up and have dinner.
Dinner (a la carte) and bird call at the resort.
Accommodation at Cooinda Lodge, Kakadu
DAY 3 - KAKADU to PINE CREEK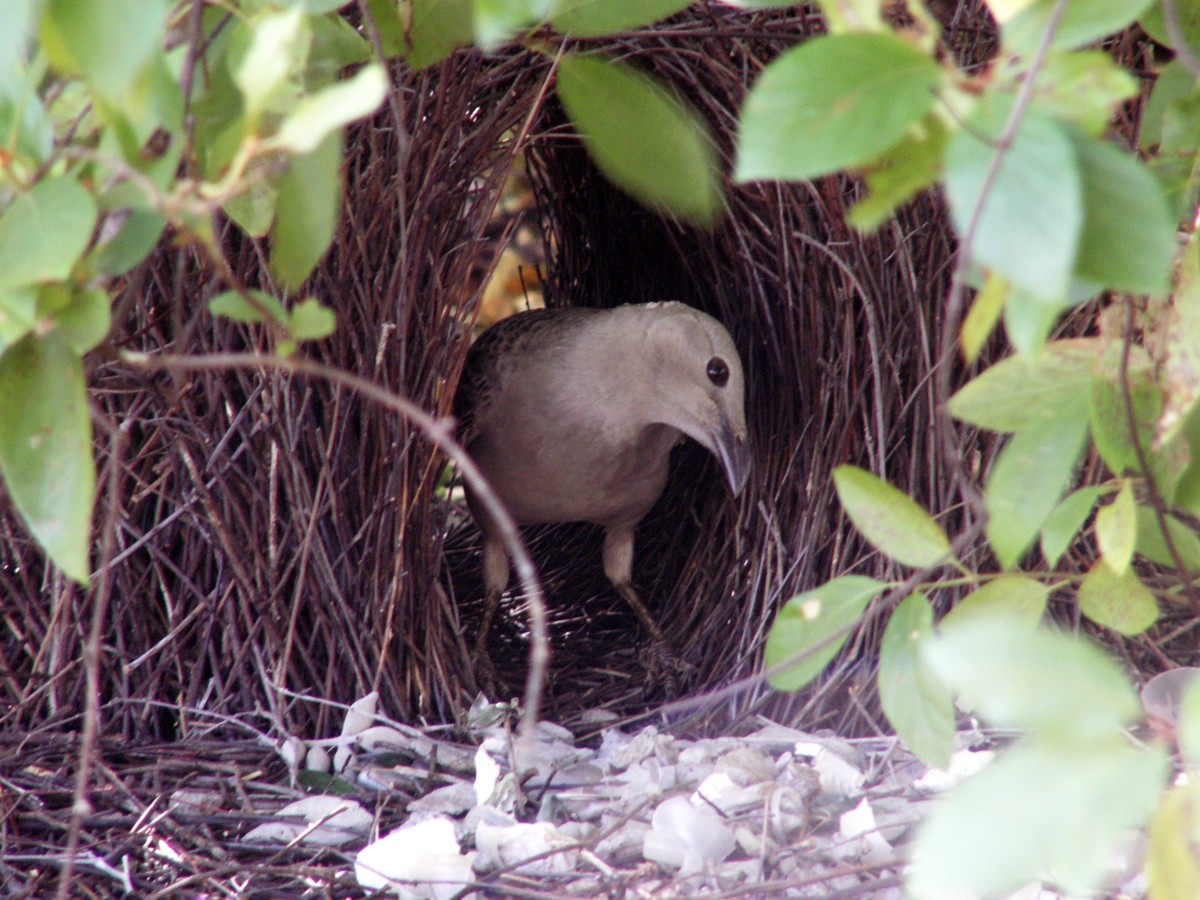 We have breakfast at 6.30am at the Lodge or a bush breakfast* at a select location, then depart Cooinda via Kakadu Highway. We explore some more area of southern Kakadu on the way out. The country changes and so does the bird sighting possibilities. We look out for Australian Bustard in flat open plains and stop at potential Gouldian Finch haunts.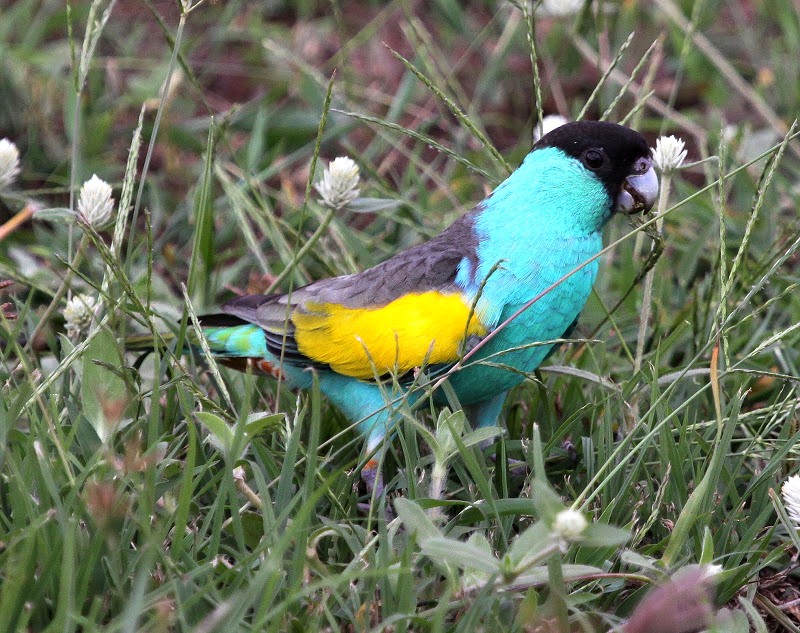 We have morning tea at Copperfield Dam, near Pine Creek, and then head south to the Fergusson River and Edith Falls. Here there are some reliable areas for Gouldian Finch and Hooded Parrot! Other target species here are Banded Honeyeater, Bar-breasted Honeyeater, Rufous-throated Honeyeater, Budgerigar, Cockatiel, Red-winged Parrot, Varied Lorikeet, Great Bowerbird and Grey-crowned Babbler.
We now head north to Pine Creek where we will have dinner and spend the night.
Accommodation at the Lazy Lizard, Pine Creek.
DAY 4 - PINE CREEK to DARWIN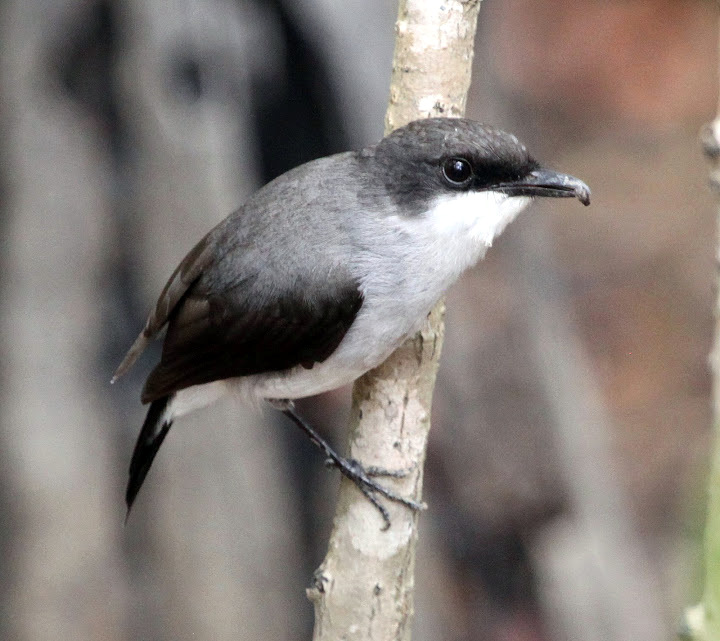 Early bush breakfast* at a nearby waterhole, check out and head north towards Darwin.
We enter Litchfield National Park, visiting and stop at some magnificent waterfalls and the wildlife in the area. Here we often find Dingo, Short-eared Rock Wallaby, Olive Python, Merton's Water Monitor, Spangled Drongo, Blue-winged Kookaburra, Great Bowerbird, Pheasant Coucal, Pied Butcherbird and Silver-backed Butcherbird. This is also one of the few locations where the amazing magnetic termite mounds are found. We head back to Darwin now via the back route which takes over the beautiful Finiss River. Both Estuarine and Johnston's Crocodiles are present here. If there is time we will visit Charles Darwin National Park which is a great site for Northern Rosella and Helmeted Friarbird. Also mangrove birds such as Mangrove Robin, Black Butcherbird, Red-headed Honeyeater, Yellow White-eye and Large-billed Gerygone.
Return to accommodation in Darwin.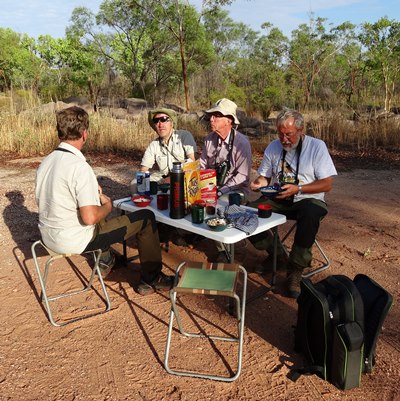 *Bush Breakfast - simple fare of cereal, muesli, milk/yogurt, tea or coffee/fruit juice, served at a location where the early morning birdlife can be enjoyed too!
Please Click Here to Enqure About This Tour
Please Note:
The above itinerary is based on the outcomes of many previous tours to the areas described. Each season is different and as various wildlife observing opportunies arise and depending on the preferences of the group, adjustments will be made.
---